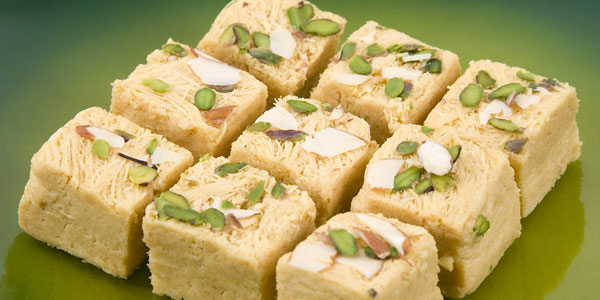 Ingredients :
A diwali sweet meat
1 1/4 cup gramflour
1 1/4 cup plain flour (maida)
250 gms. Ghee
2 1/2 cups sugar
1 1/2 cup water
2 tbsp. Milk
1/2 tsp. cardamom seeds
Method
1. Sift both flours together. Then heat ghee in a pan.
2. Add flour mixture and roast on low heat till light golden. Keep aside to cool a little, stirring occasionally.
3. Now make syrup out of sugar, Bring syrup to 2 1/2 thread consistency Pour at once into the flour mixture.
4. Beat well with a large fork till the mixture forms thread like flakes.Pour onto a greased surface or thali and roll to 1″ thickness lightly.
5. Sprinkle the elaichi seeds and gently press down with palm.
6. Cool, cut into squares, Store in airtight container.