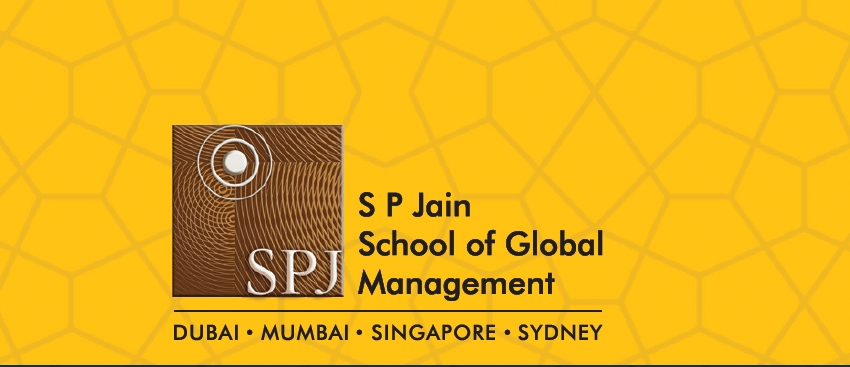 WELCOME TO SP JAIN
AT A GLANCE
Private business school founded in 2004
Ranked among the world's top business schools by Forbes (2015-2016), The Economist (2015), Nielsen (2014), Forbes (2013-2014) and Financial Times (2011 & 2012)
Portfolio of undergraduate and postgraduate courses fully accredited in Australia (CRICOS Institution Code: 03335G)
5000+ member strong alumni community spread across 35 countries
Multinational faculty from some of the world's best institutions including Harvard, Oxford, Duke and Cambridge
Postgraduate courses accredited and recognised by ABEST21, Japan
Students and faculty from over 30 different countries
FULL TIME PROGRAMS
O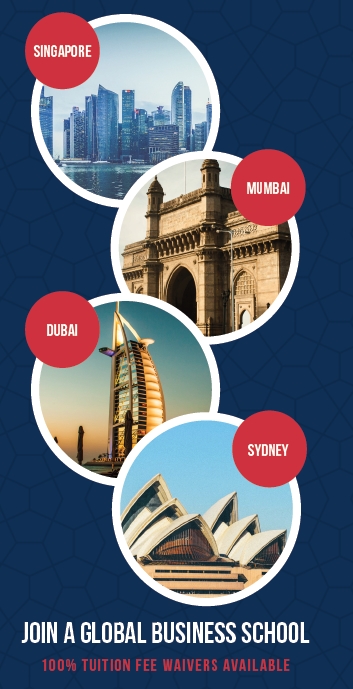 ur suite of undergraduate and postgraduate programmes provide you with an excellent foundation for a career in global business.
BACHELOR OF BUSINESS ADMINISTRATION (BBA)
4-year | tri-city program
Fees:USD 97,500
BACHELOR OF ECONOMICS (BEC)
2-year | twin-city program
Fees: USD 62,325
BACHELOR OF BUSINESS COMMUNICATION (BBC)
3-year | twin-city program
Fees: USD 62,325
MASTER OF GLOBAL BUSINESS (MGB)
16-month | tri-city program
(includes a 4-month internship)
Fees: USD 41,415
GLOBAL MBA (GMBA)
12-month | tri-city program
Fees: USD 47,215
We are S P Jain School of Global Management, one of Asia's top ranked global business schools with campuses in Dubai, Mumbai, Singapore and Sydney. Our goal is simple – to craft business leaders for the 21st century. We are young, modern and ranked among the very best business schools in the world.
SPECIALISATIONS
By pursuing any one of these programs, you can choose to specialise in cutting-edge and up-to-the-minute topics like Marketing, Finance, Entrepreneurship, Supply Chain, Information Technology, Consulting and E-Commerce.
ADMISSION REQUIREMENTS
 BBA, BEC, BBC
Final 2 years of high school grades (evaluated on an individual basis)
GMAT/SAT/CAT/S P Jain Entrance Exam scores. (Students are required to demonstrate basic mathematical and numerical ability in order to be eligible for admission to the BEC program)
Passion for global business
MGB
Bachelor's degree (in any discipline)
0-3 years of full-time work experience
GMBA
Bachelor's/Master's degree (in any discipline)
Minimum 3 years of full-time work experience
HOW TO JOIN
Apply online (free) at www.spjain.org
Take entrance exam
Go through interview (in person or on Skype)
CONTACT US
VICTOR EMANUEL
Student Recruitment Manager, Indonesia
Mobile: +62 -811 833 8923
Email: victor.emanuel@spjain.org
WEB : WWW.SPJAIN.ORG
RANKING & RECOGNITION
Top 100 in the world: The Economist Full-Time MBA Rankings (2015) 100
Top 10 in the world: Forbes Best International 1-Year MBA (2015-16) 10
Top 20 in the world: Forbes Best International B-Schools (2013-14) 20
#43 in the World: Poets & Quants Best Business Schools (2014) 43
Top 100 in the World: Financial Times Top MBA Rankings (2011 & 2012) 100
#1 in the UAE: Nielsen Brand Perception Audit (2008)
KEY HIGHLIGHTS
Study in three of the world's most dynamic and culturally-rich regions
Interact with industry professionals and business leaders from within these dynamic regions
Undergo extensive training to gain boardroom skills of the 21st century:

Leadership
Decision-making
Persuasion and selling
Negotiation
Network
Global intelligence

Conduct live industry projects with some of the world's top global companies
Graduate with an Australian degree
Use practical exercises, student boardrooms, case studies and multimedia simulations to make learning more relevant and real-world
Enhance your personality, leadership and communication skills with Personal Effectiveness workshops and Corporate Readiness training
Prepare yourself for a lifetime of success in a global workplace
Internship and placement assistance support from our network of Career Advancement teams
CAREERS
THE BEST JOBS GO TO GLOBAL CITIZENS
S P Jain prepares you to live, breathe and think like a global leader, and as a result, you are prepared to embark on a career in any part of the world. Our students work at some of the world's best companies in Australia, Singapore, US, UK, Switzerland, Austria, Vietnam, Argentina, Germany, India, Thailand and the Middle East.
A few of our top recruiters are:
Amazon
Apple
Facebook
Google
Goldman Sachs
Heinz
Johnson & Johnson
KPMG
Microsoft
Nike
PwC
Sony ME
Unilever
Citibank
of Germany
of Rwanda
CAREER ADVANCEMENT OFFICES IN
Dubai (covering Africa and the Middle East)
Mumbai, Delhi and Bangalore (covering India)
Singapore (covering Hong Kong, China and Malaysia)
Sydney
EUROPEAN STUDENT BENEFITS
Senior position jobs in Asia-Pacific, Middle East and Australia
Gain extensive knowledge on Asia (the world's fastest growing continent)
Become globally intelligent, thus gaining a competitive edge in the job market
GLOBAL LEARNING
Global intelligence is the key to success in the workplace of the 21st century. Get this unique edge by enrolling in our undergraduate or postgraduate programs where every student lives in Singapore, Mumbai, Dubai and Sydney.
SINGAPORE is ranked #1 in the world for 'ease of doing business' by the World Bank, and is highly reputed for its governance and forward-thinking society. As one of Asia's fastest growing economies, Singapore offers you a first-hand exposure to unique Chinese and Southeast Asian business practices.
MUMBAI (Bombay) is said to be a city that never sleeps. It is the financial, commercial and entertainment capital of India, and the eighth most populous city in the world. Mumbai is also known to be the wealthiest city of India, and has the highest GDP of any city in South, West or Central Asia.
DUBAI is at the forefront of the world's dynamic and emerging market economies, and is known for its liberal policies, international outlook and world-class facilities and infrastructure. "Dubai means business" is more than just a slogan. Here, you study and understand Arabic culture and appreciate Middle East politics in a secure, ultra-modern setting.
SYDNEY has it all – beaches, great outdoors and a pulsating arts and music scene. It is home to some of the world's largest banks, retail firms, a thriving mining industry and the centre for modern design and architecture. As a mature first-world city, Sydney offers you a safe, stimulating and enriching environment to explore life in a Western culture.