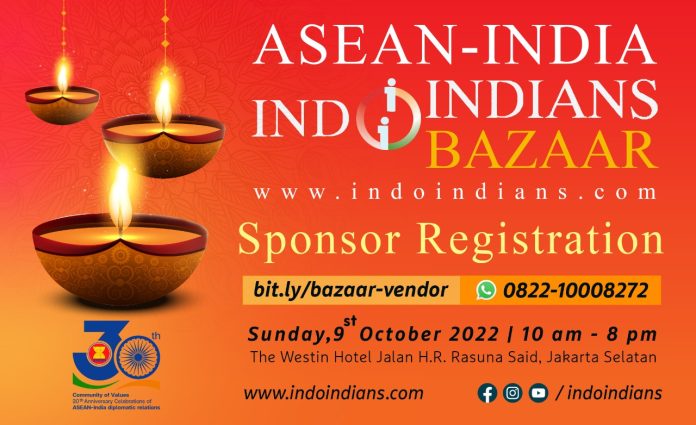 Sponsorship Options for ASEAN-India Diwali Bazaar 9th Oct 2022 at The Westin, Jakarta
We invite you to participate as a sponsor at the 5th Indoindians bazaar. Quality products by local and international vendors for lifestyle, home, fashion, food and education, to bring under one roof buyers and sellers for a day of shopping, friendship and fun while connecting the ASEAN communities, Indian diaspora, other expat and local communities in Jakarta.
This event is supported by Indian Mission to ASEAN, Jakarta, to celebrate the ASEAN-India Friendship Year-2022 commemorating 30 years of establishment of relations between ASEAN and India.
Letter issued by Indian Mission to ASEAN, Jakarta
It is expected that over 1000 people will visit the event.
Featuring
Food products
Fashion & jewelry
Household products
Handicrafts
And much more
Also an opportunity for service providers to promote themselves at the event.
Event Date and timing: ASEAN-India Diwali Bazaar – Sunday 9th October 2022, 10:00am to 8:00pm
Venue: Ballroom, The Westin Hotel, Kuningan, Jakarta
Sponsorship Opportunities Available:
High degree of exposure online and offline, including premium booth at the venue, onsite branding opportunity (standees and posters) at prime locations.
The various options and benefits available can be downloaded here >>
Platinum Sponsor
Gold
Silver
Bronze
Event Organizers
The event is organized by www.Indoindians.com and supported by Indian Mission to ASEAN.
All promotions would be through Indoindians communication channels.
To vision is to connect, support and engage the ASEAN and Indian Diaspora in Indonesia.
It provides a versatile, interactive medium for marketing and advertising your products and at the same time making your services available to our target audience. This is a community initiative by PT Infotech Solutions based in Jakarta.
At a Glance:
100,000 unique visitors/month
20,000 newsletter subscribers
50,000 followers on Social Media
300 city network for gift delivery network across India & Indonesia
many WA groups
21 years online
With communication and engagement through
Website
social media channels
newsletter mailing list
WA groups
Event marketing
Media Partners
For all details of the benefits contact Marissa via call/WA 0822 1000 8272 or email event@indoindians.com today