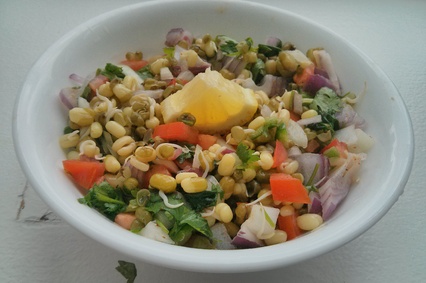 SPROUTED MUNG SALAD
Ingredients:
2 cups sprouted mung
2 tomatoes-diced
1 tbsp. coriander finely chopped
1 chopped green chilli
2 tsp. lemon juice
1 cup shredded cabbage
½ cup grated carrots
1 onion finely chopped
1 tsp. chaat masala
salt to taste
Directions:
Steam the sprouted mung for about 5-7 minutes.
Add the chopped tomatoes, shredded cabbage, carrots and onions and mix well.
Sprinkle green chillies, chaat masala and salt and mix once again.
Squeeze lemon juice on top. Refrigerate.
Garnish with coriander leaves and serve chilled.