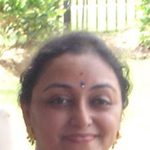 Janaki Shrikanth has been conducting talks and personal empowerment workshops across several forums for the past many years, including educational institutions in India, Indonesia and the US. These talks remain rooted in the spiritual essence of key Indian scriptures, with an emphasis on the practical application for daily life. Janaki is a trained Indian classical music and dance professional.
Janaki conducts Bhagvad Gita Satsangs at 7 locations in Jakarta and almost daily via skype, reaching out to devotees and learners in Indonesia, Thailand and Vietnam
Here are her thoughts on success in our short skype video.