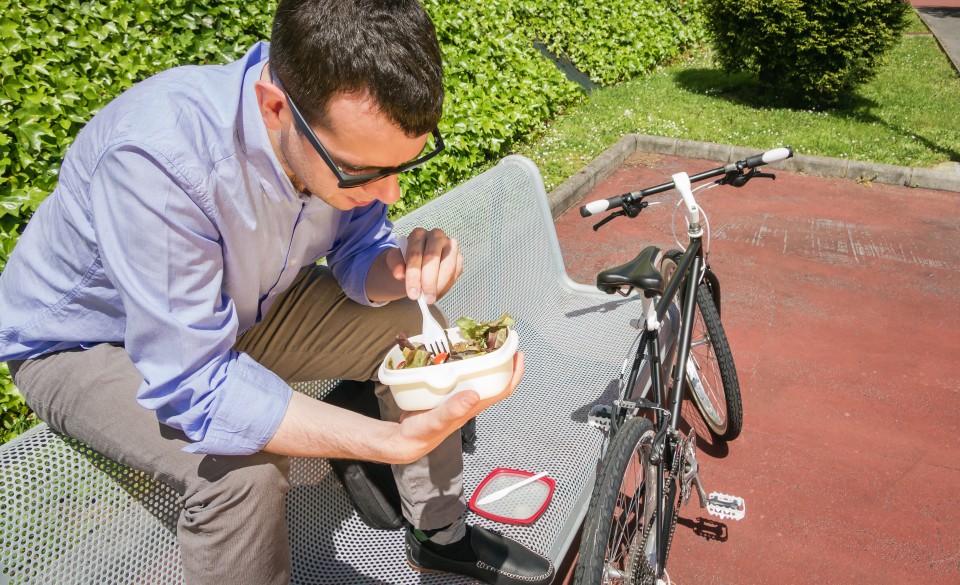 Just Recognize Stress As Something That Can Be Tackled, Controlled, Vanquished. Then Go Ahead And Do Just That.
Just like there is good cholesterol and bad cholesterol, there is good stress and bad stress. All stress makes you jumpy, edgy and nervy, but if you can control and harness that extra adrenalin released by stress, you can actually make it work for you! SEE THE LIGHT
We mean sunlight and lost of it. The moment you wake up, draw back the curtains and let those golden shafts steal into your bedroom. Watch them light up the room, sending their warmth into every nook and cranny, sending all the monsters of the night scurrying away. Feel the sunshine soak into every pore of your body, feel the incredible sense of well-being it brings along.
S-T-R-E-T-C-H
Stand on tiptoe whenever you feel under pressure and stretch your body to an impossible angle. Pretend you are reaching out to grasp something a few tantalsing centimeters beyond your immediate reach. Hold that balletic pose for all of five seconds, then relax.
CACKLE LIKE LOON
Laugh hard, laugh softly, laugh as much as you can. Nothing banishes stress more effectively. Keep a comic handy in your desk drawer or turn to the cartoon strip section of the newspaper. Make a list of Ajit jokes. Share a joke with a friend. If a good belly laugh cannot be summoned up instantly, settle for chuckles, chortles and giggles. They make an effective emergency substitute, but don't go too long without the Big One, will you!
BE A BREATHING BEAUTY
The right kind of breathing can effectively dispel stress. Take a deep breath and exhale slowly, concentrating on the air leaving your lungs. Slow down your pace of breathing, breathe from your belly and watch it expand, then contract to normal. Do this religiously, five times every morning, and watch how your step acquires a daylong spring.
LISTEN TO MUSIC
Music has always soothed the savage beast us; sometimes, the savage beast is called stress. Put on the music of your choice – jazz, classical, rock, ballads, blues, whatever – and make a conscious effort to let the lilting strains seep into your brain. You'll also find your self humming the refrain all day, which is a great way to feel peppy.
GET DRUNK…
On H2O, that is. Water is a magic elixir that dissipates stress. When you are stressed out, the body becomes dehydrated and vulnerable to fatigue. Tank up on water, loads of it and soon, you'll have acquired an addition to the best drink them all – pure aqua.
JUST SAY 'NO' TO CAFFEINE
Bring your daily quota of coffee down to a couple of cups at the most. Ditto for chocolates. You know all about caffeine and how it heightens stress levels. In any case, it isn't good for your skin or body, so get it out of your life.
MAKE LIKE A HORSE
Eat more oats. A recent finding is that fibrous foods do their own thing in keeping stress levels down. So stock up. on oatmeal, green peas and other fibrous fruits and veggies.
DISCOVER THE YOGI IN YOURSELF
Yoga has always been a known panacea for stress. Pick up a book on yoga exercises or go to a teacher and get started with half-hour sessions whenever you can spare the time. Don't forget to cleanse and free your mind while doing yoga.
DANCE UP A STORM
If you're not into traditional de-stressing techniques like yoga, how about shaking a leg vigorously? That's one form of exercise that help you offload stress. You don't need to go to a disco, you don't need a crowd of friends doing the moonwalk. All you need is loads of enthusiasm, some energetic music, and of course, your dancing shoes… or whatever is the most comfortable gear to do the shuffle in. Let the music take over. Become a lean, stress-free dancing machine!
DO THE C'EST LA VIE SHRUG
Shrug again. You don't know, you don't care. Whenever you feel stress creeping up on you, roll your neck from right to left a few times. Follow this up by shrugging your shoulders. Loosen your jaw muscles. Believe from the bottom of your heart that you don't give a damn… not about stress, you don't.
TALK LESS, LISTEN MORE
An age-old remedy, listening banishes stress, makes you more popular, more knowledgeable, more sensitive… altogether a nicer person. Great thought, isn't it? It doesn't take much effort.
STREAMLINE YOUR ROUTINE
Make lists; list small chores, work up gradually to the big ones, try and clear at least two pending items every day in both your professional and personal life. Get more coordinated and stress-free. Time management is stress management.
TRY BEING 'FALTU'
Being irresponsible once in a while is combating stress the fun way. Good off. Bunk. Take the time to stare vacantly, to stop and sniff the roses, to dream about that that cruise around the Greek islands, to loaf aimlessly. Make like a cat. I men, whoever heard of a stresses-cat?
GO BOOK SLUMMING
Put aside that treatise on the Brazilian rain forest and do a round of the bookstores in your neighborhood. Pick up a armful of Mills and Boon romances, Danielle Steels, no-brainer bestsellers, comics, 'MAD' magazines. Go home, curl up on your favorite sofa and read.
FINGER MAGIC
Call in a special favor. Have a girlfriend or the man in your life work on your neck… get yourself a massage. Some scented oils make it more enjoyable for the masseur as well.
TEA FOR ONE
Make the a fragrant cup of 'elaichi' or 'masala' tea with as little sugar as you can bear. Oh, and make that an oversized cuppa.
BE A SOAKING SUE
Take a break from those quick shower. Have a leisurely soak. Fill the bath tub with scented pine cones, bath bubbles, Epson salts, whatever takes your fancy. Make it a hedonistic soak, so as to let the stress wash away. Read a book, let jazz play in the background…ah, bliss!
COUNT YOUR BLESSINGS
Honest, there's no better way to banish stress. Hey, no one has things happening to her all the time. Make a mental 'good-things-going' list. Then put it down on paper. And refer to every time you feel a stress attack coming on.