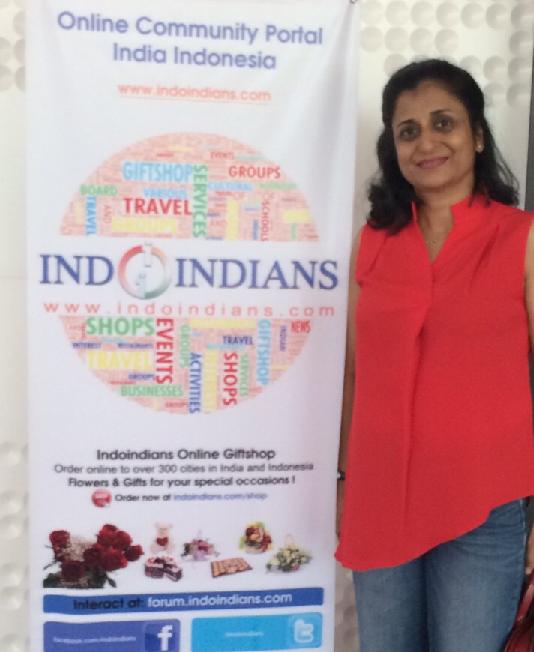 'I am incredibly fortunate to have the opportunity to live and work in this beautiful country, with the friendliest of people.' says successful Indian expatriate businesswoman Poonam Sagar. 'But there are a lot of Indian women, who too would have loved to work but they are not working due to the [work] papers that are required. It is not that they don't have the education or the skills but they do not have the opportunity to use them.'
Mrs Sagar certainly has been fortunate. The vivacious 'Delhite', who has lived in Indonesia for over 24 years, is part of a successful software company PT Infotech Solutions with husband Rajat, committee member of the India Club and BritCham Professional Women Group and maintains a free, community-based website that is credited by others with helping bring together Indians in Indonesia (www.indoindians.com). She has also hosted a local television chat show India Talks, planted a million trees with Yayasan Tanam Pohon Indonesia and chaired a charitable Forum for Executive Women (FEW), among other social activities.
'When we first came to Indonesia fifteen years ago the Indian community was large but very segregated, so this was an effort to bring everyone together on that one platform that we knew best, technology. Further, the site has become a one-stop information portal for the increasing numbers of Indians considering moving to Indonesia as well as for those living here', she says. 'It has become a melting pot for Indians in Indonesia an also provides information about India.'
Though Indonesia and India have historically been close and the cultures are similar, doing business in Indonesia has still been a huge learning experience, Mrs Sagar says, particularly when it comes to employing aggressive tactics. 'I think one learns patience when one comes to Indonesia and I have learnt a lot of it. Now when we go back to India it is a little different for us. The way you talk, the way you smile is much different than anywhere else in the world. You are amongst the most friendly and polite friendly people here.' Besides being enterprising, hard-working, skilled and well-connected, Indians, particularly recently, have new-found acceptance from Indonesians due to the fact they are able to work well with the locals with ease, she says.
'I think Indonesians are more comfortable with Indians and they share a lot culturally. And more so because of the Bollywood movies etc, so there is an instant connection. You don't even need to break the ice because there isn't any.'
Accordingly, fantastic opportunities exist for Indians in Indonesia, a country 'on the way up', she says. 'With it growing economy and to help plug all the demand for investments and required skills, a lot more Indians will definitely be coming in.'
By: Cameron Bates for The Peak Magazine, Jakarta