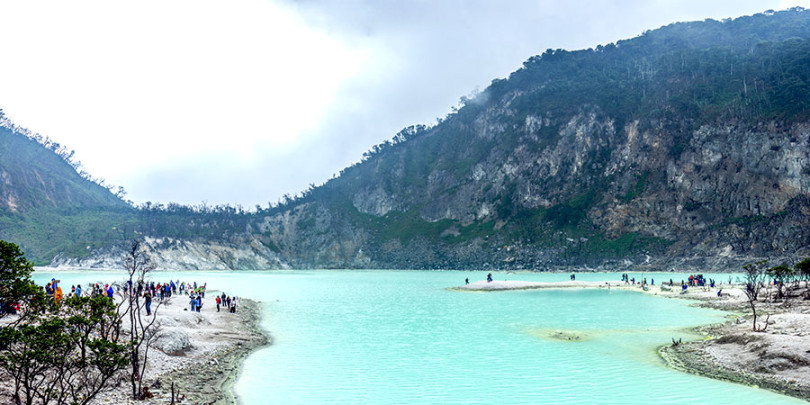 If you are looking for a stunningly beautiful place and scenery that you may not believe exists in Indonesia, then you need to visit the famous Kawah Putih.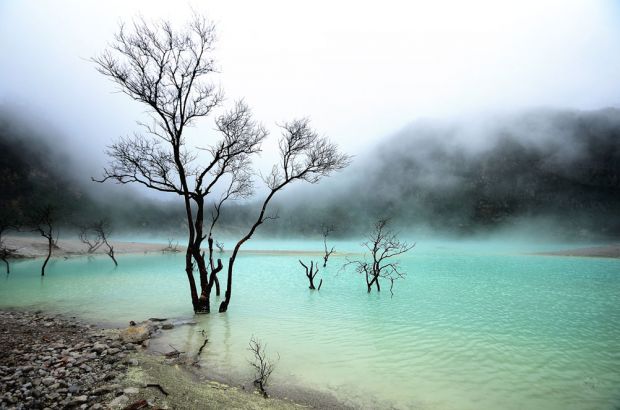 Kawah Putih is a lake in a volcanic crater about 50km south of Bandung, West Java. Kawah Putih is one of the two craters which make up Mount Patuha, a stratovolcano (a "composite" volcano).
The lake is 2.430 meters above sea level so the local climate is quite chilly and requires thick jacket, shawl, and mittens to be worn during your visit there.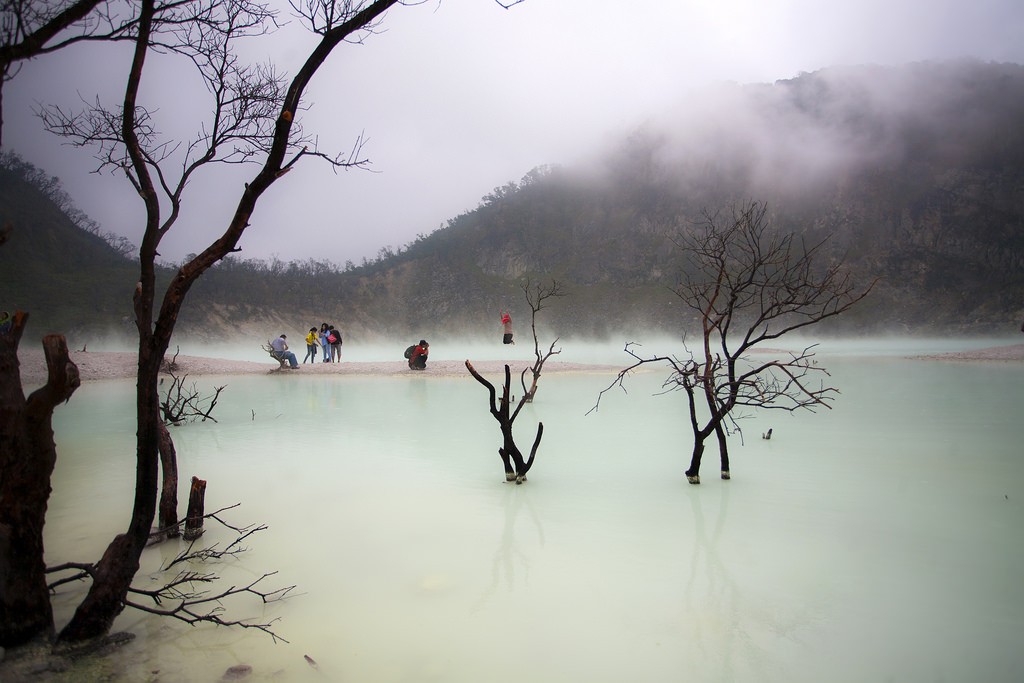 When entering Kawah Putih, you will be stunned by how beautiful the scenery is. The tree-clad cliffs surrounding the crater create a very stunning backdrop. The scene blends perfectly when the clouds start rolling in. The color of the water in the crater lake is not always white—sometimes it is apple-green and bluish when the sky is clear, sometimes it is the color of milk chocolate. The smell of sulfur may be strong but the surreal scenery beats it all. If you can't stand the smell wear a mask.
There are tracks around the lake and through the nearby forest leading to the peak of Mount Patuha. You can choose your own way to enjoy the scenery—walk around the crater area (but be careful to not walk or stand too close to the lakeside) or sit in the various shelters. Here you can also spot local plants that not widely found in lower altitudes, such as Javanese Edelweiss and Cantigy (Vaccinium varingifolium).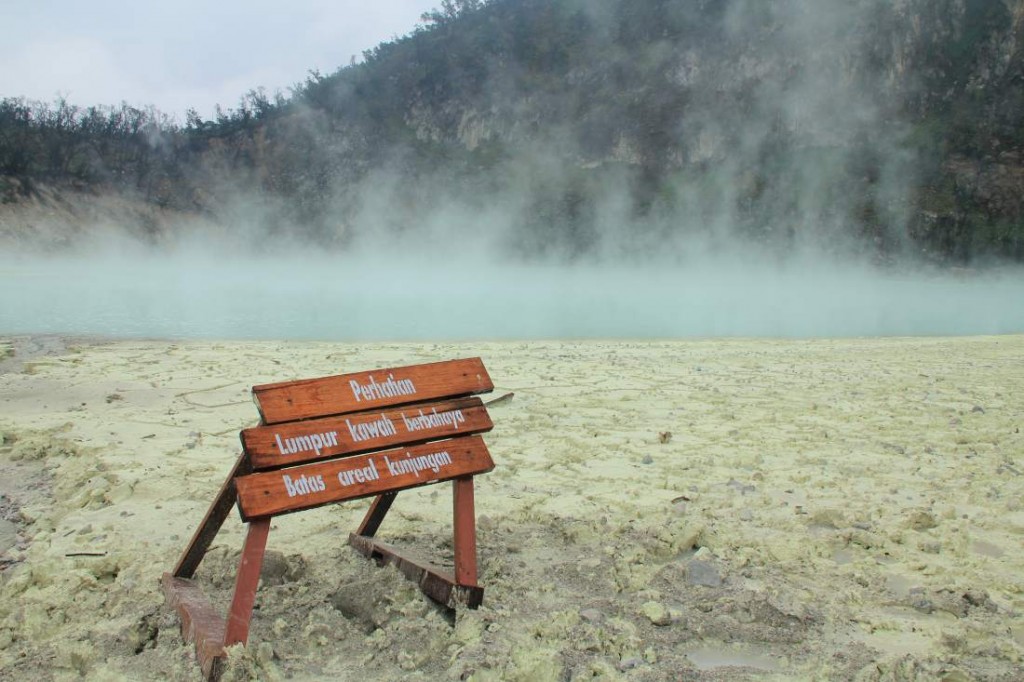 Since it is located near Ciwidey, don't be surprised if you find some farmers selling fresh strawberries at the lake area. Strawberries are widely grown in this area, as well as Pepino fruits.
Kawah Putih is open for public from Monday to Sunday, on 7am to 5pm. The entrance fee is Rp18.000 per person and Rp500.000 for couples and crews who want to take pre-wedding shots. Parking fee is range from Rp6.000 for 4-wheels vehicles (the parking location is the main carpark at the entry of the site), while if you want to park your car near the crater area you need to pay Rp150.000.
It is recommended to park your car at the main carpark, and then catch one of the regular ontang anting or mini shuttlebuses (leaving every 5 minutes or so) for the 5km to the crater.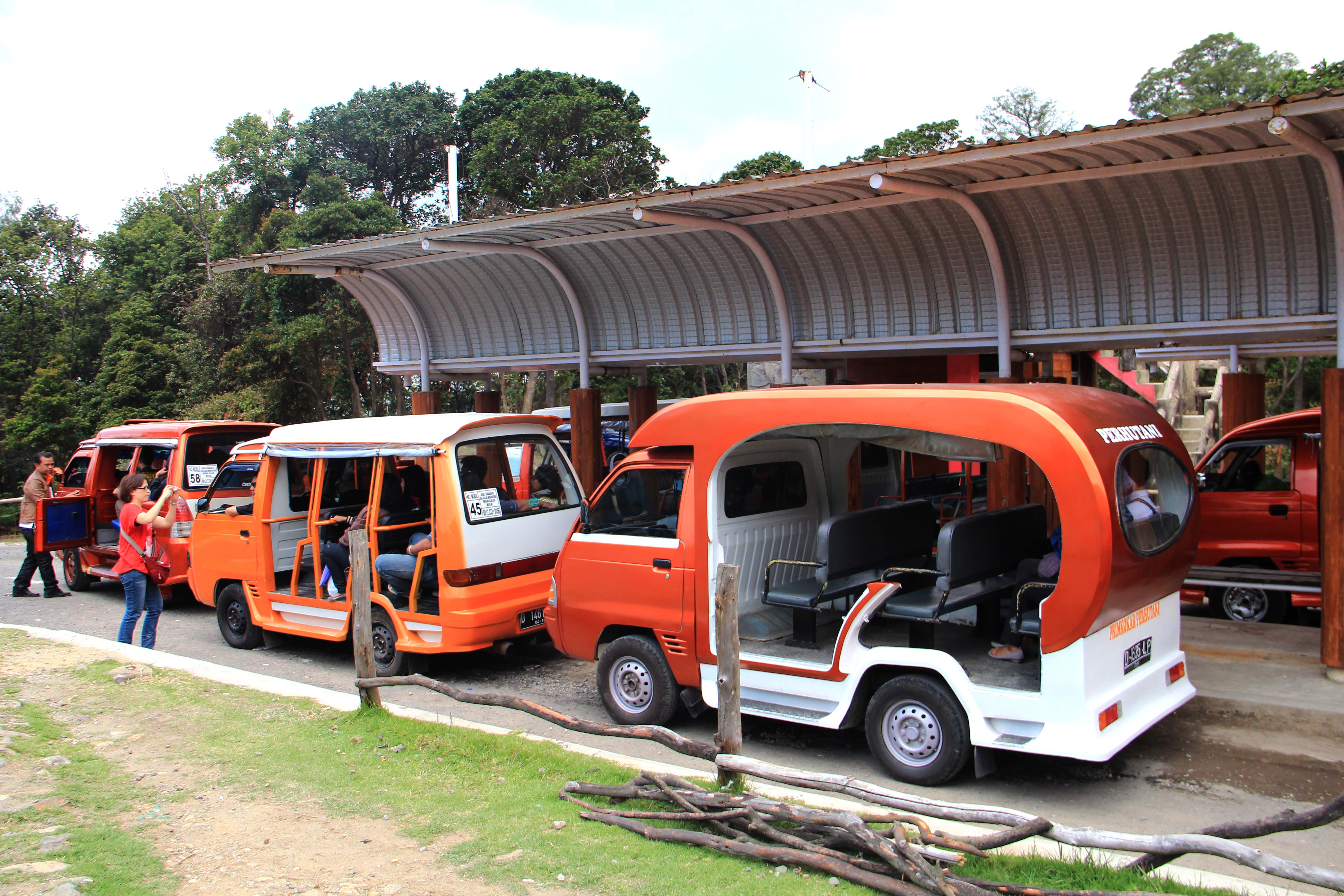 How to get there
From Bandung to Kawah Putih by public transportation. Go to Leuwi Panjang Bus Terimal, Bandung and take a minivan (ELF or L300) from Leuwi Panjang to Ciwidey. Upon arriving at Ciwidey, take the yellow angkot from Ciwidey to Kawah Putih.
If you're driving from Jakarta, take the Cipularang toll, exit at Kopo and head straight to Ciwidey. It will take around 3-4 hours drive from Jakarta.