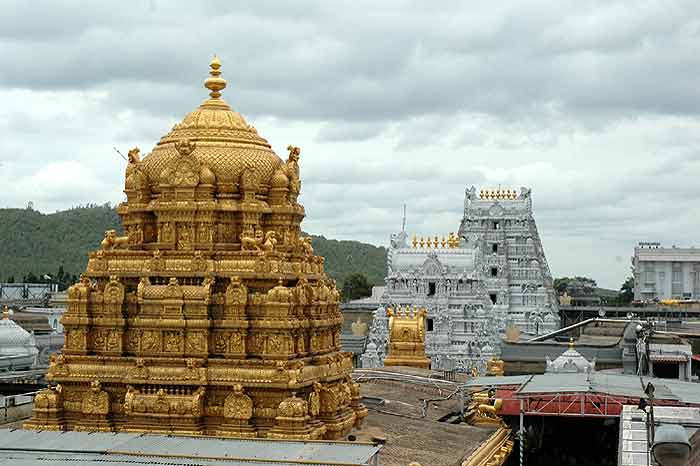 Tirupati:
The Abode of Pilgrims
Tirupati stands as an ancient and hallowed place of pilgrimage in India. Located in Chittoor district in Andhra Pradesh, the town owes its existence to the sacred temple of Lord Sri Venkateswara situated on the Tirumala hill adjoining it. The temple has a history dating back to over twelve centuries. The Tirumala hill comprises seven peaks, representing the seven hoods of Adisesha, thus earning the name, Seshachalam. The seven peaks are called Seshadri, Neeladri, Garudadri, Anjanadri, Vrishabhadri, Narayanadri and Venkatadri.
---
The sacred temple of Venkateswara is located on the seventh peak, Venkatadri (Venkata Hill), and lies on the southern banks of Sri Swami Pushkarini. There are several legends associated with the manifestation of the Lord in Tirumala. The Tirumala Hill is 3200 ft above sea level, and is about 10.33 sq miles in area. The name Tirupati is popularly assigned to the Municipal town at the foot of the hill. The temple of Sri Venkateswara has acquired unique sanctity in Indian religious lore.
The Sastras, Puranas, Sthala Mahatyams and Alwar hymns unequivocally declare that, in the Kali Yuga, one can attain mukti, only by worshipping Venkata Nayaka or Sri Venkateswara.
The benefits acquired by a piligrimage to Venkatachala are mentioned in Rig-Veda and Asthadasa Puranas. In these epics, Sri Venkateswara is described as the great bestower of boons.
There are several legends associated with the manifestation of the Lord at Tirumala. The temple has its origins in Vaishnavism an ancient religion, which advocates the principles of equality and love, and prohibits animal sacrifice.
All the great dynasties of rulers of the southern peninsula have paid homage to Lord Sri Venkateswara in this ancient shrine. The Pallavas of Kancheepuram (9th century AD), the Cholas of Thanjavur (a century later), the Pandyas of Madurai, and the kings and chieftains of Vijayanagar (14th – 15th century AD) were devotees of the Lord and they competed with one another in endowing the temple with rich offerings and contributions.
It was during the rule of the Vijayanagar kings that the contributions to the temple kitty increased. Krishnadevaraya had great love for the deity and went as far as to install statues of himself and his consorts near the where it can be seen to this day. There is also a statue of Venkatapati Raya in the main temple.