Do you plan to travel to Karimunjawa? Well, your choice couldn't be better. Karimunjawa is indeed one of the most beautiful places in Indonesia (and even on earth), and you are guaranteed to have a very pleasant time there!
Karimunjawa is an island chain stretching in a northwesterly direction 83 km from Jepara, Central Java. The archipelago is a cluster of 27 islands lying on Java Sea. This archipelago has everything divers and backpackers are looking for. Beautiful white sand beaches, clear waters, amazing underwater life and serene environment can be found here. Karimunjawa is the kind of place where you can see a stray cow as big as buffalo will wander onto a soccer field and graze, where afternoon naps are very calm and sacrosanct, and where the weather, destination, and the people can keep you delightfully stranded.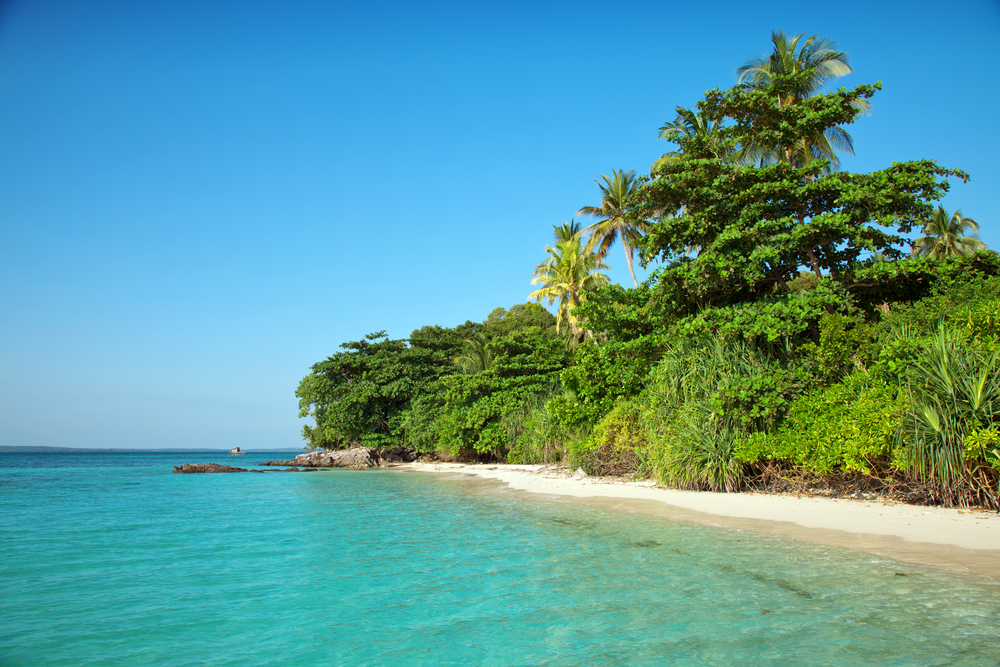 Twenty-two of the islands of Karimunjawa have been declared 2001 as a marine reserve, the Karimunjawa National Park, while five more islands are either privately owned or are under the control of Indonesian Navy. The archipelago is divided into zones to protect the rich ecosystem. Zone One is completely out of bounds to all, except national park rangers, with other areas set aside for sustainable tourism.
The main islands of Karimunjawa are Karimunjawa island and Kemujan island, and the smaller ones being Menjangan Besar, Menjangan Kecil, Cemara Besar, Cemara Kecil, and Tanjung Gelam Island.
In Menjangan Besar Island, you can find shark breeding. Those who are adventurous can try to swim together with the sharks. Don't worry, they're all tame and friendly!
Menjangan Kecil Island is for those who love to explore the underwater wonders. The water around Menjangan Kecil Island is clear, so it's perfect for snorkeling. You can see the beautiful underwater life, colorful fishes and reefs here.
Cemara Besar and Cemara Kecil islands have coastline with white sand and pretty beaches. There are many pine trees on the islands, which explain their name (in Bahasa Indonesia, "Cemara" means pine).
If you love to just spend your time on the beach while sunbathing or simply enjoying the breeze, Tanjung Gelam Island is a great spot for you. This island has a stretch of white sand beach and clear, turquoise water.
How to get there
Although access to this archipelago would require patience and time, but trust us, it'll worth the effort. Here's how you can reach to these beautiful islands:
There are chartered planes from Semarang and Surabaya that fly to the Dewa Daru Airport in Kemujan island. Local airline, Airfast, also flies to Karimunjawa from Surabaya every Monday to Thursday. The schedule can be seen here (ticket prices and schedule are subject to change without prior notice)
Other transportation option is slow ferry, which travels 5 hours from Jepara to Karimunjawa Island. The ferry departs at 7am, 9am, and 10am every day, but this schedule is also subject to change without notice.

Ferry to Karimunjawa

If you opt for a faster route, you can choose a speedboat. The speedboat travels 2 hours from Jepara to Karimunjawa, and departs at 9am four times a week.
Note: always check the weather before traveling with boats. Also, all boats are only operational if the waves are none to medium.
Accommodation
There are various kinds of accommodation on Karimunjawa, from homestay to four star hotels. There are also camping sites available on the island. The homestay places start from about Rp100,000/night (without air conditioner), while rooms with air conditioner starts from Rp350,000/night.
If you want a rather luxurious accommodation, there are three major resorts in Karimunjawa: Kura-kura Resort, Nirwana Laut Resort, and Paradise Resort.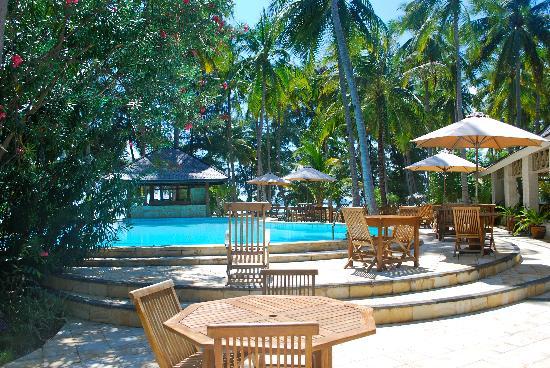 On the island of Kemujan and Karimunjawa, the electricity is on from 5.30pm until 11.30pm or with private diesel generator. It is quite difficult to get mobile internet connection. LAN connection is available, but only at a few spots like Café Amore. The connection might drop unexpectedly though.
Food and drink
Depending on where you stay, breakfasts are generally provided by the hosts. Since Karimunjawa is surrounded by seas, it is very easy to find seafood treats here. Fresh fish and prawns are staples in the island. Aside from restaurants in the hotels, there are also other eateries (warung) providing cheap and homemade foods like rice, fish, and assortment of vegetables around the island.
There are neither bars nor clubs on the island, so it will be difficult to buy alcohol. However, a limited choice of alcoholic beverages is served in the luxury resort Breeve Azurine, restaurant Eet & Meat and hostel The Happinezz.
Transportation on the island
There is no public transportation available on the island. For getting around, you can rent a motorcycle for about Rp80,000 per day. The roads at Karimunjawa are relatively small with little to no traffic at all (the traffic is usually caused by children playing on the roads). Helmets are not mandatory, but can be worn for safety.
Things to bring
Since there is only one ATM on the island, take enough cash with you.
Bring a hat, sun blocks, and sunglasses to protect you from the sun.
Modest clothes (since you're still in Indonesia), but make sure they're not too thick as well
Flip flops, in addition to the regular walking shoes
Snorkeling and diving tools
A good camera!
Helpful websites
These websites provide important information about Karimunjawa Islands that will help you to have more enjoyable trip: