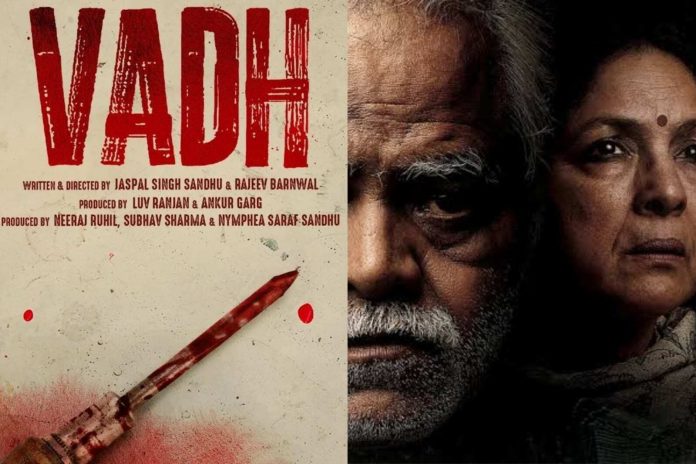 Review of movie Vadh by Reinu S Sharaan
Reinus' Rating 4.5/5
Vadh is a film that exudes strength in weakness, if you know what I mean!!
A weak father ( Sanjay Mishra) a retired teacher, having paid all his savings to send his only son from a small town to USA, the latter also guilt trips him to take loans and put his life at risk with the ruthless loan shark. A weak simple mother (Neena Gupt) Manjuji, who suffers knee pains, but doesn't ask anything for herself, just needs her small family to be at peace. They regularly go to the cyber booth far away to make a Skype call to the selfish son who doesn't want to come see his parents or even know about how their well being.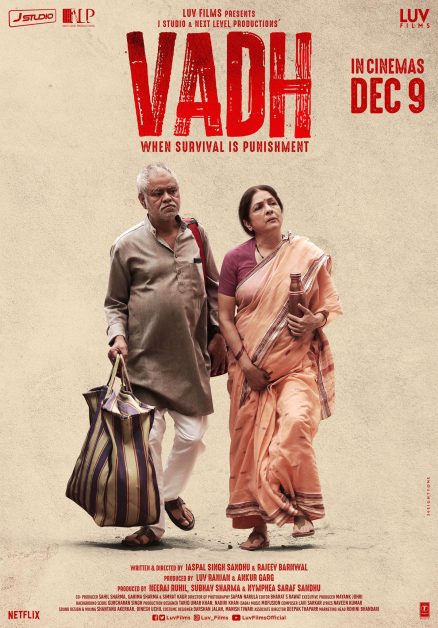 The weakness of this couple is evident when they silently tolerate the merciless acts of the loan shark who abuses the retired teacher Shambhunath Mishra, who keeps himself busy by tutoring the kids around his home only to help them. His wife Manjuji is a typical home maker in Gwalior, all she wants is to care for her husband and pray for her son's well being. This couple would have been invisible had it not been for the loan shark and his unscrupulous demands that lead for the master ji to kill him in cold blood. And then you watch as the strength rises from the weakness like a Phoenix.
The plot moves beautifully with the characters. It finally hits the viewer the difference between murder and Vadh (justified killing) when masterji explains the reason to his unaccepting wife. You look for reasons to accuse the murderer.
Stellar performance by Sanjay Mishra, you don't see a wrinkle on his face for his deed, or when he bursts out in helpless tears at why would he be humiliated when he has a son to protect him. Why do we need super stars we have superior actors.
Neena as Manjuji is simply flawless. Her performance is effortless as she transforms from non acceptance of the act to accepting her husband for doing what he did.
The script is just too sharp and keeps you wanting for more. Small nuances referring to Manohar kahaniyan to the little innocent girl student who catches the eye of the shark are absolutely brilliantly handled.
From the setting of the house in Gwalior, to the costumes they wear you actually become Masterji and Manjuji .
When you watch a film like Vadh the little film maker inside you turns to a plain satiated audience.
Don't miss this film on Netflix.
Reinus' Rating 4.5/5
About Reinu S Sharaan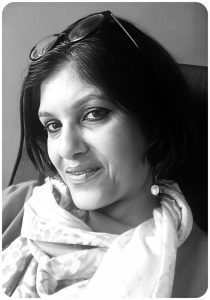 As a scriptwriter and producer with over 25 years of experience in the film industry, I bring a unique and comprehensive perspective to the world of film reviewing. What started as a hobby has evolved into a deep passion for analyzing and critiquing films with a 360° viewpoint.
Having worked behind the scenes, I possess an intimate understanding of the intricate elements that contribute to a successful film. From the art of storytelling to the nuances of character development, cinematography, and production value, I have honed my skills in recognizing and appreciating the craftsmanship that goes into creating impactful cinematic experiences.
I believe that a film review should encompass not just a simple evaluation, but a comprehensive exploration of the artistic and emotional depth that a film can offer.
I am passionate about sharing my thoughts and opinions on films. My opinions are from my perspective alone.