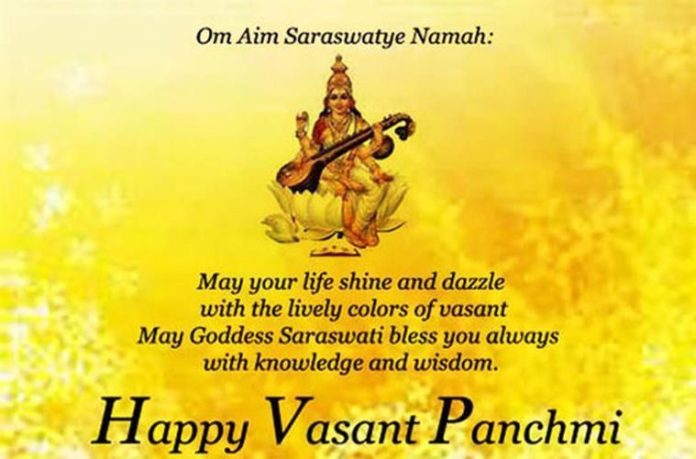 Vasant Panchami is a festival that highlights the end of winter and the beginning of spring. Vasant stands for spring, and Panchami stands for the fifth day. This festival occurs in the fifth day of Magh in Hindu calendar. In Gregorian calendar, Vasant Panchami falls around January to February.
Purvahna Kala, which is the time between sunrise and midday, is considered as Vasant Panchami day.
Vasant Panchami festival is dedicated for Sarasvati, the goddess of learning, arts, music, and technology. Hindus all over the world joyfully celebrate this festival to embrace the new hope and optimism. This festival is celebrated by the Hindus and Sikh community.
The festival is identical with yellow color. Sarasvati will be dressed in yellow and jewelries; and worshipped during this festival. Everyone will wear bright yellow dress and participate in Vasant Panchami. In this festival, yellow symbolizes the rich and brilliance of nature. The vibrant color also signifies the spirit of life. The festival will burst with vibrant yellow everywhere.
Vasant Panchami also has significant aspect, especially in education. It is believed that Vasant Panchami is the best day to start learning how to read and write. Preschool kids are given their first learning session on writing and reading during this festival. Schools and colleges arrange puja in the morning of Vasant Panchami to seek the blessing from Goddess. This festival is also counted as a good day to start all the good deeds and work.
The pujas recited to praise Sarasvati are as follows:
Sarasvati Mantra (Sanskrit Prayer):
Om Sarasvati Mahabhagey, Vidye Kamala Lochaney |
Viswarupey Vishalakshmi, Vidyam Dehi Namohastutey ||
Jaya Jaya Devi, Charachara Sharey, Kuchayuga Shobhita, Mukta Haarey |
Vina Ranjita, Pustaka Hastey, Bhagavati Bharati Devi Namohastutey ||
Sarasvati Vandana (Sanskrit Hymn)
People also recite this hymn on Vasant Panchami:
Yaa Kundendu tushaara haaradhavalaa, Yaa shubhravastraavritha |
Yaa veenavara dandamanditakara, Yaa shwetha padmaasana ||
Yaa brahmaachyutha shankara prabhritibhir Devaisadaa Vanditha |
Saa Maam Paatu Saraswatee Bhagavatee Nihshesha jaadyaapahaa ||
English Translation:
"May Goddess Sarasvati
Who is fair like the jasmine-colored moon,
And whose pure white garland is like frosty dew drops;
Who is adorned in radiant white attire,
On whose beautiful arm rest the veena,
And whose throne is a white lotus;
Who is surrounded and respected by the Gods, protect me.
May you fully remove my lethargy, sluggishness, and ignorance."
In some locations such as West Bengal, Vasant Panchami is celebrated as Sri Panchami. People wearing yellow dresses will carry idol of Sarasvati and immerse it in the holy water of Ganga River. In Nepal, people celebrate Vasant Panchami by decorating the temples a day before the festival to welcome the goddess. Meanwhile in Firozpur, the festival is also livened up by flying colorful kites. That's why Vasant Panchami is also known as the Kite Festival.
It's meaningless if we discuss about festivals without talk about the delicacies of the festivals. During Vasant Panchami, there are many dishes prepared to increase the festivity of this event. In this festival, sweet rice porridge (Kheer) is offered to Goddess Sarasvati during Sararvati Puja, and rice is cooked by mixing saffron, dry fruits, and sugar.
Vasant Panchami is a public holiday in India. Schools, government institutions, and colleges do not operate on the day. Public transportation still operates, but traffic jam may happen due to event processions at several places.
May you be blessed by Goddess Sarasvati and all your wishes and dreams come true.