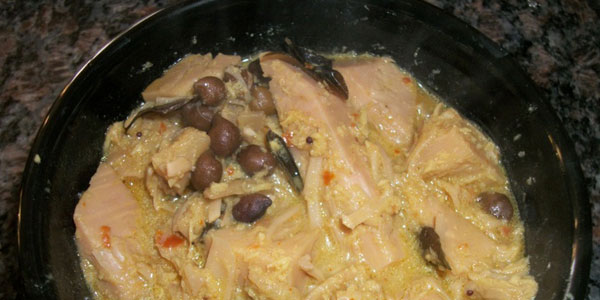 Gulai Nangka or also known as Jackfruit Curry is a Padang cuisine. The taste is usually spicy and savory, as the young jackfruit is cooked in spices and coconut milk along with other vegetables like long beans and cabbage. The cooking method is quite simple, aside from the cooking time which is relatively takes a long time.
Luckily, gulai nangka is also available in almost every padang restaurant.
Ingredients :
Makes 4-5 servings
1 kg young jackfruit, peeled and sliced into 5x5x3 cm slice. Soak the slices in plenty of cold water
100 g melinjo leaves
4 bay leaves
1 cm fresh galangale (lengkuas), bruised
750 ml coconut milk and 500 ml thick coconut milk from 1½ coconut
Spice Paste ingredients :
10 small shallots
7 small cloves garlic
10 candlenuts (kemiri)
1 tbs. coriander seeds
salt to taste
a pinch of sugar
Directions:
Boil the jackfruit slices in the thin santan together with the melinjo leaves, the spice-paste, salam leaves and lengkuas until the jackfruit is tender.
Add the thick coconut milk (santan). Bring it to a boil, stirring occasionally. Continue simmering until done.