Here is a really delicious Indian vegetarian recipe with potatoes. No Onion and Garlic but with lots of raisins.
Perfect with poori, paratha, naan or just plain bread.
Ingredients: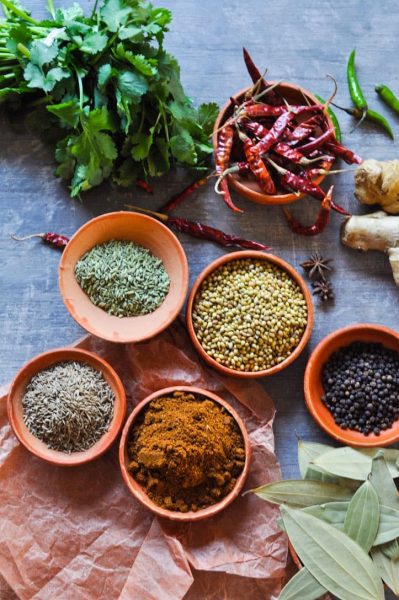 3-4 medium-sized potatoes, peeled and cut into cubes
1 cup plain yogurt (preferably thick)
2 tablespoons raisins
1/2 cup tomato puree
1/4 cup cashew paste (cashews soaked in warm water and ground to a smooth paste)
1/2 cup water
1/4 cup vegetable oil or ghee (clarified butter)
1 teaspoon cumin seeds
1 bay leaf
4-5 whole black peppercorns
2-3 green cardamom pods
1 cinnamon stick
1 teaspoon ginger paste
1 teaspoon coriander powder
1 teaspoon kasuri methi
1/2 teaspoon cumin powder
1/2 teaspoon turmeric powder
1/2 teaspoon red chili powder (adjust to your spice preference)
1/2 teaspoon garam masala
1 walnut sized gur
Salt to taste
Fresh cilantro leaves for garnish
Instructions:
Rinse the potato cubes under cold water and pat them dry with a paper towel.
In a deep-frying pan or skillet, heat the vegetable oil or ghee over medium heat. Add the potato cubes in batches and fry them until they turn golden brown and crispy. Remove the fried potatoes using a slotted spoon and place them on a plate lined with paper towels to absorb any excess oil. You could also use an air-fryer.
In a separate bowl, whisk the yogurt until smooth and set aside.
In the same pan used for frying the potatoes (remove any excess oil, leaving about 2 tablespoons), add the cumin seeds, bay leaf, black peppercorns, cardamom pods, and cinnamon stick. Sauté for a minute or until the spices release their aroma.
Add the ginger paste to the pan and cook for another minute, stirring continuously.
Lower the heat and add the tomato puree, cashew paste, coriander powder, cumin powder, turmeric powder, red chili powder, and salt. Mix well and cook for 2-3 minutes until the oil starts to separate from the masala.
Now, add the whisked yogurt to the mixture and stir continuously to avoid curdling. Cook for a few more minutes until the masala becomes smooth and creamy.
Add raisins.
Add gur and kasuri methi. Mix
Add the fried potato cubes to the pan and coat them well with the masala.
Pour in the water and mix everything together. Cover the pan with a lid and let the potatoes cook on low to medium heat until they become tender. You may need to stir occasionally to prevent sticking to the bottom.
Once the potatoes are cooked, add the garam masala. Give it a gentle stir and let it simmer for another 2-3 minutes.
Check for seasoning and adjust salt and spices according to your taste.
Turn off the heat and garnish with fresh cilantro leaves.
This delicious Aloo Dum without onion and garlic, is now ready to be served! It pairs well with steamed rice, roti, or naan. Enjoy your flavorful meal!
by Poonam Sagar