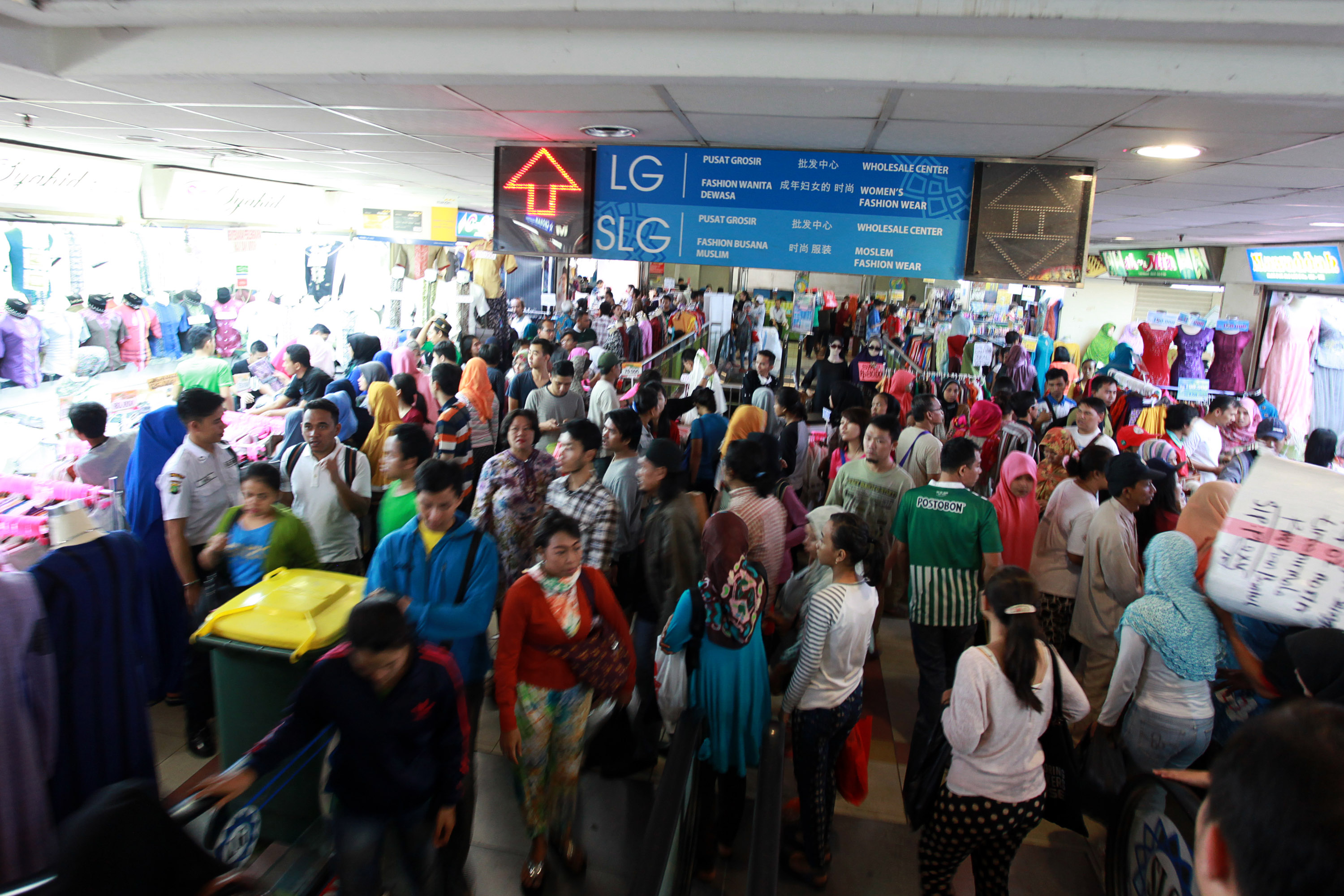 You can find almost everything in Pasar Tanah Abang.
Pasar Tanah Abang is the largest and the oldest textile shopping center in Jakarta. It consists of Blok A that was opened in 2005, and Blok B that was added in 2011. In both blocks you can find anything you might be looking for: kids, adult fashion, jeans, underwear, batik, bags, shoes, special upscale boutiques and a whole lot more at attractive wholesale prices. With over 13,000 kiosks and 75,000 shoppers per day, Pasar Tanah Abang is the largest textile and garment wholesale center in Southeast Asia.
Pasar Tanah Abang is so large that you may get lost when you visit this market at the first time. So, it is recommended to bring a 'guide' (especially if they're local) who is familiar enough with the 'cheap-goods-battlefield' like Pasar Tanah Abang.
But if you have an 'adventurous' soul and want to try shopping in this market without any guide, here are some tips that you can follow:
Plan what you want to buy. That way you don't need to waste your time finding what you want to buy when you arrive at the market. Pasar Tanah Abang is so large that you will spend hours to explore each floors and kiosks, one by one.
Pick the best timing to go to Pasar Tanah Abang. If you want to avoid the crowds, it will be better if you go to this market on the weekdays. Weekend, holidays, or the days before Lebaran are the times when you should avoid this market, as it is too crowded, because many people (not only from Jakarta) come to this market.
Wear comfortable clothes. Even though Pasar Tanah Abang is air-conditioned, exploring the kiosks and floors might leave you sweaty and tired. Cotton shirt, jeans, and sneakers or sandals are recommended to be worn during your shopping at Tanah Abang.
Bring enough cash, as it will be difficult to find ATM at Pasar Tanah Abang. Put your cash in different place: some in your wallet, some in pouches within your clothes or  inside your bags for safety.
Arrive before 9am because the market is still quiet, and the sellers will give you lower price because they consider you as "penglaris". You can find this chance to buy various items, and the price will be even lower!
Tanah Abang is famous as wholesale center, so it is very recommended if you buy items in a bulk. Most sellers in Pasar Tanah Abang will give you attractive discount if you buy minimum 3 items, by the dozens (12 items), or by scores (20 items). If you just want to buy one product, it will be difficult to get the lowest price.
Don't bring kids along with you. The market could be really crowded and hectic, and kids would not enjoy this.
If you want to haggle with the seller, make sure you really like and want to buy the product. Since Pasar Tanah Abang is wholesale center, the price might not be too high, so you need to demand for the logic price. If you haggle so much and then you cancel to buy the product, the seller will be upset.
Always be aware of pickpockets. Don't wear too much accessories (especially if it's gold), expensive watch, or clothes that are screaming "I'm rich and bring a huge amount of money in my bag". If you bring a backpack, wear it in the front so you have total control of your backpack. If you opt to bring a purse, you need to hold it carefully so it will not 'invite' the pickpockets.
Remember the kiosk where you bought the product. This will help when you find there are some flaws or damages on the product you bought. Don't forget to make a deal with the seller that you will bring back the product if you find some damages upon purchasing.
Now that you know the tips to shopping at Pasar Tanah Abang, here is how to get to Pasar Tanah Abang using KAI Commuterline:
From Juanda/Gondangdia/Cikini station, go to platform 2 and take the Red Line/Blue Line heading to Bekasi/Depok/Bogor and stop at Manggarai Station. Go to platforl 2/5 and take the Yellow Line heading to Jatinegara and stop at Tanah Abang station. Take an 11 minutes walks to the southwest.
From Sudirman station, go to platform 1 and take the Yellow Line heading to Jatinegara, and stop at Tanah Abang Station.
For full maps of Commuterline, click here.
Happy shopping!