Bogor has been known and dubbed as the City of Rain. It is not surprising that the weather in this city is cooler than Jakarta, as rains almost every day.
The cool weather definitely helps your appetite meter rocketing to its highest, and it is good idea to explore the culinary paradise in the city. Bogor has many restaurants with not only delicious menus but also different atmosphere and ambiances.
While you are in Bogor (or if you've been planning to visit Bogor), here are some restaurants that you can put in your to-go-list:
1. Lemongrass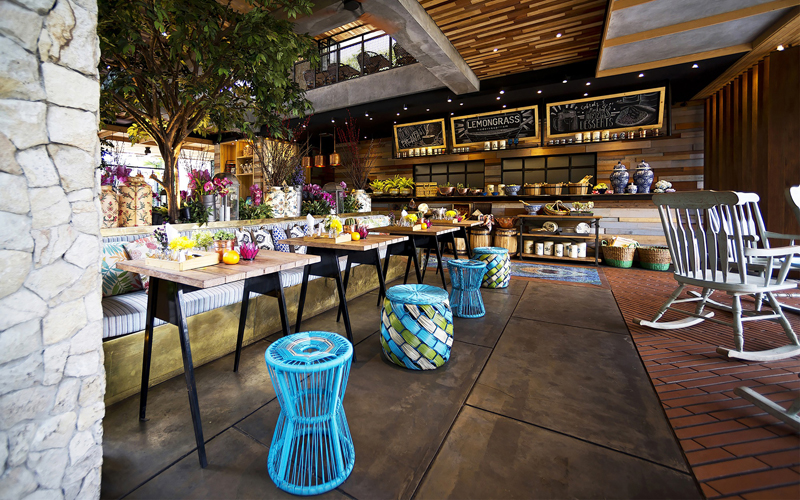 Lemongrass offers modern concept of restaurant and Kopitiam simultaneously. The restaurant is so popular, thanks to food bloggers from Jakarta who reviewed this restaurants. The food menus in Lemongrass are typical with a strong traditional recipes served in an atmosphere of comfortable modern restaurant. Comfortable interior design will make you want to stay longer. If you go there, don't forget to try their Laksa Singapore. Yum!
Address:
Jalan Padjajaran No 21, North Bogor, West Java
Phone 0251-8328800
2. Momo Milk Barn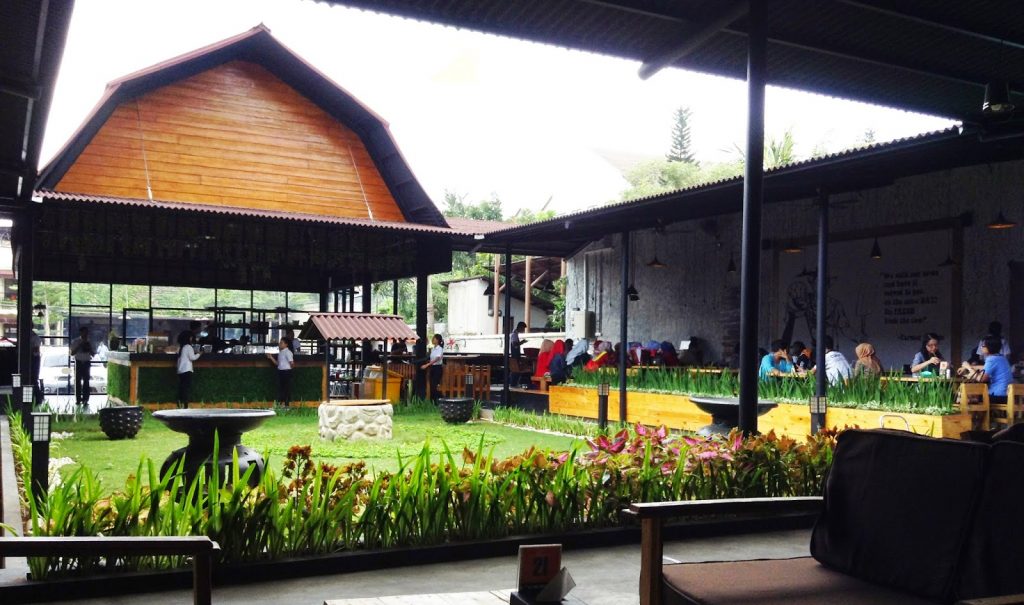 Those who love milk must visit this restaurant! Momo Milk Barn offers wide variants of fresh milk, milkshakes (which are dubbed as "the best milkshake in town"), and yoghurt. Aside from the delicious, unique, yet affordable menus, the layout and interior design of the restaurant is very classy and looks like a modern barn.
Address:
Jalan Kantor Pos No 6, Bogor
Phone 0251-8387303
3. Nicole's Kitchen & Lounge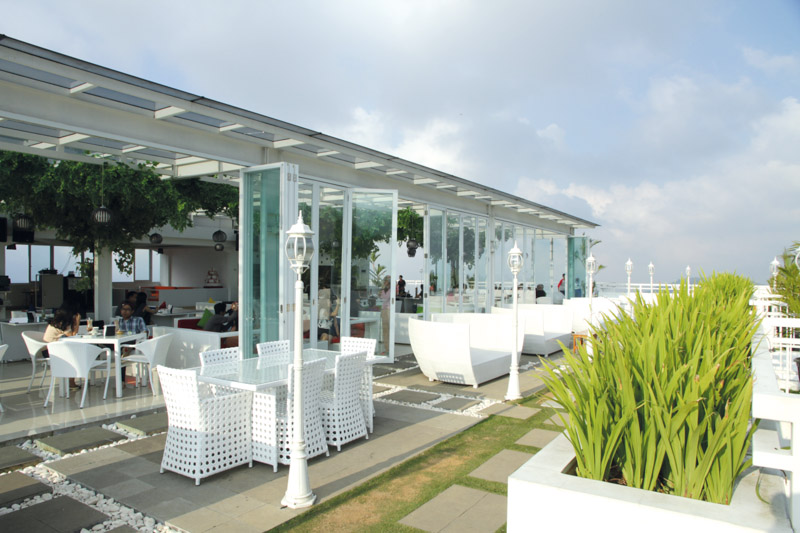 This restaurant is well known in the area of Puncak because of its beautiful views. It is located at the edge of the plateau, giving a nice and romantic atmosphere. Nicole's Kitchen & Lounge is a good alternative if you want a short escape from the noisy big city. Enjoy their Asian and Western fusion menus here while enjoying the beautiful view and breezy weather.
Address:
Jalan Raya Cipanas, Hanjawar 1, Cimacan, Puncak, Bogor
Phone 087754181433
4. Ah Poong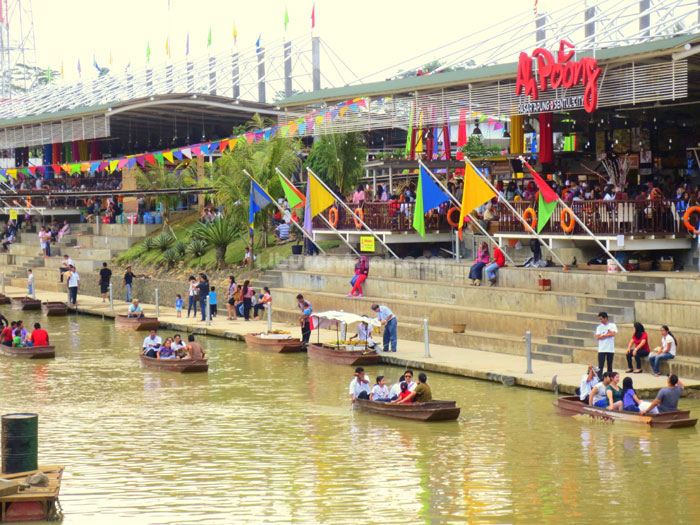 Ah Poong offers you a whole new experience of dining in food court place. Things that make it different from other food courts is that some of the sellers are floating—like literally floating! It seems like Pasar Terapung in Banjarmasin or floating market in Thailand. You can find many variations of Indonesian, Japanese, and Western food here.
Address:
Sentul City, Jalan MH Thamrin, Central Bogor
5. Death by Chocolate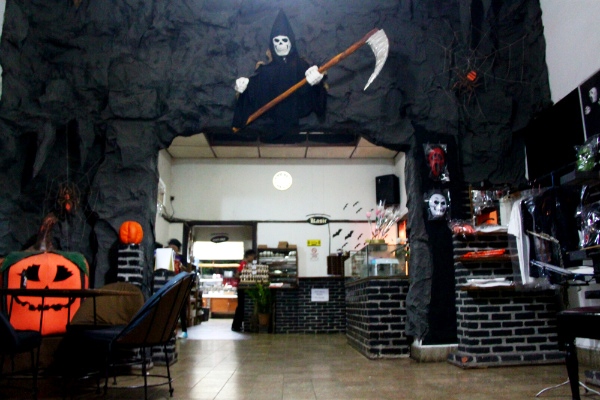 Have you ever imagined eating and accompanied by ghost? Well, you can get this experience in Death by Chocolate. It is a café that provide your sweet tooth with sweets and chocolate galore in a whole new different way. Some of the waiters dress like ghosts and the place is decorated with black and Halloween stuff. Dare to come and try?
Address:
Jalan Ceremai 22, Bogor
Phone 0251-8377725
6. Rumah Air Bogor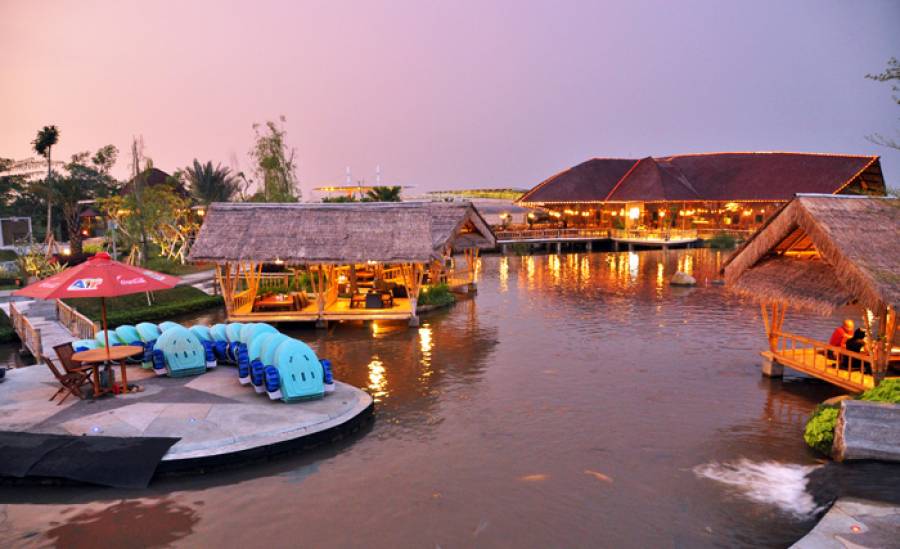 If you miss the real Sundanese atmosphere, breezy air, and the sound of water flowing in the river, you can go to Rumah Air Bogor. This restaurant is really suitable for you who love to fish (which you can ask the chef to cook for you later) and eat in outdoor area. Besides eating, you can enjoy various games here such as palace balloon, crazy ball, bumper boats, mini tricycles, scooter, and remote control cars. It offers you a lot of fun!
Address:
Bogor Nirwana Residence, Jalan Boulevard CBD ST 207, Bogor
Phone 0251-8200666
7. Sop Duren Lodaya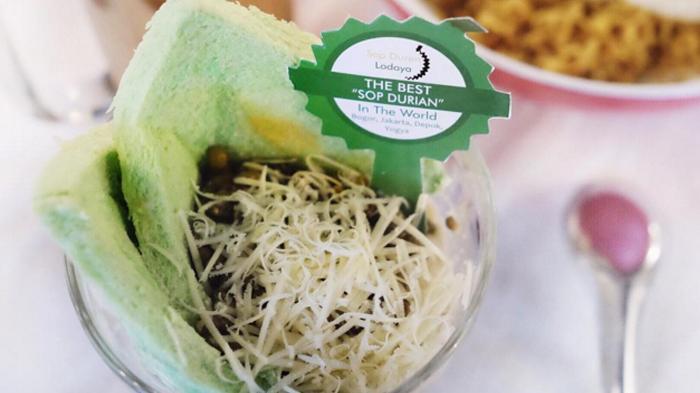 Do you love durian? If the answer is yes, you need to visit Sop Duren Lodaya when you are in Bogor. Sop Duren (durian ice dessert) in this restaurant will give you unique taste of enjoying durian. On top of the dessert, various toppings such as cheese, brownies, or even pandan bread are added to maximize the taste. It's refreshing and undoubtedly delicious!
Address:
Jalan Lodaya No 2, Babakan, Bogor
Phone 085217000189
8. Warung Nako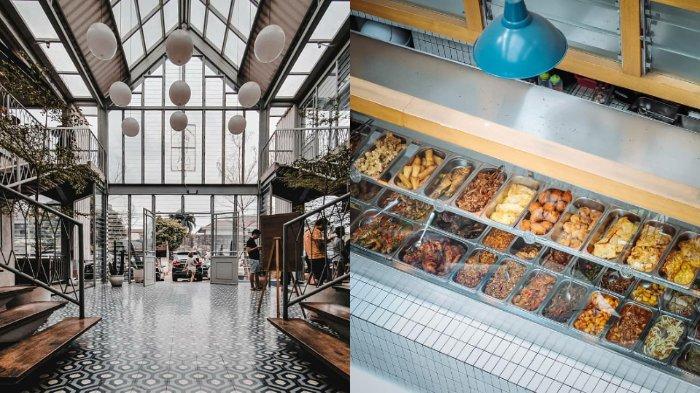 One of the hottest gathering spots in Bogor, Warung Nako's menu and interior is guaranteed to be a crowd-pleaser. It is set in a white-dominated building with glass-house as inspiration, combined with a neat modern-minimalist interior and unique ornaments to add flair to the place.
Warung Nako is most known for its signature ice coffee and several interesting coffee menus. Another option to accompany your coffee drinks are Indonesian food served with "warteg" style.
Address:
Jl. Pajajaran Indah V No.7, Baranangsiang, Bogor
Whatsapp +62-895704264518
9. Cimory Riverside View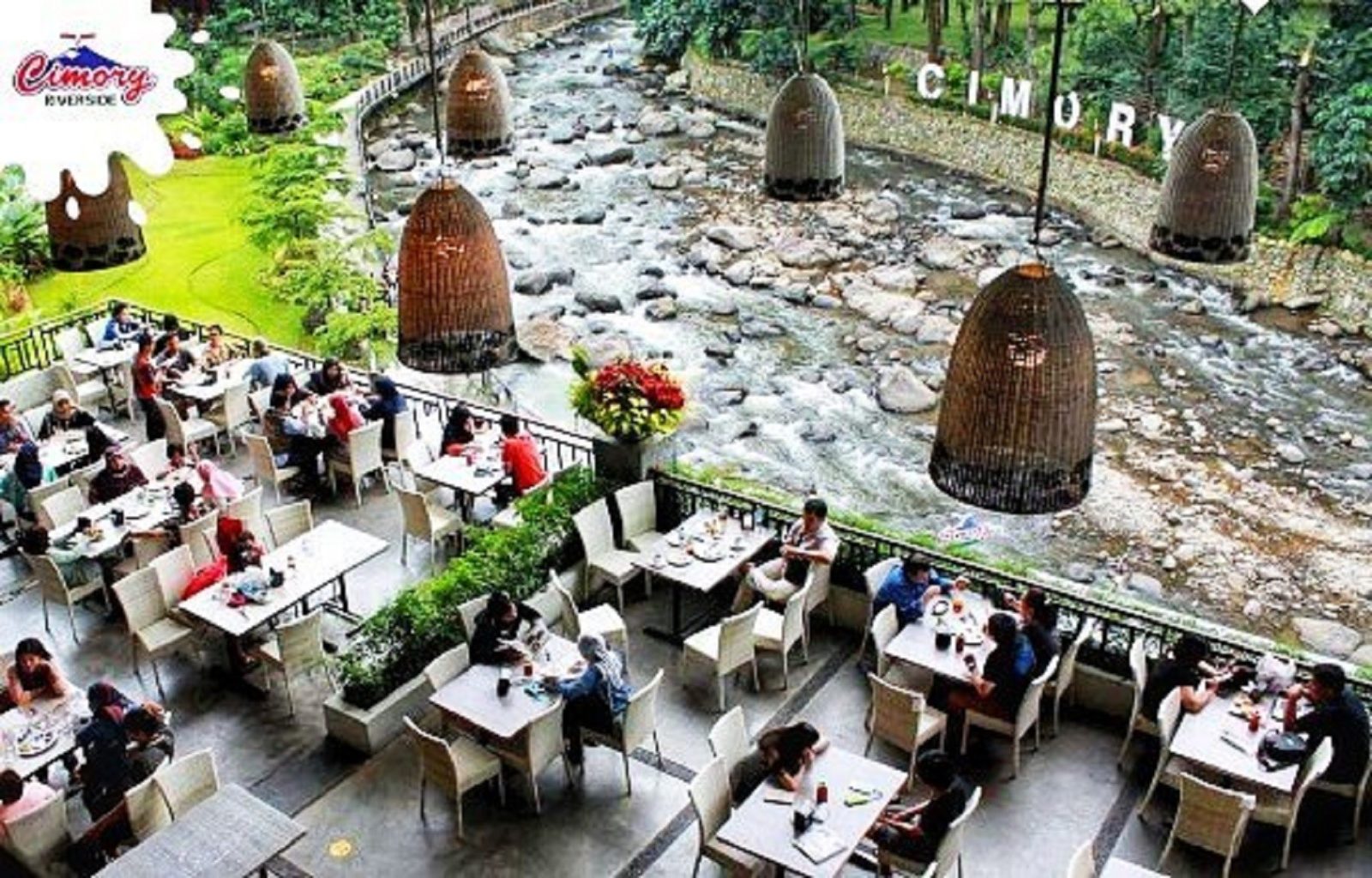 When heading to Bogor, Cimory Riverside View is one of the places that tourists would frequent. This is because Cimory's products are already famous and spread all around Indonesia. Not only will tourists be able to enjoy the signature products like fresh milk and yogurt at their restaurant, but also enjoy their food with a beautiful view of the Ciliwung river before them. Children's entertainment include the 'Cimory Mini Farm' where kids get to see farm animals, and even learn to milk cows.
Address: 
76, Jl. Raya Puncak – Gadog No.KM, Leuwimalang, Kec. Cisarua, Bogor, Jawa Barat 16750
Phone (0251) 8252678
10. ForesThree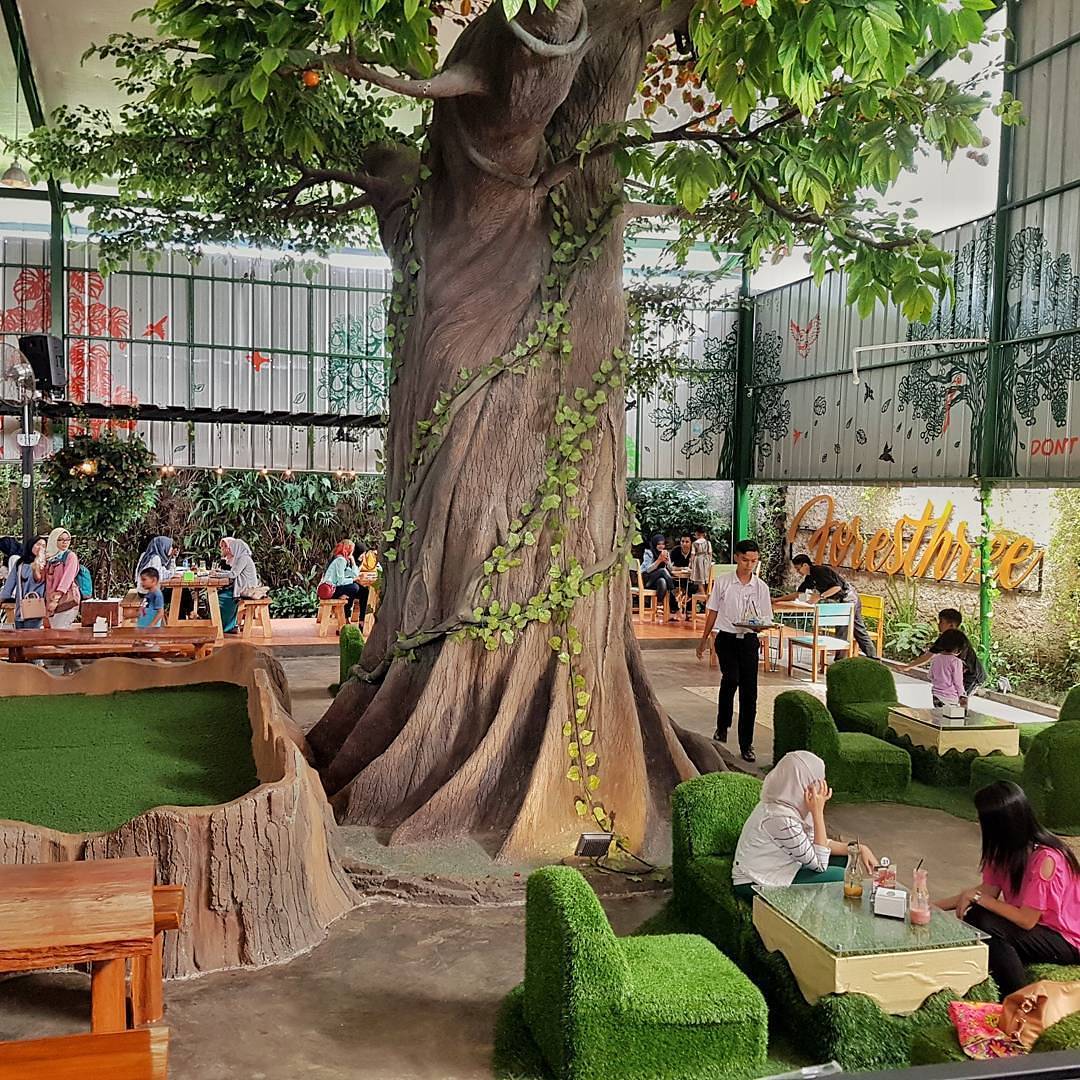 Bogor is known to be the 'city of rain', which is why it's no wonder that trees and plants grow lush there. Foresthree is built with that exact concept, in which the restaurant is surrounded by large rooted trees and different types of large plants. Visitors will be eating from picnic tables under these large tree branches with chairs that is covered in synthetic grass. This restaurant is family friendly, for the children have a playground that they can play in.
While enjoying the forest view, try out their highly-rated cheesy pizzas and smoothie bowls. If both are not to your liking, then any dish is worth trying here since most of the food is organic and sourced from local farmers.
Address:
Jl. H. Achmad Adnawijaya, Bogor Utara, Bogor
Phone +62 813-1551-4135 (Whatsapp) / +622518575517 / +6287870128048
11. Edensor Hills Café & Resto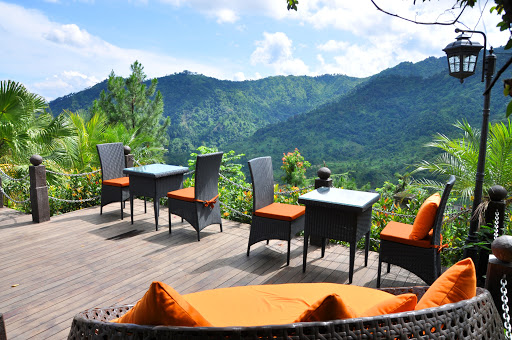 For a different and ethereal restaurant setting, then head over to Edensor Hills Cafe & Resto located in puncak. The restaurant setting already ensures that the setting would be beautiful. Not only that, but the location in puncak also means that you will be overlooking the majestic mountainous landscape while eating dinner. Sunsets are when the view is the most beautiful, so keep that in mind when you want to visit Edensor Hills cafe. The indoor area is just as beautiful, with red leather sofas and bright open windows that allow in natural lighting!
There are various foods that you can choose, starting from the local favorite Ayam Betutu and steak for western meals.
Address: 
Bojong Koneng, Babakan Madang, Bogor, West Java 16810
Phone 085891526384
12. Kopikenalan by Imah Nini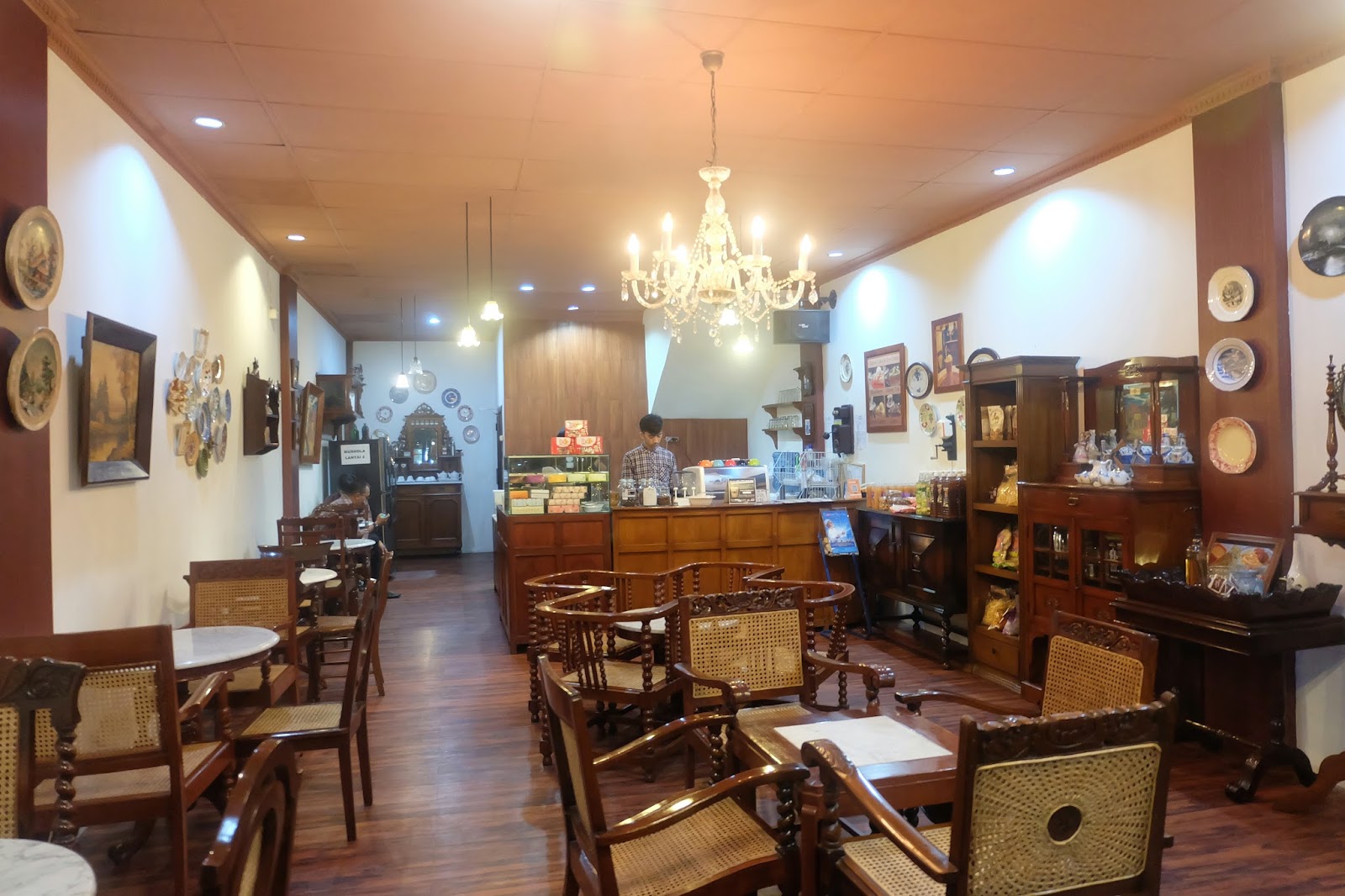 As you probably know, vintage is coming back and is currently on-trend. That is the concept of Kopikenalan, in which people can get their coffee while enjoying the vintage interior of the restaurant. Colourful china plates and the wrought iron chairs are some of the decorating that you can see here.
Since the theme is vintage, visitors will be able to eat Granny's classic dishes like Mac n' cheese, ending with the Green Tea Cheesecake.
Address:
Jl. Sancang No. 7B, Bogor Tengah, Bogor
Phone +62895396185044
Which restaurant seems the most interesting to visit? Have you tried any of it? Tell us in the comment section below!