There are so many shops selling baby clothes and products in the malls around us. However under the current situation it is far safer and easier to shop via the many online stores specializing on baby clothes and other products.
Whether you are expecting a baby, or want to give baby hampers to your friends or family, these online stores are there to help you find your favorite products for babies. The best thing is it's only a click away!
We have compiled the list of online baby shops recommended by mommies in Indonesia to find those cute baby products. Here are a few:
Nenenshop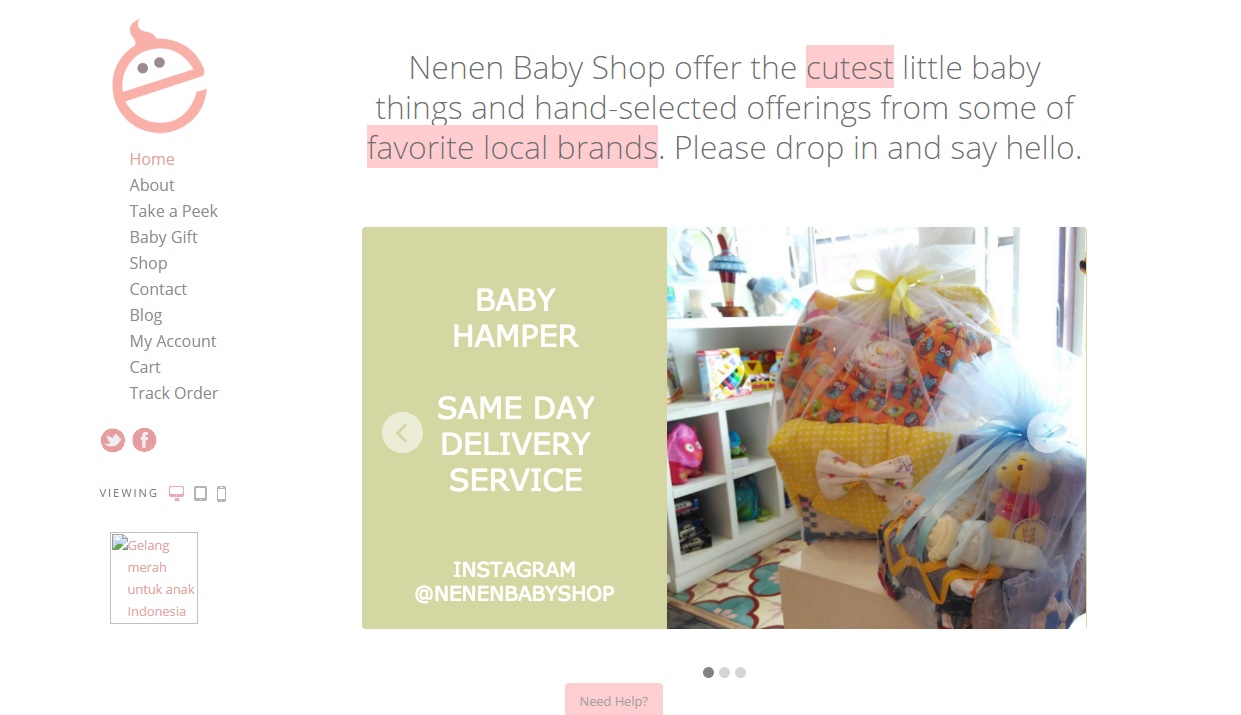 Not only selling the cutest clothes and products for babies, Nenen Baby Shop is also committed to support creativity by selling local Indonesian products. This is also one of the most favorite online baby shops among Mommies in Indonesia. You can also get customized baby hampers here, and get it delivered on the same day!
Website: http://nenenshop.com/
Contact/Whatsapp: 082122006413
Contact (English): +628161833443
Bebe Love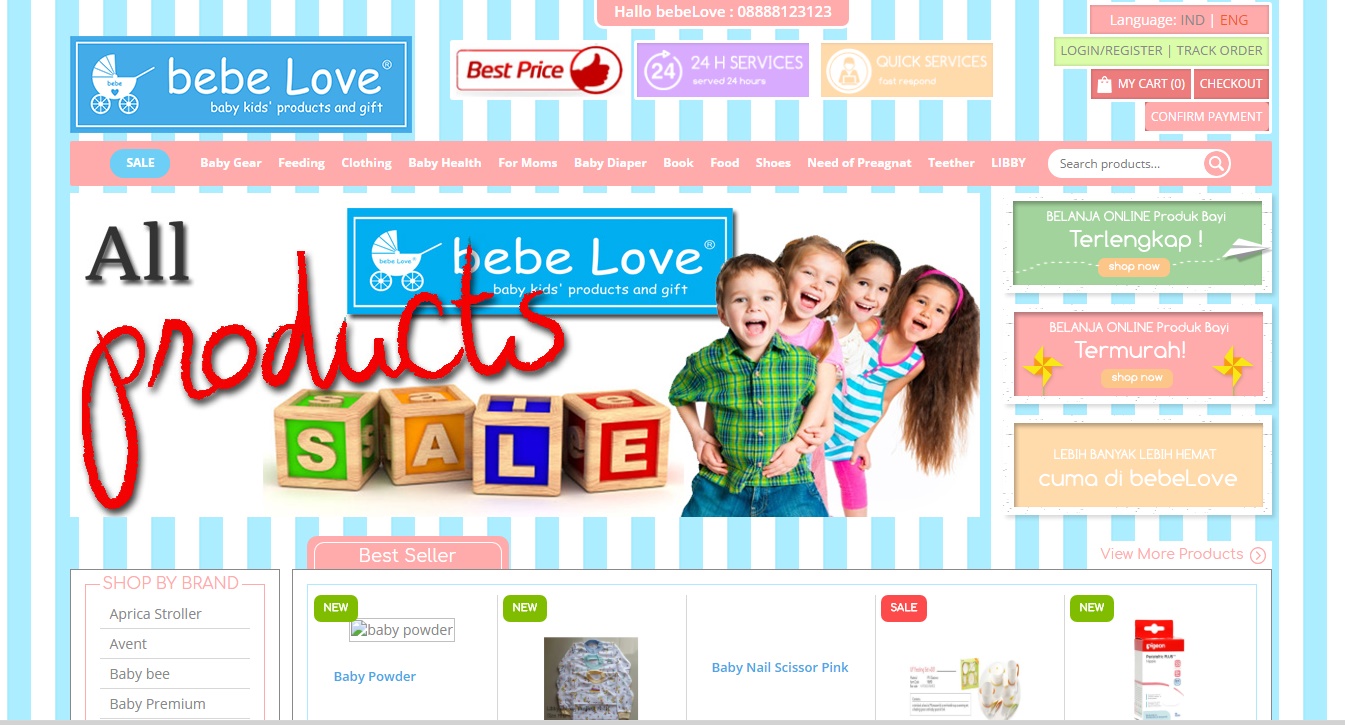 Here you can find baby clothes, health products, strollers, and other tools you will need for your babies. There is also a selection of products for Mommies like maternity pillow and baby slings. In short, anything you need for newborn babies, toddlers, and little kids are available here.
Website: http://bebelove.id/
Contact: +62 8888 123 123
Adik Bayi
"Adik Bayi" means "little baby" in Indonesian, and it pretty much explains the products they offer here. In this store you can get a wide range of products from shower gel to diaper cream for infants. Baby toys and accessories are also available here. Notes: check the site frequently as it often offers discounts!
Website: www.adikbayishop.com
Contact:  08112686353
Alice Baby Shop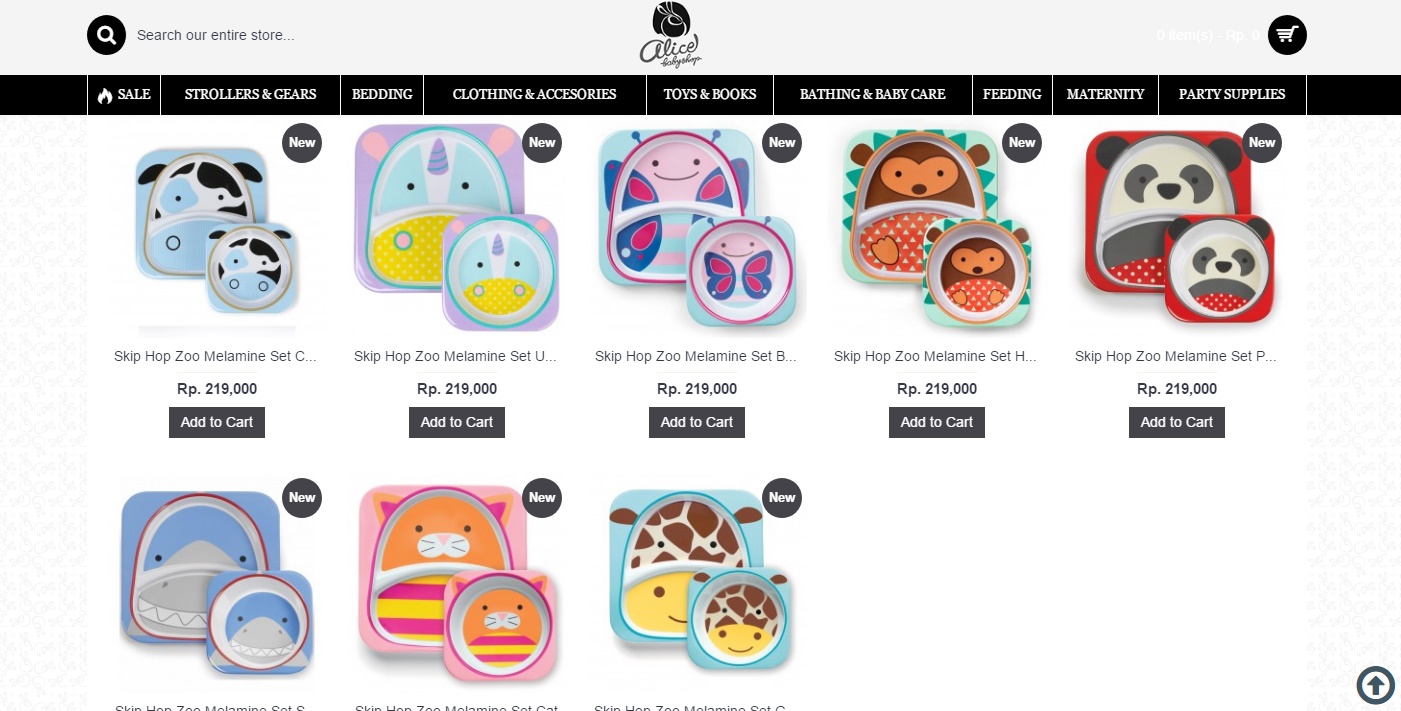 Alice Baby Shops believes that every baby's journey is unique and special, and it offers only the best products in their store. This is the store where you can get quality yet affordable baby products. They provide strollers and gears, bedding, clothing, toys, bathing and baby care, maternity, and even party supplies for birthdays.
Website: http://alicebabyshop.com/
Contact: 0821-3636-0880
Cleobabys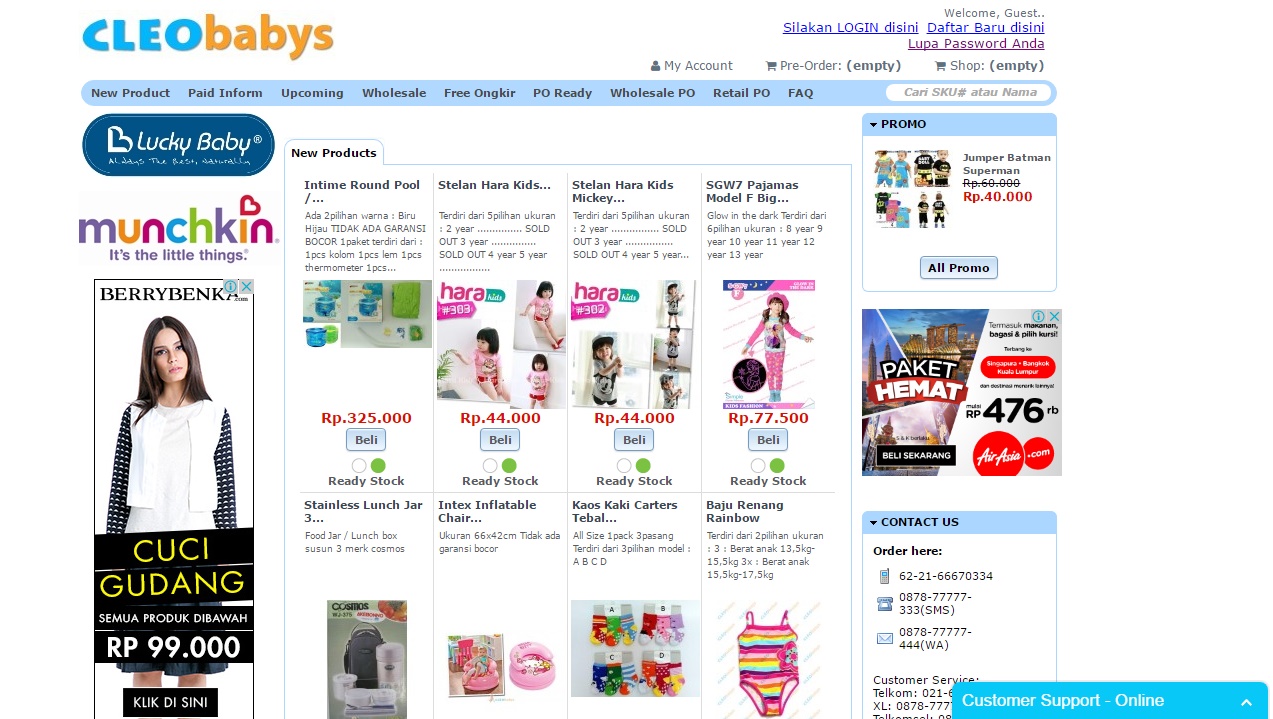 Mommies on online forums often recommend Cleobabys to find baby products in one shop. Most of the products are sold in wholesale prices, and you also can buy them in bulk. Cleobabys provides baby's clothing, furniture, accessories, healthcare products, toys, and many more. Resellers are also welcomed here.
Contact: 0878-7777-7444
Whatsapp: +62 878-7777-7444
Website: https://www.cleobabys.com/
Baby Empire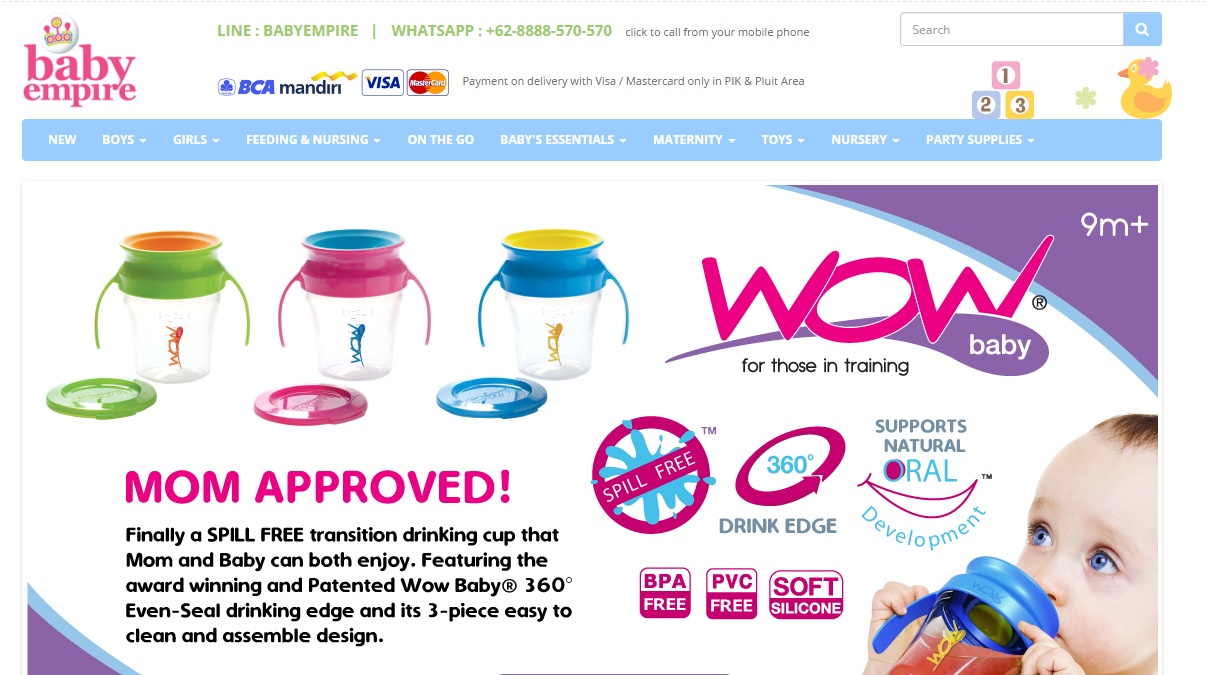 Baby Empire has their own delivery courier, so you can make sure that your products are delivered on time. A wide range of products are available here, from common products like clothes and toys to tools like breast pump and breastfeeding meter. Baby Empire claims that they only sell one-of-a-kind products that are manufactured with environmental and safety standards.
Website: https://babyempire.id/
Contact: 0888-857-0570
Babyzania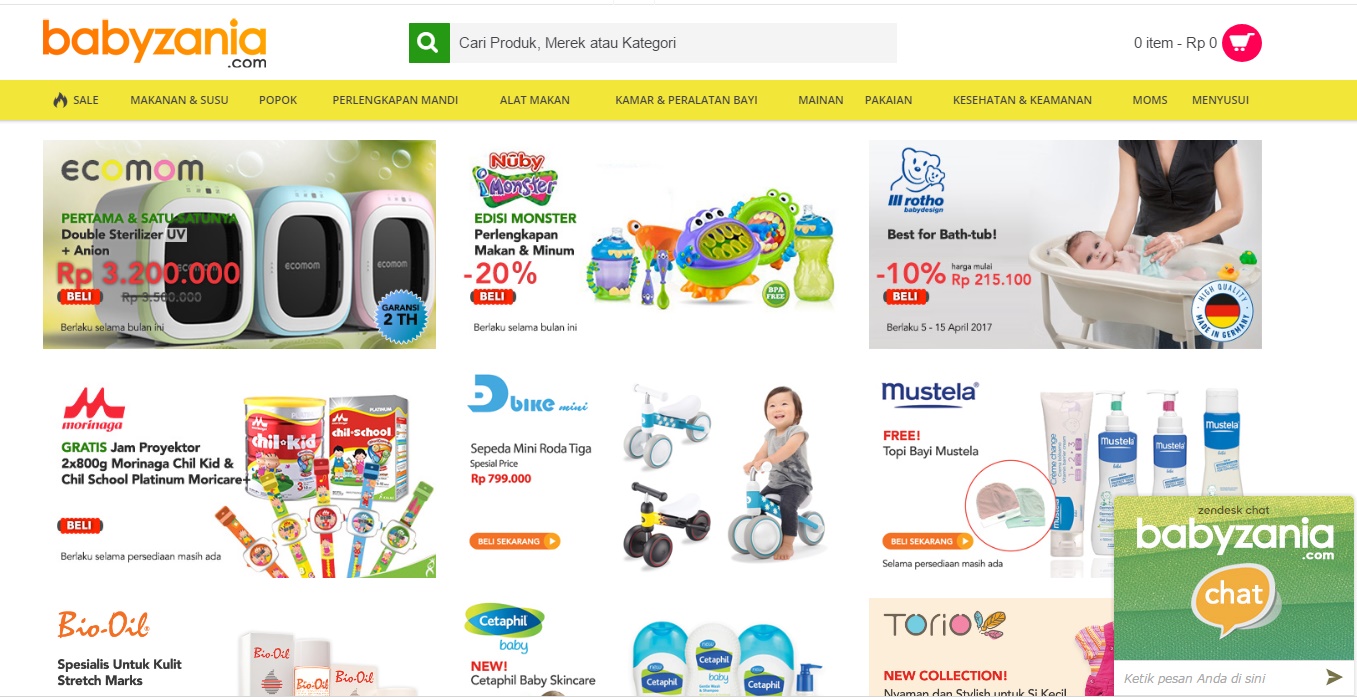 Babyzania offers good price for baby and maternity products. It also has a wide variety of products. You will not only find baby clothes and accessories, but also formulas and even imported snacks for adults. Free delivery and cash on delivery are also available for selected cities in Indonesia.
Website: http://babyzania.com/
Contact: 021-29365141
Whatsapp/SMS: 0819-0123-5000
Mothercare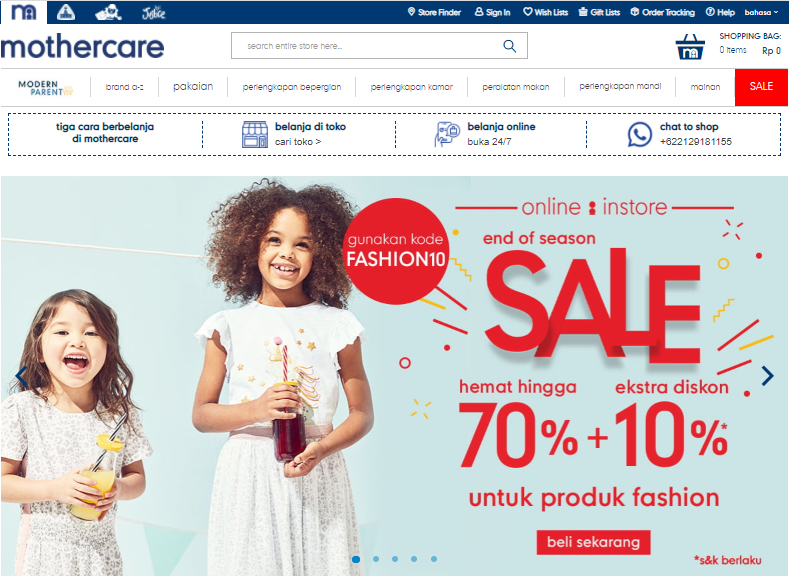 Although Mothercare is closing all over the world, it does not affect mothercare Indonesia. For that reason, mothercare is one of the online stores you should visit for mothers-to-be, babies, and children up to the age of eight. They offer a variety of products, starting from clothing to footwear for children. Prices also range from entry price to the more premium collections like Little Bird and Baby K ranges. Other than that, they offer Blooming Marvellous, a maternity range. For the category of Home & travel, they offer pushchairs, car seats, furniture, bedding, feeding, and bathing equipment. Toys sold in this website are mainly for babies.
Website: https://www.mothercare.co.id/
Contact: 021-29181155
Tororo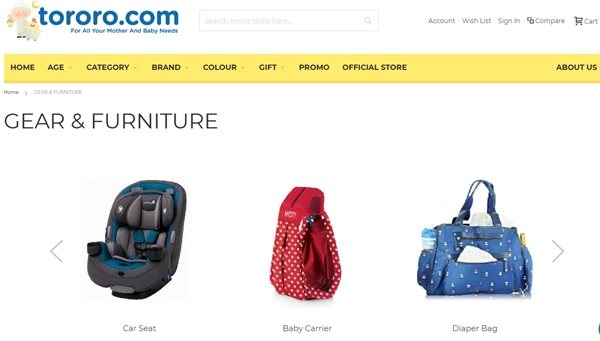 Tororo.com is one of the most trusted online store for baby gear in Indonesia. Starting from 2013, Tororo has has been providing and delivering millions of products quickly, precisely, and friendly to families all over Indonesia. Here, customers will be able to buy basic baby's products, such as milk, diapers, and various other categories, including feeding utensils and bottles, baby baths, baby skin products, clothing and shoes, baby gear, strollers, and maternity products.
Website: https://www.tororo.com/index.php
Contact: (021) 29305425
Inibayiku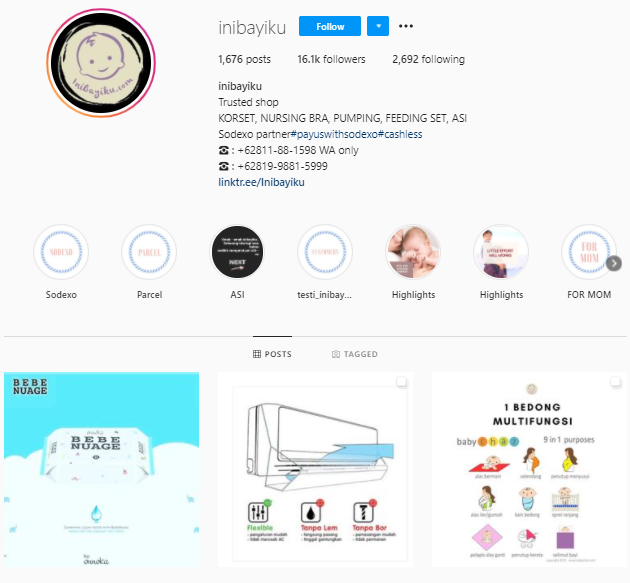 Founded in the year 2015 in Jakarta, Inibayiku.com was born with a dream and vision to deliver the best selection of baby and maternity products. They also offer necessities for newborns, babies, toddlers, and children at early years.
Contact: 0823-6660-2000
Website: https://www.inibayiku.com/
Kicau Kecil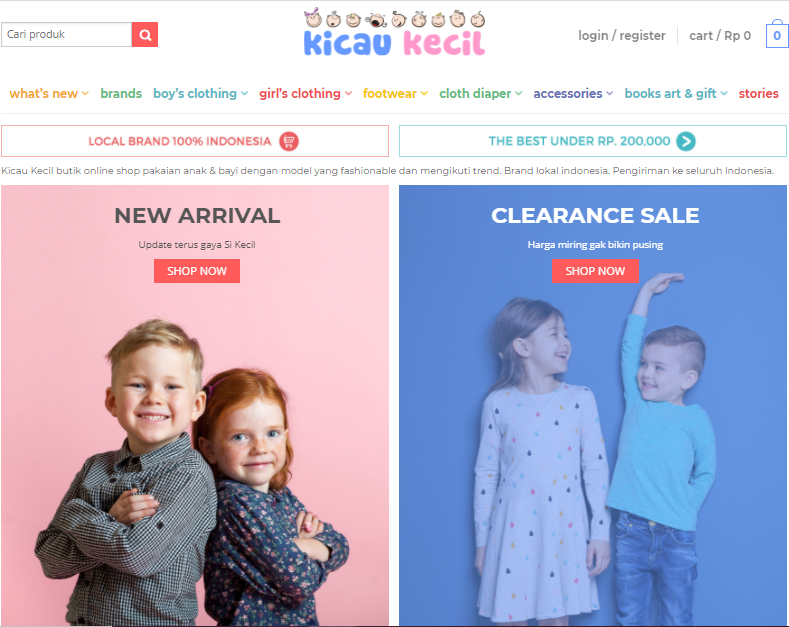 Alternatively, customers can head to Kicau Kecil, an online children's boutique that provides clothes and necessities for children and babies starting from newborn age to 8 years. All the products at Kicau Kecil are chosen and curated from the best domestic and foreign brands suppliers.
Contact: 0813-1110-8079
Website: https://kicaukecil.com/
Ken Mom Shop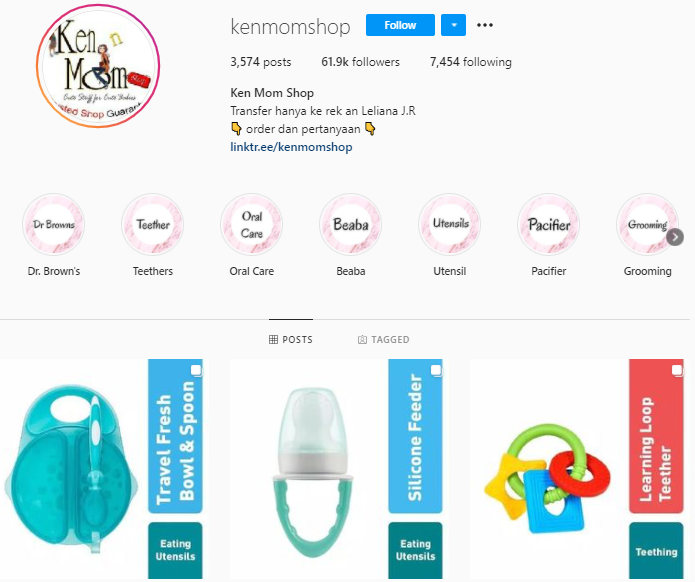 On the other hand, Ken Mom Shop is known to offer only high-quality mom and baby supplies. Products vary from baby carriers, mom and baby gears, baby foods, food processors, and more. The store also sells baby skin products from international brands.
Contact: 0819-3230-1599
Instagram: https://www.instagram.com/kenmomshop/?hl=en