The perfect school lunch sandwich is at the intersection of taste and nutrition. Here are four amazing sandwiches that not only your children will love to take to school, but you will probably prepare extra for yourself.
1. Apple Chutney and Cheese Sandwich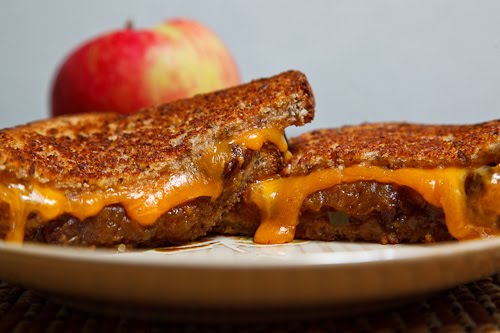 It's as easy as apple pie! This healthy and absolutely divine sandwich is a great blend of contrasting flavors – sweet apples, tart and rich balsamic vinegar, juicy plump raisins, crunchy walnuts and subtle velvety cheese.
Ingredients :

For Apple Chutney :
2 apples peeled and diced
1/2 cup soft brown sugar
1/3 cup raisins
1/4 cup coarsely chopped roasted walnuts
2 tbsp balsamic vinegar
For Sandwich :
10 slices multigrain bread
10 slices Cheddar or any other plain cheese
Method
Cook all chutney ingredients in a pan over medium-low heat for 15 minutes, stirring occasionally till apples are mushy and most of the water has evaporated. Add walnuts, remove from heat and let cool.
Spread bread slices with chutney, place a slice of cheese between two slices and wrap in cling film to prevent sandwiches from drying out.
2. Spicy Sweet Potato Sandwich

Healthy, spicy yet sweet, this simple filling is great with parathas and makes an unusual desi sandwich with pav and mint chutney.
Ingredients
– 500g sweet potatoes, washed and diced into big pieces
– 1 tsp cumin seeds
– 1 tsp coriander seeds
– 1 tsp cloves
– 1 tsp fennel seeds
– 3 dry red chillies
– 2 tbsp oil
– 1 tsp dry mango powder
– Salt
– 2 tbsp fresh coriander finely chopped
Method
Heat oil in a pan; add the potatoes and fry on medium-high flame till lightly browned. Reduce flame, cover and cook till potatoes are cooked (7-10 minutes).
While potatoes are cooking, dry roast whole spices and powder in a blender.
Season potatoes with salt and spice powder and cook uncovered on medium heat for 2 minutes till well combined.
Mix in the dry mango powder and chopped coriander, turn off the heat and cool before storing in an airtight container. Serve with pav/bun slathered with mint chutney.
3. Sun-Dried Tomato Pesto Sandwich
A super easy, delicious and filling that combines tangy tomatoes, creamy pine nuts and cheese with the lingering zest of basil.
Ingredients
For Pesto:
– 1 cup sun-dried tomatoes (store bought)
– 1/4 cup chopped fresh basil or 1 tablespoon dried
– 2 tbsp pine nuts, toasted
– 1/2 cup Parmesan cheese grated
– 3 garlic cloves
– 3/4 cup olive oil
Method
Blitz sun-dried tomatoes, basil, cheese, pine nuts and garlic in a blender. Keep it running and slowly pour in olive oil and blend into a smooth paste.
Spread pesto generously over whole grain bread. Cover in cling wrap or store in an airtight container till ready to serve.
4. Cream Cheese and more
Ingredients :

1 tub cream cheese (store bought)
Salt & pepper to taste
Fillings use any :
Slices of capsicums
Slices of cucumbers
Blueberry
Strawberry
Apples
Celery
Ham & grated carrot
Method
Spread cream cheese on whole wheat bread slice
Add any other fruit/ vegetable and cover with another slice. Cover in cling wrap or store in an airtight container till ready to serve.
We look forward to hearing your comments, feedback and also invite you to share your sandwich recipes to add to this list.