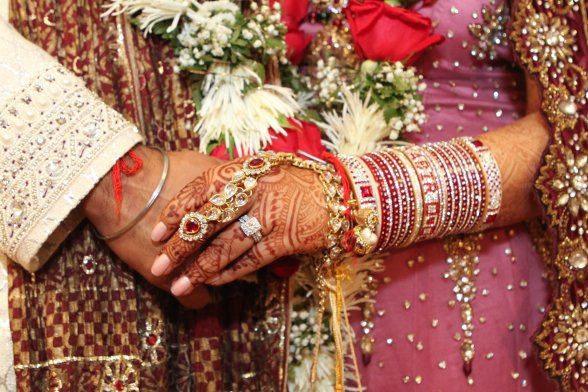 Stop having nightmares about the reams of money you'll blow up on your big day. Some smart-spend strategies help you rein in the bucks. If you have a budget that's tighter than J.Lo's jeans and still dream of the entire Hindi film song-and-dance routine wedding, fear not. This 41 tips are practical enough to let you get the glitz and glamour without busting the bank.
Send e-mail invites o a friends who won't mind being invited electronically. Save on printing and stamps.

Ditch the five-star hole -in-the-pocket venue. The lush green lawns of many clubs are rented out for wedding and work out much cheaper. Plus, you get a plush ambience for a fraction of the cost of a five star banquet hall.

Plan for a huge salad bar. And then cut back on the number of dishes at the actual buffet.

Ask venue managers for catering or decorating services at a discount.

Ask an arty friend to help you with your mandap design. Not only will it be cheaper, you'll also get a unique set.

Don't buy the pidhis. Ask the venue managers to provide them, or borrow from someone who has them. Also try hiring samagri items for the ceremony.

Get talented friend to compare your ceremonies. It's more personal.

Choose flowers that are in season and available local, rather than exotic out-of-season blooms.

Cut costs on decorations. Rope in enthusiastic young cousins and friends to doll up the venue with balloons, ribbons and streamers for pre-wedding bashes.

Use banana leaves, coconut shell candles and dry flowers to create an exotic ambience, cost-effectively.

Keep your ceremony as short as possible, so you don't end up paying extra when you overstay the hall timings.

Make sure you book a venue well in advance. This way you can negotiate better rates.

Book the photographer for a fixed fee, and nor on an hourly basis.

Alternatively, get only the portrait pictures done by a professional and ask friend and family to click the rest.

Plan your wedding during off-peak months. Getting married during the off-season can get you a lot of discounts.

Arrange to share venue decoration costs with the couple throwing a reception on the terrace.

Limit the guest list to close relatives and friends. Then you can even host the reception on the terrace.

If you have good cooks in the family, persuade them to do the cooking for a small reception.

Mix expensive and cheap dishes on your menu. Nix the cocktails.

Replace expensive carved fruit and vegetable displays on the buffet table with flower arrangements.

Instead of waiter service, have a help-yourself buffet bar.

Compare hourly fees and package deals to see which is more cost-effective for you.

Ask friends and relatives to pitch in with their cars and do away with hiring vehicles.

Limit decorative lighting to the stage and the mandap. Use ordinary lights for the rest of the area.

Ask friends and family to video-record the big day for you.

Create your final cut of the wedding video by putting together all the footage on CD. You could hire an editing suite with an operator for an hour too do so.

If you must hire a limo, do so only to arrive. You can always make a getaway in a gaily-decorated family car.

Go through magazines to check what designer have to offer for the current season. Then ask your family tailor to rustle up something similar.

Find out where big stores source their pre-embroidered lehenga sets from. Once you have that info, buy yours straight from the wholesaler.

Rope in the relatives-saris are generally much cheaper when bought from the region where they're made. A kanjeevaram is cheaper in Chennai, and you can save mega bucks if you buy a Paithani in Aurangabad.

For designer saris and trousseau outfits, approach upcoming designers. They're willing to negotiate and can work within your budget.

Buy saris and suit lengths for relatives from wholesale markets or mill stores. You can save anywhere between 40 to 60 per cent of what you would pay at retail outlets.

Shop for your trousseau during the sales. Most sari stores and shoe stores have their annual sales where you can get stuff at up to 50 per cent off.

There's always an old classic from your mom's or grandmom's wardrobe that can be recycles into a knock 'em-dead cocktail outfit. Real gota borders and zardozi kinaras on fraying chiffons can always be cut off and re-embroidered on to a brand new outfit.

Buy your jewelry when special offers are on so you can get a freebie or a discount on making charges.

Don't buy on impulse. Plan all your spending needs and make lists. Against the items you plan to buy, also write down where you can get them from at wholesale rates.

Circulate a gift list. That way, you can save on the costs of setting up home, post wedding.

Buy cosmetics from direct marketing company like Avon, Aviance Oriflame. And if you buy from a friend, get them at her cost price.

Book well in advance for your honeymoon. If you plan your honeymoon even a day after the season ends, you get fabulous discounts on room rates and travel. Alternatively, tie up an airline-hotel package deal. Look for great packages on the net.

Sweet talk someone with a time share to gift you their week for your honeymoon. Bid for your airline tickets on any of the auction sites.

When buying household linen, buy from handicraft fairs and expos. They're cheaper, more than mass market produced stuff.