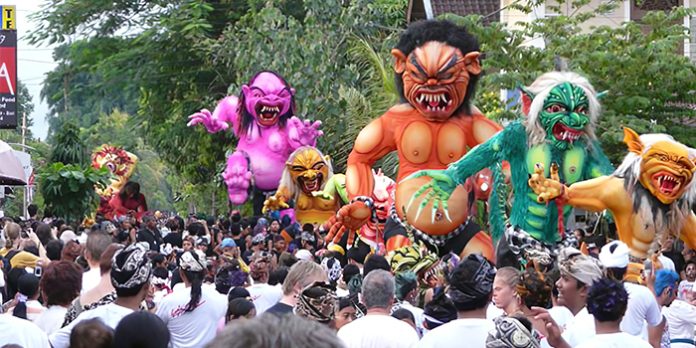 A unique Hindu festival celebrated in Indonesia is Nyepi Day (Day of Silence). The calm and quiet atmosphere during Nyepi differentiates this celebration amongst the usual boisterously celebrated religious festivals. During Nyepi, Balinese Hindus are obligated to observe the four Brata: Amati Geni (no fire or anything fire-related such as being angry), Amati Karya (no activity), Amati Lelungan (no traveling), and Amati Lelanguan (no entertainment).
Nyepi is celebrated on Tilem Kesanga (IX) which is believed to be a purification day of the gods amidst the ocean carrying the essence of living water. Around two or three days shortly before celebration, you can witness the Balinese holding a purification ceremony referred to as Melasti/Melis/Mekiyis, where they parade to the shrines at the beaches or lakes as it symbolizes holy water named Tirta Amerta that aims to cleanse impurities of human and nature.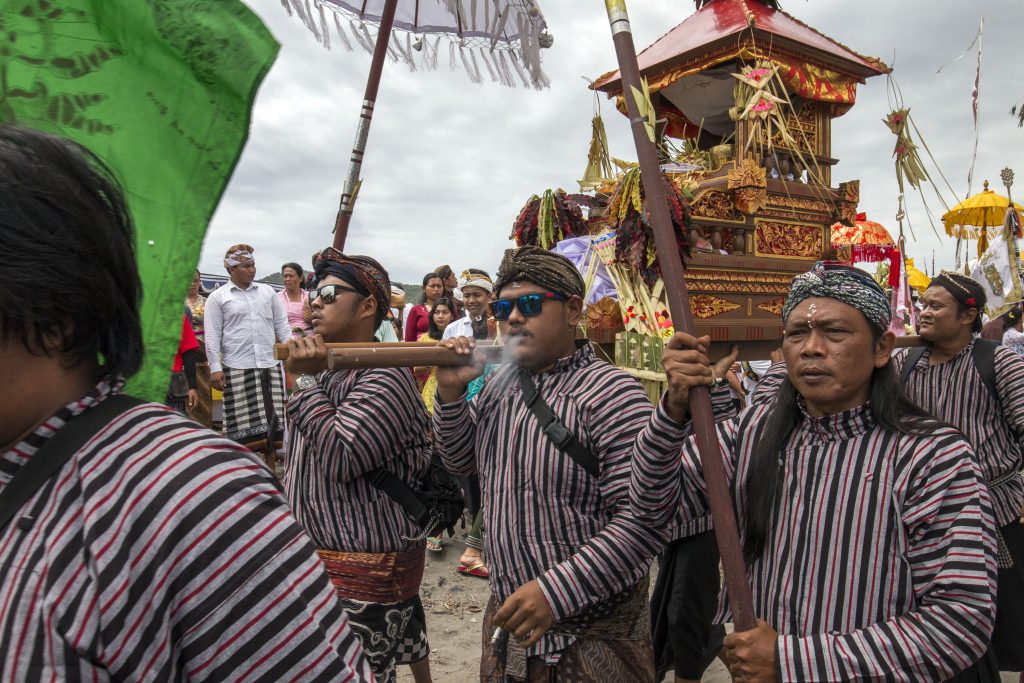 On the previous day, the Hindus perform Buta Yadnya ceremony as well, starting from every family, villages, district, bringing one type of caru (sort of offerings) according to ability. This routine usually occurs on Balinese Nyepi Day in general, but did you know that there are 5 amazing facts regarding this festival:
1. Nyepi Day festival reduces Carbon Dioxide emissions by 20,000 tons on that day as well as reducing green house gas emissions by 33% to reduce world air pollution.
2. A "World Silent Day" celebrated every March 21st is inspired from Balinese Nyepi Day.
3. During Nyepi Day, 60% electricity is saved in Bali. This is 290 megawatts (MW) and worth approximately 4 billion Rupiahs.
4. Approx 500,000 liters of diesel fuel, estimated to be worth around 3 billion Rupiah are saved on Nyepi day at the two power plants in Bali, The Steam Power Plant of Pemaron that generates 80 MW electricity and Gas Power Plant of Gilimanuk which generates 130 MW of electricity.
5. Celebration of Nyepi in Bali is enlivened by Ogoh-ogoh Parade, which are gigantic dolls created in a form of Bhuta Kala that symbolizes evil spirits and creatures who frequently bother the lives of humans. The funds incurred to create Ogoh-ogoh can reach billions of Rupiahs.
6. "Nyepi" comes from the word "sepi" which means silent in Indonesian.
7. All of the services stop at that day including hotels, airports and the sort. Which is why it would be better to keep food at your residence. If not, you can also order a "Nyepi package" from the hotel.
Though these facts are not widely known to everyone, the Nyepi Day festival instills a remarkable peace of mind in case you feel restless, anxious or stressed.