The culture of Indonesia has been shaped by long interaction between original indigenous customs and multiple foreign influences. Indonesia is centrally-located along ancient trading routes between the Far East, South Asia, and the Middle East, resulting in many cultural practices being strongly influenced by religions, including Hinduism, Buddhism, Confucianism, Islam, and Christianity. The result is a complex cultural mixture, which is very different from the original indigenous cultures.
Indonesia has so many cultural shows, ranging from music to theatrical performances. Each of them has its own unique style and story, and is guaranteed to take your breath away. Here are 5 of the best cultural performances in Indonesia that you don't want to miss:
Kecak Dance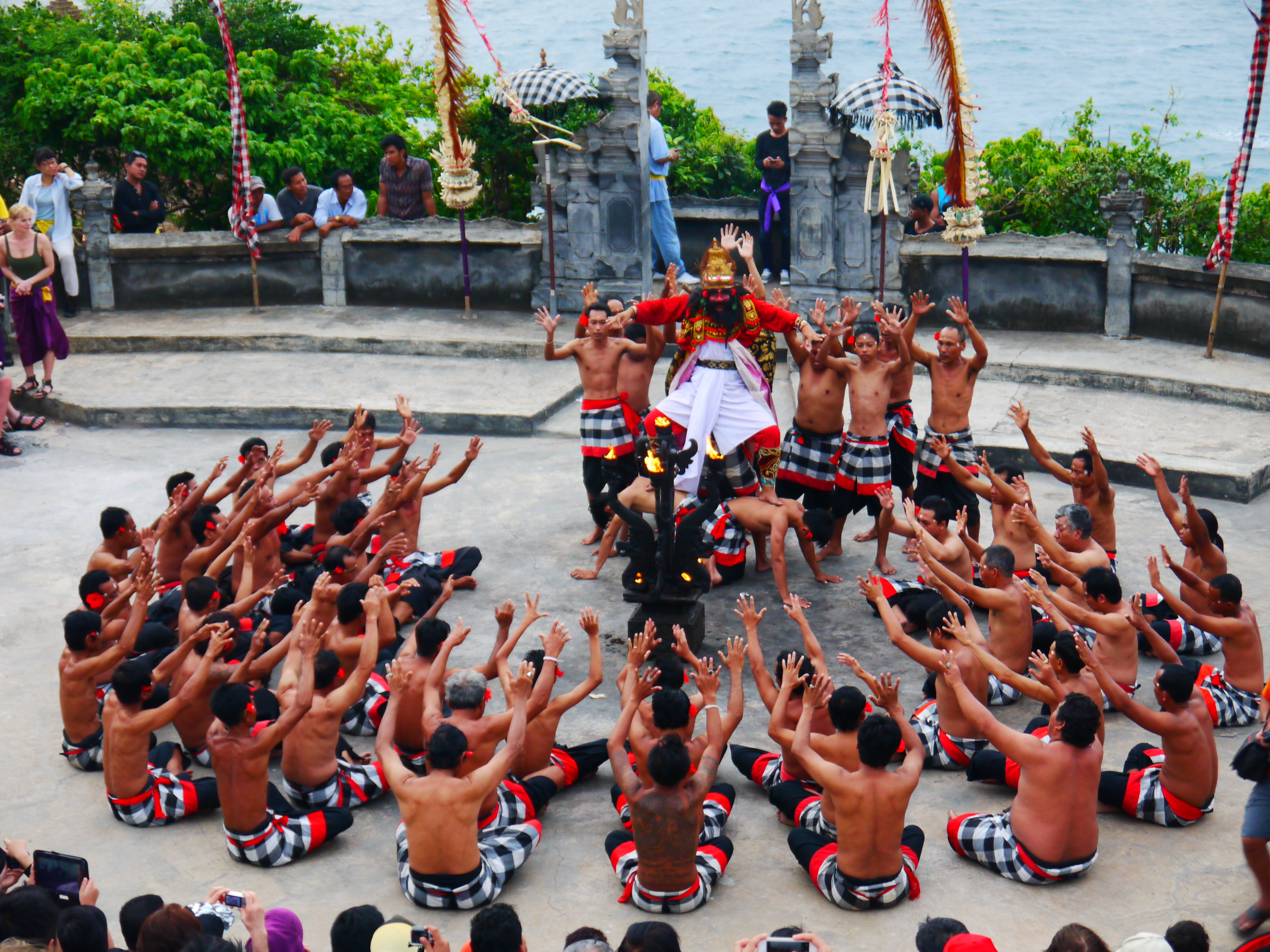 Kecak is a form of Balinese dance and music drama, and is one of the reasons why people visit Bali. It is performed primarily by men. This dance is normally performed in the open auditorium of a Bali temple. The story is borrowed from the Ramayana, but the dance drama is more than just a show—it's actually a ritual. The chorus, 'Chak Chak' (called the monkey chant) is the main feature of this show. The tempo of the chant rises and falls as the performers sway their arms in the air, recreating symbolically the war between Rama's monkey army and Ravana's demons.
Where to see this: Jalan Sriwedari, Taman Kaja Community, Ubud, Bali
Call for schedule and reservation info at 021-361970508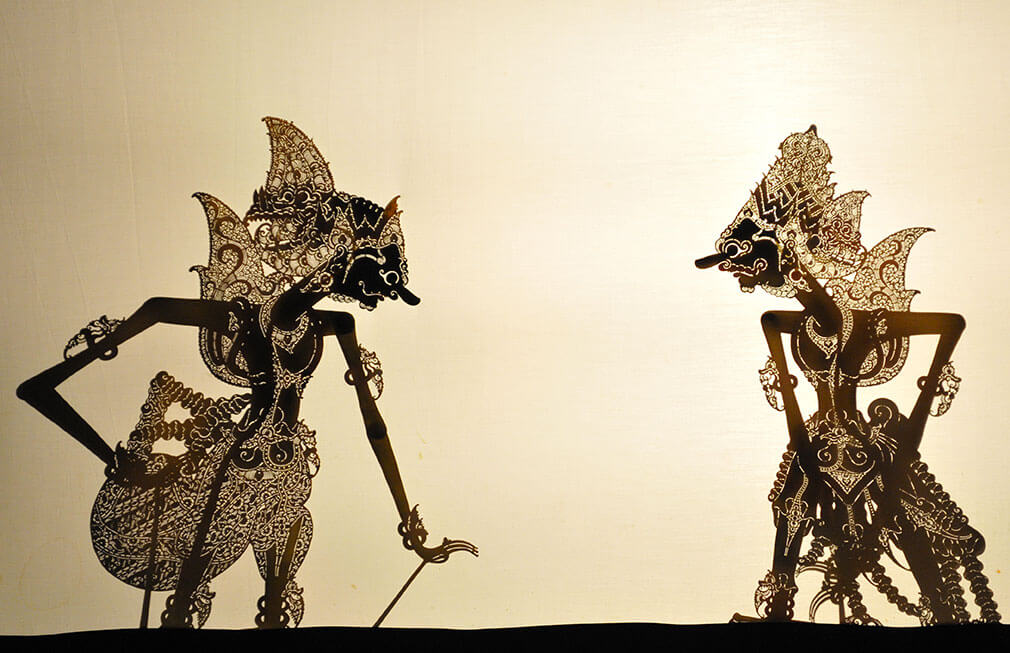 Wayang Kulit is a type of traditional puppet-shadow play that originated in India and is now performed in Indonesia. Actually, Wayang theatre in Indonesia comes in many different forms (Beber, Kelitik, Kulit, Golek, Topeng, and Wong), but Wayang Kulit is among the best known; offering a unique combination of ritual, lesson, and entertainment. In Wayang Kulit show, lacy shadow images are rear-projected on a taut linen screen with a coconut-oil or electric right. The Dalang (shadow artist) manipulates carved leather figures between the lamp and the screen to bring the shadows to life. Usually, Wayang Kulit is performed during wedding celebrations all night long, especially in Java.
Where to see this: Museum Wayang, Jalan Pintu Besar Utara No 27, Tamansari, West Jakarta (Kota Tua complex)
Phone 021-6929560
Museum Wayang in Jakarta shows Wayang Kulit performance every second and third week of the month. Call for more info.
Sendratari Ramayana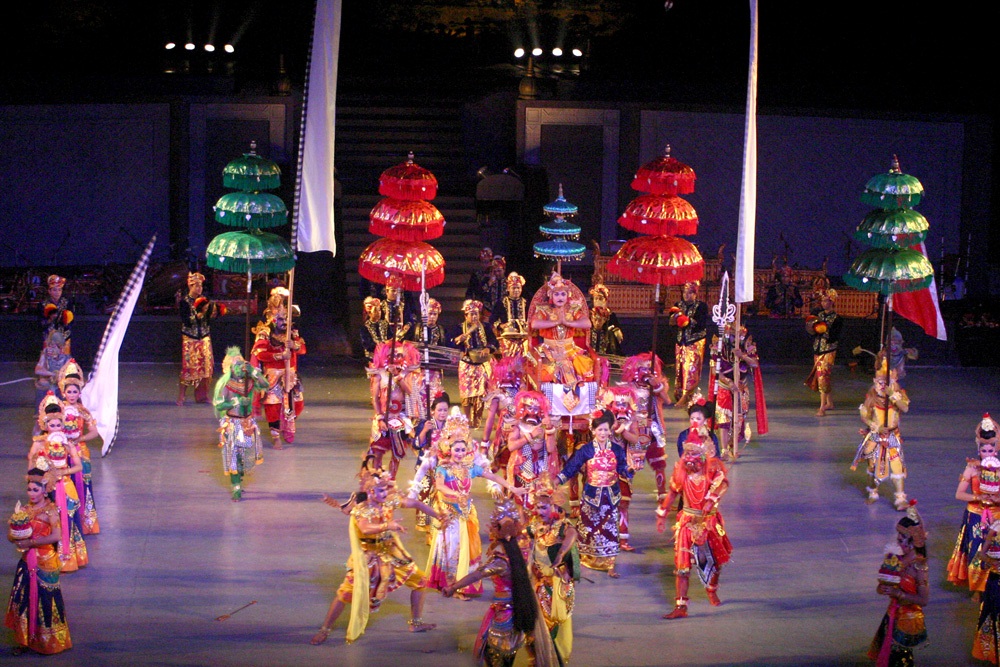 Sendratari Ramayana or Ramayana Ballet is the most spectacular performance in Yogyakarta that held in open theatre of the Prambanan temple complex. It is a visualization of Kakawin Ramayana, the Javanese version of Ramayana story. Although the name has 'ballet' in it, Ramayana Ballet isn't like the Western ballet performance; it's more like the Wayang Orang. This performance is enacted by over 200 professional dancers and musicians.
Where to see this: Prambanan Temple, Jalan Jogja-Solo Km 16 Yogyakarta
Phone 0274-496408
For show schedule, please click here.
The Saung Angklung Show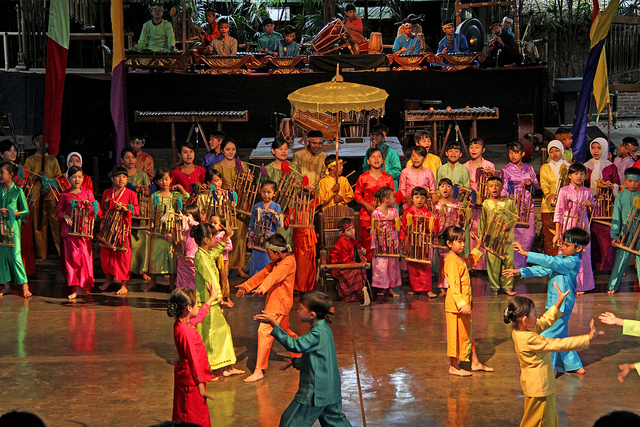 This is a show that is bound to be a great hit among the kids. If you happen to be in Bandung, this is one cute little show that you must not miss. Little kids and adults sing, dance and play a musical instrument known as 'angklung' (made of bamboo tubes fitted into a frame made a bamboo).
Where to see this: Saung Angklung Udjo, Jalan Padasuka 118, Bandung, West Java
Phone 022-7271714
Call for more information about show performances.
http://www.angklung-udjo.co.id/Default.aspx
Randai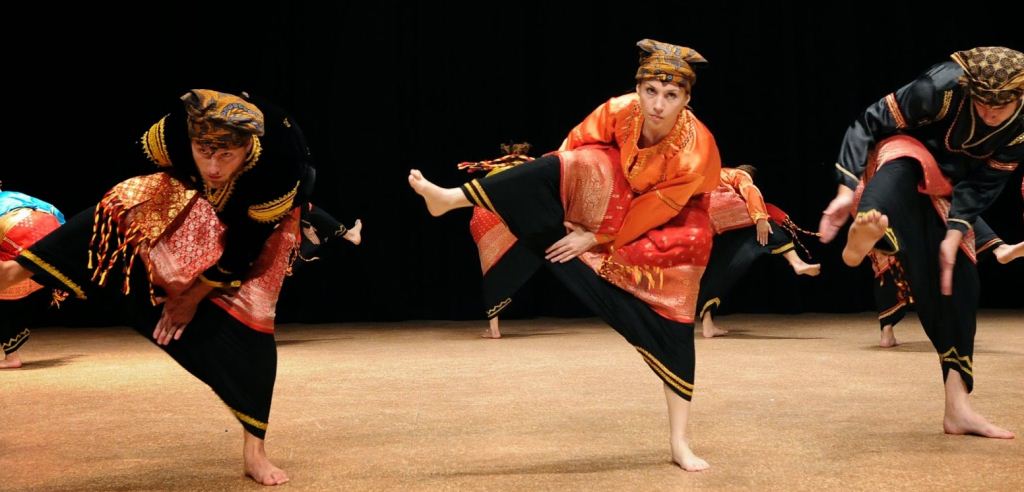 Randai is a folk theatre tradition of the Minangkabau ethnic group which incorporates music, singing, dance, drama and Indonesian martial art silat. Randai is usually performed for traditional ceremonies and festivals, and complex stories may span a number of nights. Stories in Randai are delivered by both the acting and the singing and are mostly based upon Minangkabau legends and folktales.
Where to see this: Randai is usually performed in events such as Minangkabau Culture Art and Festival, which was held last September. It is also performed within events held by Minangkabau communities across Indonesia.