There are many things that make Halloween fun. The spookiness, the celebrations and especially the halloween food. If you are still confused on what to cook for halloween night, here are some delicious and easy recipes you can cook up for a fun halloween night.
Potato Pizza Mummies
Ingredients:
2 red potatoes , medium-large
Marinara or pizza sauce
black olives, sliced
vegan cheese, cut into strips
salt/pepper
cooking oil spray
Directions:
Preheat the oven to 400 degrees and line a baking sheet with foil (note: for a smaller serving size you can also use your toaster oven).
Slice the potatoes lengthwise into 1/4-1/2 inch slices. Set both end slices aside. Place the remaining slices in a single layer on the lined baking sheet.
Quickly spray a little cooking oil on the potato slices and sprinkle with salt and freshly ground pepper (if using).
Bake in the oven for about 10-15 minutes until the potato slices are tender. Bake for longer if needed.
Remove from the oven and flip each potato slice over. Spread a layer of your favorite pizza sauce on top of each potato slice. Arrange the sliced black olives as eyes and the vegan cheese strips to form the mummy (see picture above).
Place back in the oven and bake for an additional 5-10 minutes until the cheese is melted. Remove from the oven, let cook, and enjoy! (see notes below for another version)
Tip: For a spicy version, sprinkle on some red crushed pepper on top of the pizza sauce and use sliced jalapeños for the eyes.
Graveyard Mousse Chocolate Mousse Pots
Ingredients for the chocolate mousse pots:
2 ripe avocados
8 tbsp cocoa powder
8 tbsp maple syrup or agave nectar
120 ml dairy-free milk
Oreo cookies, crushed
Ingredients for the tombstone cookies:
175 g / 1 3/4 cup ground almonds
1 tbsp arrowroot powder
2 tbsp coconut oil
2 tbsp agave nectar
1 tbsp vanilla extract
Zest of 1 medium lemon
1 tbsp poppy seeds
For the chocolate icing
2 tbsp coconut oil
2 tbsp cocoa powder
1 tbsp agave nectar
1 tsp vanilla extract
Directions for pot mousse:
Scoop the flesh out from the avocados and add to a blender, along with the cocoa powder, sweetener and milk. Blend until smooth and creamy.
Divide the mousse equally and spoon into your serving glasses. Leave in the fridge for at least 30 minutes before serving.
Add the oreo biscuits to a food processor and grind until it turns to rubble.
To serve, spoon the crumbled oreo biscuits on top of the mousse pots and top with a few edible flowers.
Directions:
Make the mousse pots according to these instructions. You can make two large servings or four small pots. Leave in the refrigerator whilst you prepare the cookies.
Directions to make the cookies:
Preheat the oven to 180c  and line a baking tray with parchment paper.
In a food processor or mixer, mix together the ground almonds and arrowroot powder. Add the coconut oil in a small bit at a time so it's evenly distributed throughout the dough.
Mix in the rest of the ingredients and turn the dough out onto a board.
Roll the dough so it's about 1/4 inch thick and using a small sharp knife, cut out your tombstone shapes. Or , if you have tombstone cookie cutters, even better!
Transfer to the baking sheet and bake for 5-8 minutes until golden brown around the edges. Leave to cool before icing.
To make the icing:
Melt the coconut oil over a bowl of hot water. Stir in the cocoa powder, agave and vanilla extract. Leave to cool in the fridge for a few minutes.
Transfer the chocolate to an icing bag with a narrow nozzle, suitable for writing. Test a small amount to see if the icing is too runny. If so, return to the fridge to firm up slightly. Once it's the perfect texture, pipe your RIP letters onto the top of the tombstone cookies and leave to set in the fridge for at least 10 minutes.
How to assemble:
Stand the tombstone cookies on top of your mousse pots.
Tip: Add a few small edible flowers to complete the look.
Raw, Vegan Witches' Finger Cookies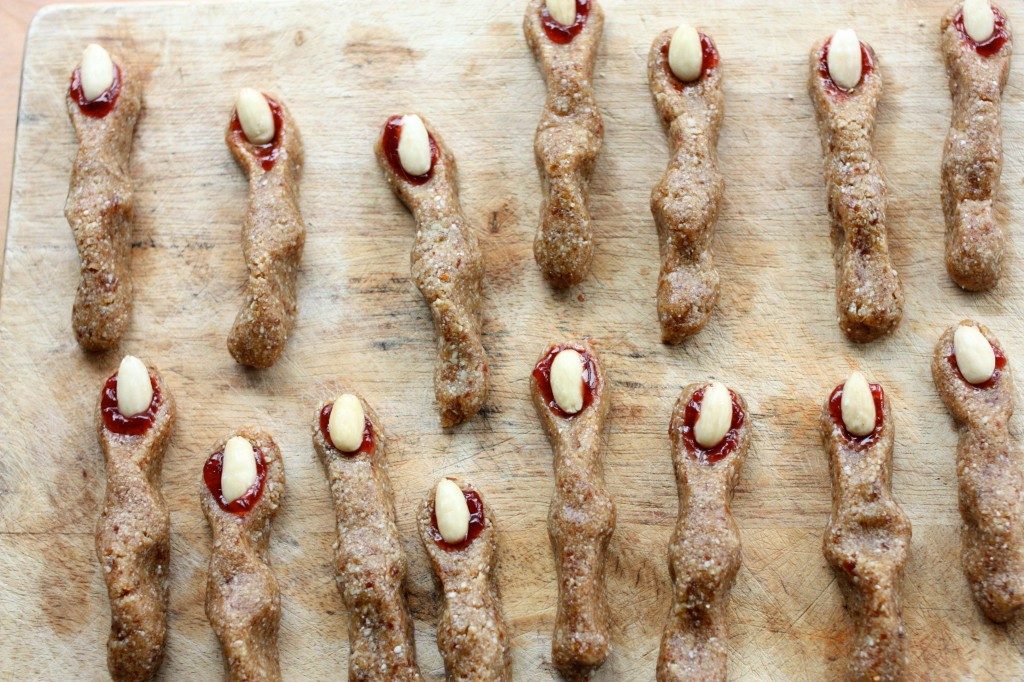 Ingredients
1 cup strawberries or raspberries
3 tablespoons chia seeds
1 cup sesame seeds
1/2 cup raw cashews
Generous pinch sea salt
1 heaped cup of tightly packed pitted medjool dates
About 20 blanched whole almonds
Directions:
Blend the berries and chia in a blender till smooth. Transfer to a mason jar or glass and allow it to thicken into a "jam"–ideally, you want to let it sit overnight, but a few hours will work. Add an extra tablespoon of chia if it's too thin.
Add the sesame seeds, cashews, and salt to a food processor fitted with the S blade. Grind for about 15 seconds, or until they're broken down. Add the dates and continue processing until the mixture resembles a crumbly, sticky (but not too moist) raw "dough"
Take a small handful (maybe 3 tablespoons) of the dough and roll it into a strip that's about as long and wide as a finger. Shape it to form knuckles and a fingertip.
Use your finger to make an indentation at the tip.
Add a small amount of the jam to the indentation. Press a blanched almond on top to create the fingernail! Serve.
Tip: Makes about 16-20 cookies. Stored in the fridge, these will last about a week.
No-Bake Spiderweb Cheesecake
Ingredients for the Crust:
Canola oil cooking spray
18 ounces chocolate wafers (2 packages), finely ground (4 1/2 cups)
1/4 cup plus 2 tablespoons sugar
6 ounces (1 1/2 sticks) unsalted butter, melted
1 teaspoon coarse salt
Ingredients for the ganache:
4 ounces semi/bitter-sweet chocolate (preferably 61%), finely chopped
1/2 cup heavy cream
For the Filling:
32 ounces cream cheese, softened
1 1/2 cups sugar
1/4 teaspoon coarse salt
3 tablespoons fresh lemon juice
1 1/2 cups heavy cream, cold
Directions:
Make the crust: Coat a 10-inch springform pan with cooking spray. Mix wafers, sugar, butter, and salt in a medium bowl. Pat mixture into a pan, pressing firmly into bottom of pan (I used the bottom of a water glass) and all the way up the sides. Cover, and refrigerate until ready to fill.
Make the ganache: Place chocolate in a food processor. Bring cream to a simmer in a small saucepan, then pour over chocolate. When chocolate starts to melt, process until smooth. Reserve 2tablespoons ganache for decorating, and spread the remainder evenly on bottom and all the way up sides of crust. Cover, and refrigerate until ready to fill.
Make the Filling: Beat cream cheese with a mixer (standing or hand) on medium speed until fluffy, about 3 minutes. Reduce speed to low, and slowly add sugar and salt. Raise speed to med-high, and beat until fluffy, about 3 minutes. Beat in lemon juice.
Whisk cream until medium-stiff peaks form. Whisk 1/4 of the whipped cream into cream cheese mixture, then fold in remaining whipped cream. Pour filling into crust, and spread evenly. Gently tap bottom of pan on counter to release air bubbles.
Transfer reserved ganache to a pastry bag fitted with a 1/4-inch round tip. Starting from the center of the cheesecake, pipe a spiral, spacing about 1/2-inch apart. Pull the tip of a pairing knife in a gentle curved line from the center of the spiral to outer edge. Wipe knife clean , and repeat every inch or so to form a web.
Cover and freeze for at least an hour or overnight. Serve and garnish with scary spiders!
Zoodles-Jack o'Lantern Noodles
Ingredients:
Pumpkin Kale Pesto
2 garlic cloves
1/4 cup pumpkin seeds, toasted
3/4 cup fresh basil
1/4 cup fresh kale, stems removed
1/2 cup fresh mint
1/4 cup water
1/4 teaspoon salt
1/2 teaspoon fresh lemon juice
Shake of cayenne (optional)
Other Ingredients:
2 large zucchini
4 orange bell peppers
Directions:
Place the garlic and pumpkin seeds into a blender or food processor and pulse until broken down. Add the remaining ingredients and blend until smooth. Adjust seasoning and water if necessary.
Rinse the zucchini, pat dry and use a spiralizer or vegetable peeler to create noodles.
Toss the zoodles with the pumpkin kale pesto.
Cut the tops of the bell peppers off and remove the seeds and veins inside. Carve your favorite face on the exterior of the pepper.
Place the pesto zoodles inside the peppers and serve.
Which recipe seems the most interesting? Tell us your opinion in the comments section below!