Bali is really a destination where you can escape from the hustle and bustle of the city. You can sunbathe by the beach, surf, swim, snorkel, dive and do anything that will make you forget about your 'real life' for a while. Luxuriate at Luxury hotels and villas with private pools on your holiday.
A trip to Bali would be incomplete without spa treatments. From oil massages to rose petal baths and traditional lulur – blissful and relaxing spa treatments in Bali. And it's not always expensive—you can get these at affordable prices too.
Here are affordable spas that you might want to try during your next holiday in Bali:
Jari Menari

Founded in 2001, Jari Menari offers you with a range of pampering and unique massage treatments. The professionally trained, all-male staff is known for massage sessions that offer strong, firm and consistent pressure. Recommended options including "Singing Bowl Massage", where the vibrations of a Tibetan singing bowl are absorbed by the body, and also the "Four Hand Massage", where two masseuses deliver a synchronized session to give you a delicious relaxation. If you want to learn massage techniques, Jari Menari also runs weekly massage classes for those looking to learn from the experts.
Address: Jalan Basangkasa No 47 Seminyak, Bali
Phone 0361-736740
Price: 90 minutes of Singing Bowl: Rp 435,000++
Open Mon-Sun, 9am to 10pm
http://jarimenari.com/home
Chill Reflexology
Chill Reflexology has earned a label as the island's leading reflexology spa. The zen surroundings and well-trained therapists are surely going to make you feel so relaxed. To add the 'relax and chill' session, you'll get a piece of iPod and an eye mask, allowing you to completely zone out and fully enjoy the amazing treatment. Start with The Classic chill treatment, that begins at your feet and ankles and finishing on the neck on shoulders.
Address: Jalan Kunti, Seminyak, Bali
Phone 0361-734701
Price: 1 hour treatment of The Classic: Rp 225,000++
http://chillreflexology.com/
Bodyworks
Bodyworks is considered as the oldest spas of the Seminyak. It is famous for massage treatments, manicures and pedicures, infrared sauna, luxurious flower petal baths, experienced and warm team, and of course an excellent value for money. Try their Full Body Massage with Flower Bath to rejuvenate yourself.
Address: Jalan Kayu Jati No 2, Petitenget, Bali
Phone 0361-733317
Price: 90 minutes of Full Body Massage with Flower Bath: Rp 335,000++
http://bodyworksbali.com/
Glo Day Spa and Salon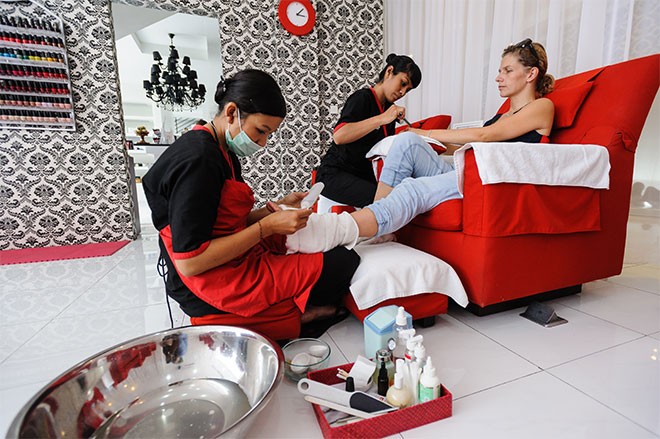 Glo is one of the island's original spas for its high quality service, experienced staff and reputation for excellent value for money. It provides a wide range of treatments, from body massage and spa packages to facial rituals and weight loss program. Their waxing team trains most high-end spas in Bali, so you can expect the best result here. It also has many branches so you can choose which one is closest to your stay.
Address:
Gopa Town Centre, Jalan Danau Poso 57, Sanur, Bali
Phone 0361-282826
Kunti Plaza, Jalan Kunti 119 Seminyak, Bali
Phone 0361-738689
The Beach Club, Nusa Lembongan, Bali
Phone 082897015600
Price: massages start from Rp 195,000++
http://www.glospabali.com/
Prana Spa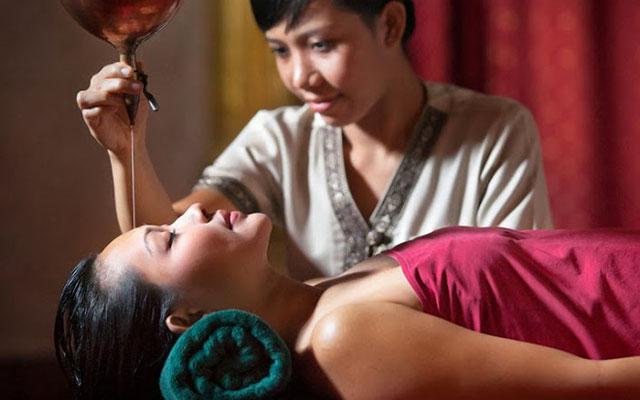 When you enter the place, you'll feel a strong influence of Indian and Moroccan architecture. As you might expect, here you can try Eastern beauty and health rituals of ancient king and queens. Its mid-range prices are worth the relaxing treatments and intimate yet exotic environment. Try its variety of massages and facials; and also the Ayurvedic treatments. A 60 minute Ayurvedic treatment to calm your chakras starts from Rp 800,000++.
Address: Jalan Kunti 1 No 118 Seminyak, Bali
Phone 0361-730840
http://pranaspabali.com/