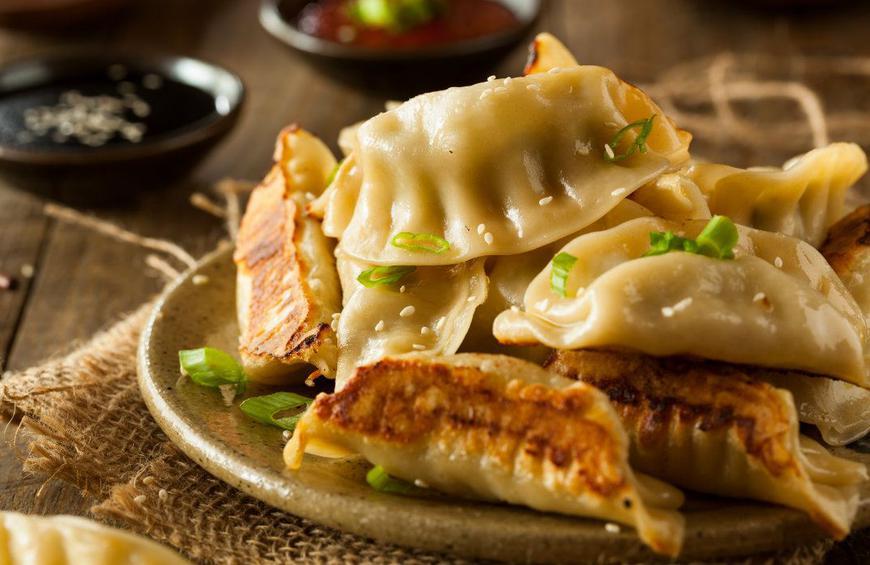 Dumplings have large fan followers – they taste delicious, chewy and extremely savory. Going overboard is quite easy when eating dumplings as they are small in size. Without realising you eat the dumplings one by one till you are extremely full afterwards! Luckily, these dishes only take a few ingredients and can be quickly made with practice.
Here are 5 dumpling recipes:
Vegetarian Steamed Dumplings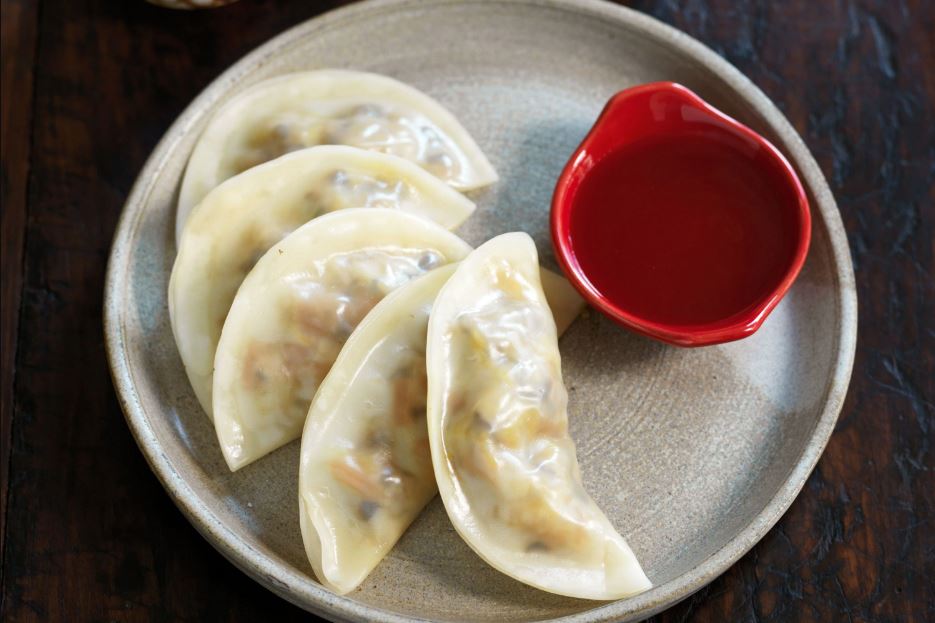 Ingredients:
Spray olive oil
1 finely sliced spring onion
1 cup finely shredded white cabbage
1 cup finely chopped Shitake mushrooms
1 peeled and grated carrot
½ halved, seeded, finely diced, red capsicum
1 cup roughly chopped bamboo shoots,
2 Tbsp finely chopped coriander
1 tsp minced ginger
1 crushed garlic clove
1 tsp sesame seeds
1 tsp sesame oil
1 tsp salt reduced soy sauce
16 wonton wrappers
some coriander (to serve)
some sesame seeds (to serve)
How to make vegetarian steamed dumplings:
Start by heating oil in large pan over medium-high heat. Put in some spring onion, white cabbage, mushrooms, carrot, and capsicum. Stir for 5-8 minutes or until the white cabbage has wilted. Remove from heat and wait until it cools. Now add bamboo shoots, coriander, ginger, garlic, sesame seeds, sesame oil and soy sauce. Stir until mixture is even.
Now, prepare the dumplings. Place wonton wrappers on your hand and place 2 teaspoons of mixture into onto the centre of the wrapper. Put some water around the wrappers. You can now shape the dumplings by pinching the opposite sides together. Bring the remaining two corners together and form a pyramid. Finally, pinch all the edges together to seal the dumpling.
Place the steamer lined with baking paper over simmering water. Now, you can cook the dumplings for 8-10 minutes or until wonton wrappers look clear.
Serve the dumplings with fresh coriander and sprinkle of sesame seeds.
Especially for this dumpling, you can freeze it. After it is cooled, arrange the dumplings on large baking tray and make sure none of the dumplings are touching. What you can do afterwards is putting the dumplings into freezer bags or an airtight container.
Nepali Momo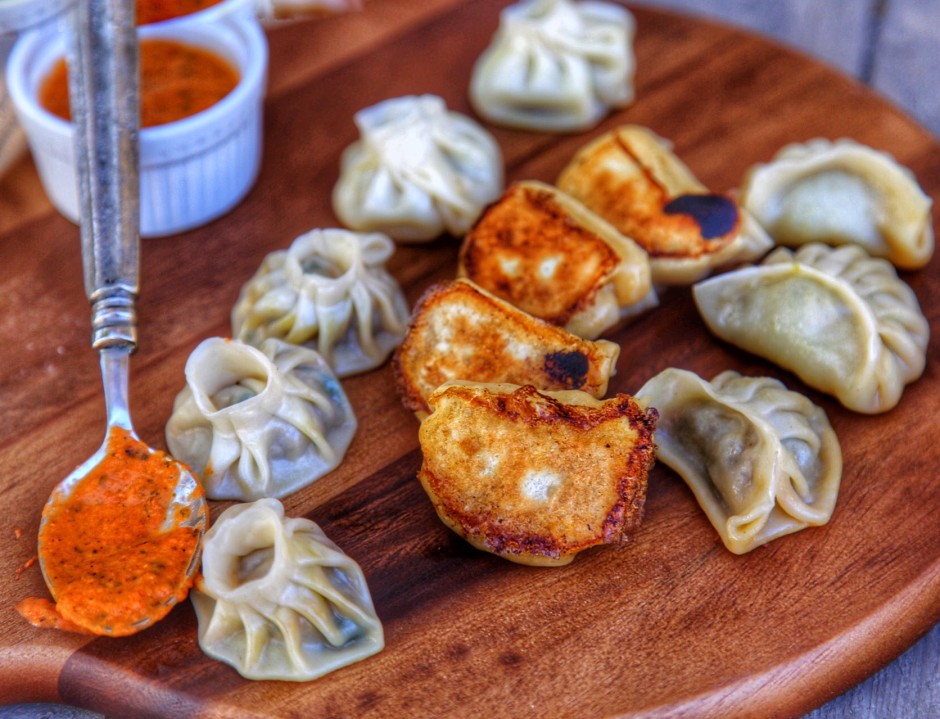 Ingredients:
1 lb ground chicken
½ roughly diced red onion
½ roughly diced cup scallions
½ roughly diced cup cilantro
1 Tbsp roughly diced garlic
2 Tbsp roughly diced ginger
1 tsp turmeric
1 tsp red chilli powder
1 tsp garam masala
2 Tbsp Ghee
2 Tbsp Olive Oil
Chinese Cabbage leaves, as needed
Ingredients for Wrapping Dumplings:
Water, as needed
Dumpling Wrappings, as needed
How to make Nepali Momo:
Prepare a large bowl and add in ground chicken, red onion, scallions, cilantro, garlic, ginger, turmeric, red chilli powder, garam masala, ghee, olive oil. Combine all the mixture by hand evenly.
You can start wrapping the nepali momo by placing the dumpling wrappings flat on your hand.
Put in one tablespoon of fillings on the centre of the dumpling wrapper.
Apply water all around the dumpling wrapper. Take one side of the dumpling wrapper and begin pleating all around.
Place a large leaf of Chinese cabbage on the bamboo steamer, then arrange all the dumplings.
Steam for 12 minutes.
Take it out and serve to your loved ones! Optionally, you can serve this with chutney sauce.
Soup Dumplings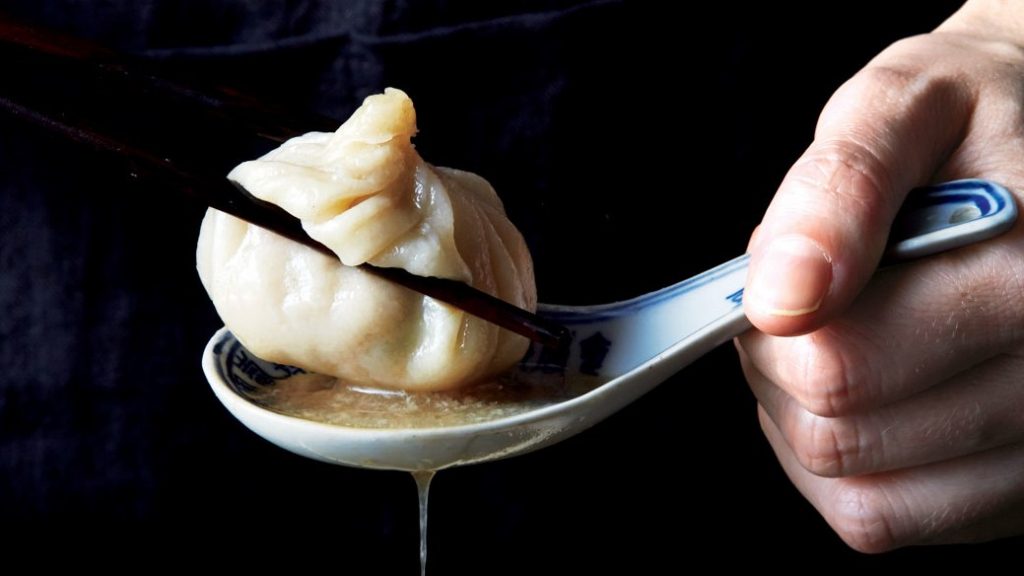 Soup Ingredients:
1 Tbsp Ham or bacon
0.75 cm fresh Ginger, or as needed
1 Green onion
3 cup Chicken stock, about 315 ml
5 tsp Gelatin, or 0.5 tsp agar-agar powder
Dough Ingredients:
120 g unbleached bread flour
60 g unbleached all-purpose flour
7 Tbsp (100 ml) boiled water
5 tsp canola oil
Unbleached bread flour, as needed (for dusting)
Canola oil, as needed (for greasing)
Bread flour, as needed (for dusting)
Filling Ingredients:
Fresh Ginger about 5 cm, as needed
1 Green onion
1 Tbsp Shaoxing rice wine, or dry sherry
5 tsp Sesame oil
1 tsp Light soy sauce
5 tsp Sugar
5 tsp Salt
12 tsp ground White pepper
225 g roughly chopped Ground pork (fattier kind preferred)
Sauce Ingredients:
25 cup Chinkiang vinegar, or 2 Tbsp balsamic vinegar and 2 Tbsp cider vinegar
Julienne Ginger (from above), as needed
How to make dumpling soup:
First, chop the ham or bacon and measure to one packed tablespoon.
Second, slice off three quarter-sized pieces of ginger, each roughly 2.5 cm wide and 2 mm thick. Smash each piece with the flat side of your knife.
Third, Chop the green onion into 5 cm lengths and crush each piece with the side of your knife.
Put the stock, ham, green onion, and ginger in a small saucepan. Bring to a boil and cook for about eight minutes or until the stock has reduced by half. You should end up with around 2/3 cup or 150 ml.
Strain the soup, discard the solids, and set aside the broth to cool. It will take a total of 15 minutes to concentrate.
Return the stock to the saucepan and sprinkle in gelatin.
Heat over medium-high heat, stirring the soup until the gelatin dissolves. Bring the stock to a boil and turn off the heat. Pour it into a 20 cm by 20 cm baking pan to make a thin layer that will cool quickly and be easy to cut up.
Refrigerate the mixture for 20 to 40 minutes until it is completely cooled and set. Quarter it and then peel it from the pan when it's hard enough. Chop the mixture into small cubes, and set it aside.
This stock cubes can be prepared in advance. All you have to do is cover with plastic wrap and and refrigerate.
How to make the dough:
While you're refrigerating the gelatin mixture, start boiling water for the dough.
Combine the two flours in the food processor.
Grab a separate dish and combine the just-boiled water with the oil.
Add the mixture through the feed tube while the machine is running. Otherwise, you can also stir by hand in a big bowl.
The result should be a soft, warm dough. Add water slowly by half-teaspoon to soften, if the dough becomes to dry.
Shape the dough into a ball and transfer to work area that has been lightly floured. Knead the dough by hand if mixed by food processor and five minutes if mixed by hand.
After kneading, the dough should be smooth and a little bit elastic. A sign that it is in a correct consistency is by pressing a finger into the dough – it's perfectly done when it bounces back and leaves a shallow indentation.
Next, put the dough in a Ziploc bag and seal. Note that there should not be any air left when you close the bag. Leave the dough in room temperature for an hour before using it. Or else, refrigerating the dough overnight before using is also fine (just remember to bring it back to room temperature before proceeding the cooking).
Put parchment paper onto steamer trays. In case of sticking, you can lightly oil the steamer.
You can now start shaping the dough. The first step is to remove the sticky dough from the ziploc bag, in which you can even turn the bag inside out to make the process easier. Next, lightly flour the surface gently shape the dough into a ball. Cut the bag and put half of it into a plastic bag. Seal well and reduce the amount of air inside. Take the other part and roll it into a log with 25-30 cm in length. Cut the log into 12 pieces and roll into tinier balls. Finally, dust flour onto the small dough balls to prevent any sticking.
How to make the dumpling fillings:
Peel, cut the ginger to about 1.3 cm and grate. Julienne the remaining ginger and put it into a different bowl.
Take a bowl and add in the grated ginger, shaoxing rice wine, sesame oil, soy sauce, sugar, salt, white pepper and minced green onion. Mix all of the ingredients by hand evenly, finally adding in the pork in the end. Use a fork this time to mix everything.
You can now let the flavors develop. Cover the bowl with the plastic bag and leave for 15 minutes. Afterwards, add small cubes of gelled stock that was prepared previously and mix until even and firm.
Keep note that this filling mixture can break down if it sits overnight, so it should be cooked immediately. The gelled stock can be prepared in advance but can be combined at the day of the cooking.
How to make the dumplings:
As the fillings are ready to be cooked, you can start making the dumplings straight away. Shape and spread each ball into 8 cm wide wrappers. Do this by grabbing a small ball, pressing the thumb of your finger lightly in the middle of it. Lightly press and spread the surrounding areas into a circle. Make it more even by using a rolling pin only around the surrounding areas. Your wrapper is set! (To make sure, hold it up against the light; the form is perfect if you can perfectly see the outline of your fingers)
Spread the wrapper onto the palm of your hand and take two tablespoons of the filling into the center. Flatten the mixture by pushing slightly.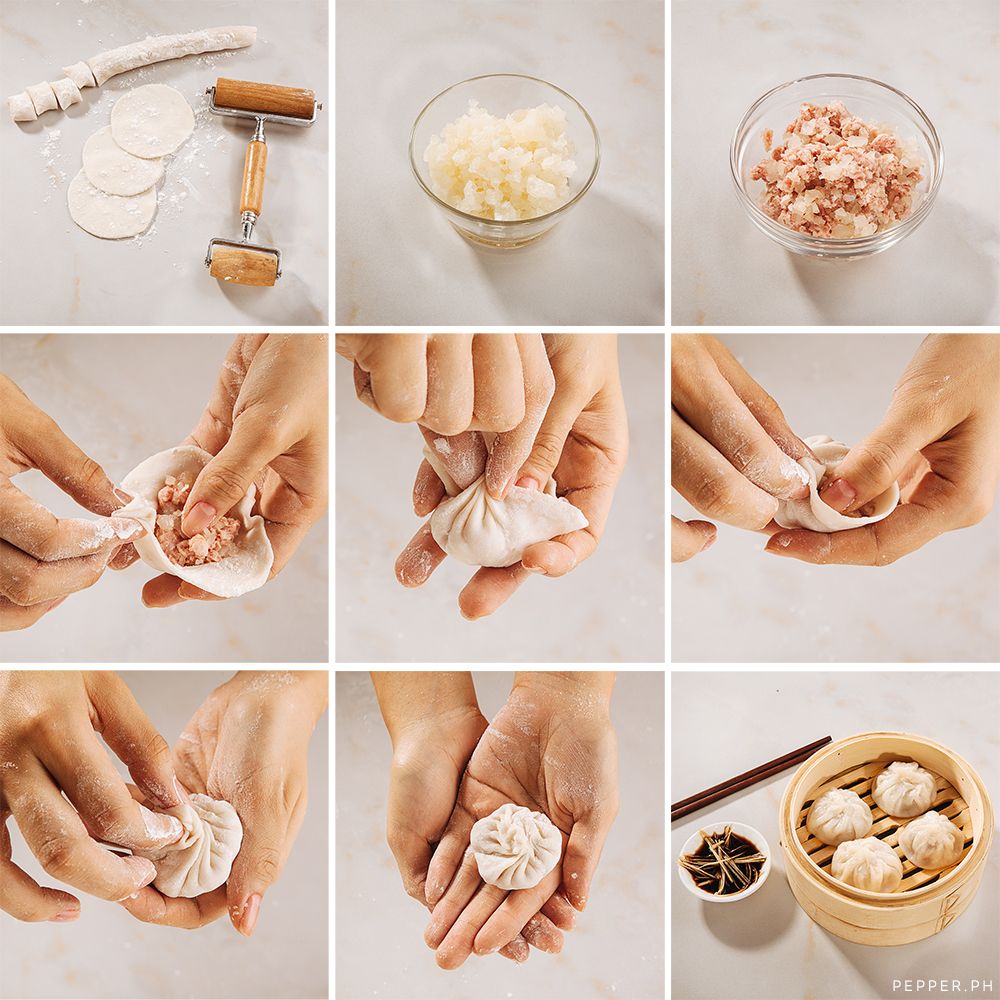 Slightly tug on one side of the wrapper and pleat. Move on the area next to it and pleat all around, leaving a circle in the middle. There should be a hole after all areas of the dumplings are pleated. Then pinch the remaining hole, giving it a bit of a rotation when necessary.
Place a piece of chinese cabbage and spray a bit of non-stick cooking spray. Arrange the dumplings in about 2.5 cm apart and at least an inch away from the edge when using metallic steamers. Especially with metallic steamers, condensation tends to collect at the edge.
As you might not be able to cook the dumplings all at once, you can store the others on parchment paper that is lightly floured. Keep a distance of half an inch between each dumpling to prevent sticking.
Steam each dumpling over boiling water for 6-8 minutes. A way to tell if the dumplings are done is when it puffs up slightly and becomes translucent.
Done! Serve it immediately with some sauce.
Gyoza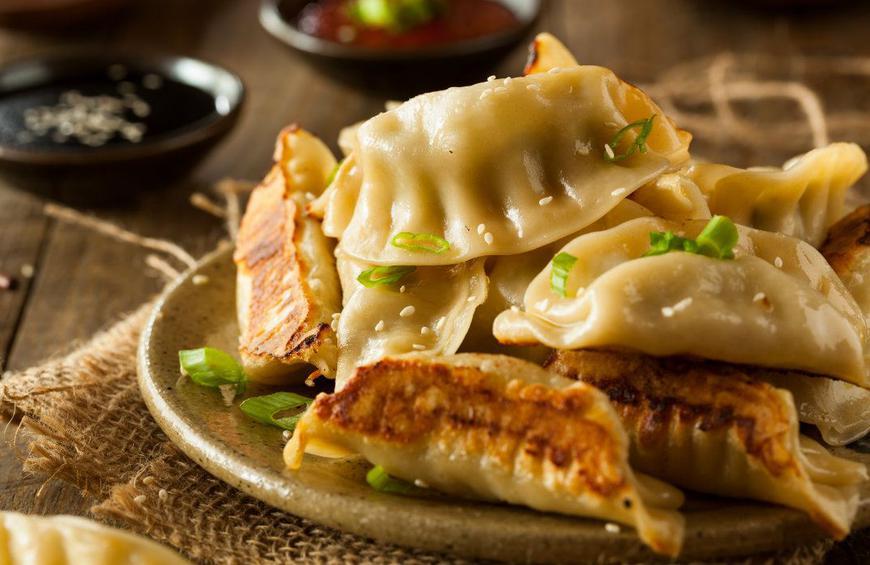 Ingredients:
1 lb ground pork
2 cups roughly diced cabbage
1 cup roughly diced nira
½ cup roughly diced shiitake
1 tsp ginger
1 roughly diced garlic clove
1 Tbsp garlic sauce
1 Tbsp soy sauce
1 Tbsp sesame oil
1 Tbsp sake
1 tsp salt
1 tsp pepper
Ingredients for wrapping:
Water, as needed
Dumpling wrappings, as needed
Boiling water Mixture:
How to make Gyoza:
Prepare a bowl and add in ground pork, cabbage, nira, shiitake, ginger, garlic, soy sauce, sesame oil, sake, salt and pepper.
Use your hands to mix everything evenly.
To wrap the dumplings, prepare a dumpling wrapper flat onto your hand.
Take one tablespoon of gyoza filling and place it in the middle of the wrapper.
Put water on the shape of a crescent around the wrapper.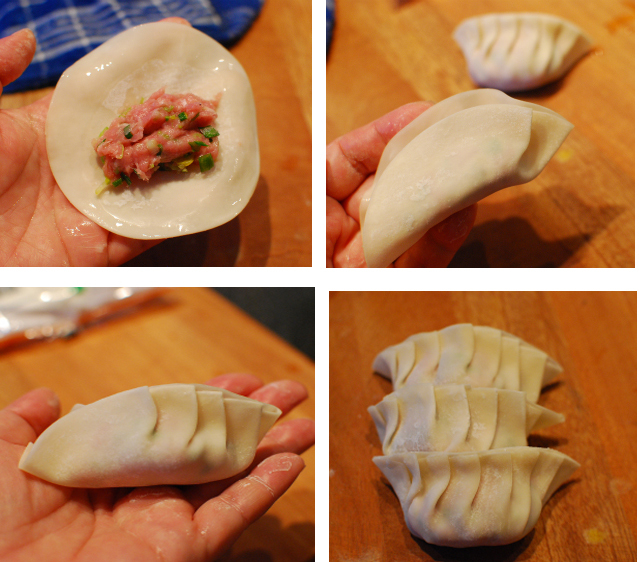 Start wrapping the dumplings by putting the wrapping into half. Pleat only one side of the dumplings.
Cook to gyoza by putting oil onto the pan. Align the gyozas in the pan, then pour a mixture of flour and water to make the base extra crispy. Put the fire on medium high heat.
Fry for approximately 3 minutes until the gyoza turns golden brown.
Put a large plate face down on top of the frying pan. Flip the pan.
The gyoza is now ready to be served!
Goutie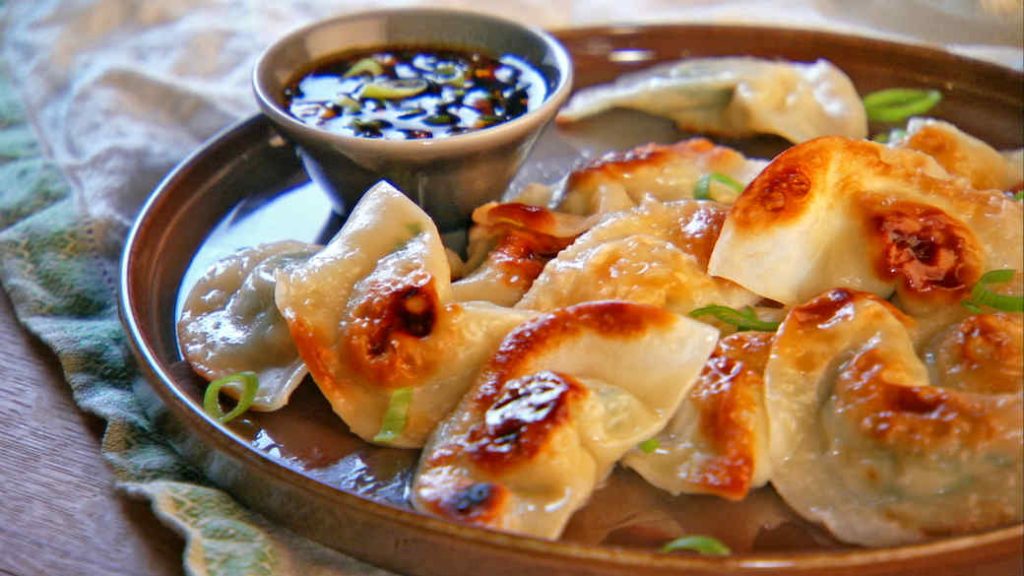 Ingredients:
1 cup roughly diced Chinese cabbage
1 tsp salt
1 lb ground pork
3 roughly diced shiitake
1 cup roughly diced scallions
2 Tbsp sesame oil
1 Tbsp ginger
1 tsp salt
2 tsp pepper
Wrapping:
50 dumpling wrappers
Water, as needed
How to make goutie (or panstick dumplings):
Prepare a large bowl and add in cabbage with salt. Mix evenly using hands and leave for 10 minutes in order to draw the water out. Afterwards, strain the cabbage on a sieve.
Take another large bowl out to make the fillings. This time add in pork, cabbage, shiitake, scallions, sesame oil, ginger, salt and white pepper. Mix evenly using hands.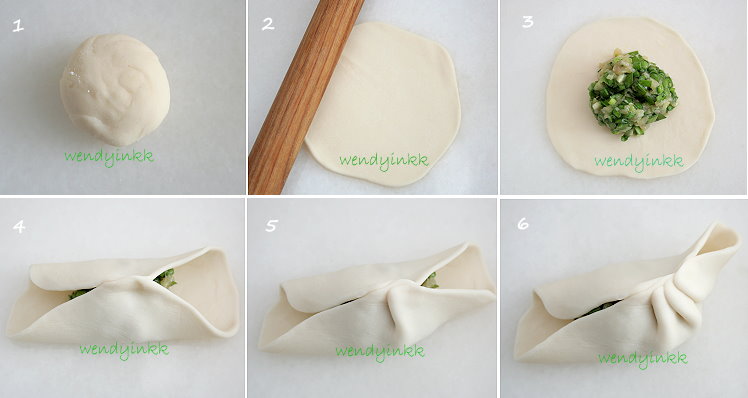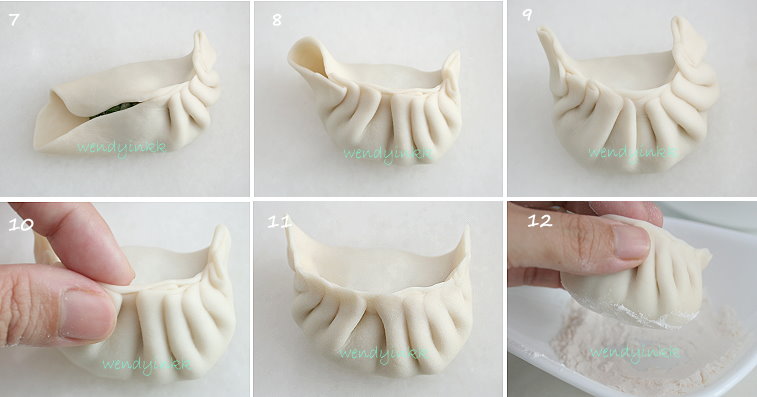 To wrap the dumplings, put dumpling wrapper flat on the palm of your hand. Place two tablespoons of fillings in the centre of it and fold if halfway. Press the middle part together. Pleat the right side towards the middle, but only a third of the way. Then pleat the left side, only a third towards the middle.
Pour some water onto a pan and arrange the dumplings. Steam for 7 minutes.
Take out the dumplings and serve! You can even provide Sichuan dipping sauce for more flavour.
Although Chinese dumplings and Japanese Gyozas are the most famous in Indonesia and most easily found, other types of dumplings are just as delicious. Not only delicious but dumplings are also very versatile with many ways to cook them (steamed, in soups, fried) and with many different fillings (chicken, vegetarian, pork and more). You will be able to make the dumplings according to your taste and cooking preferences.
Which one are your favorite dumplings? Have you ever tried making it? Share your experiences with us in the comments section below!