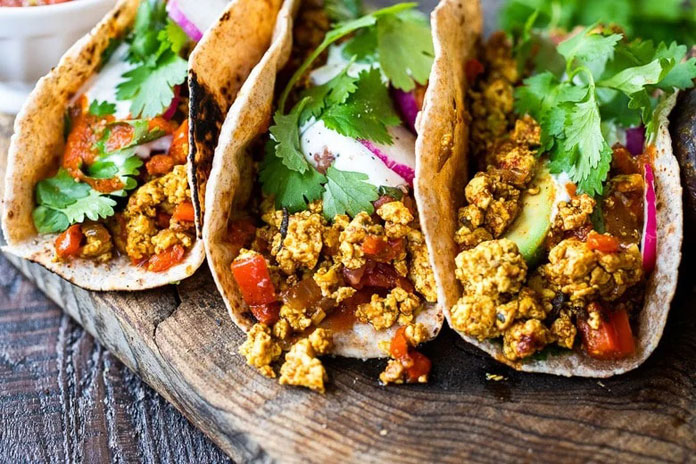 Tofu can be used in a multitude of ways, due to the fact that it is both versatile when cooked and contains a lot of nutrition. For those who are on a plant-based diet, tofu is an especially good ingredient for it's also satiating.
Try out these recipes:
Easy Tofu Bacon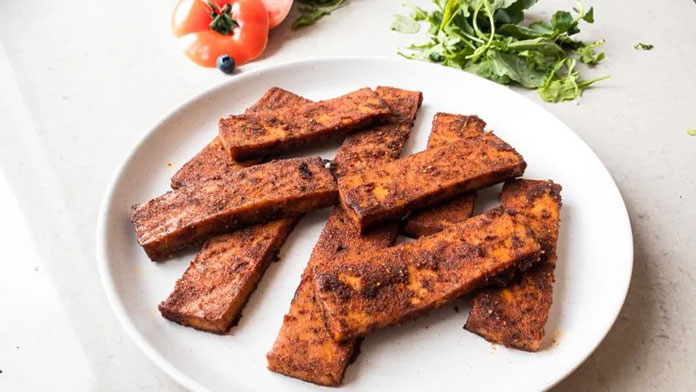 Ingredients
16 ounces extra-firm tofu pressed
½ cup soy sauce low-sodium
½ tablespoon liquid smoke plus 1/2 tablespoon for smokier flavor
3 tablespoons maple syrup
1 teaspoon garlic powder
1 teaspoon onion powder
¼ teaspoon paprika
¼ teaspoon ground black pepper
2 tablespoons high-heat neutral oil like safflower oil
Method:
Cut the tofu into 1/8- to 1/4-inch slices. In a small bowl, combine all the marinade ingredients. Mix well.
Place the tofu in a shallow dish or pan, arranging the pieces into a single, even layer. You may need to use multiple pans. (If possible, use a baking dish with a fitted air-tight cover.) Pour the marinade over the tofu. If using more than one dish, be sure to evenly disperse the marinade.
Cover and let sit in the refrigerator for at least 1 hour or overnight, if possible. If you're in a rush, 30 minutes works just fine. Flip the tofu halfway through; if you're taking the overnight route, simply flip the tofu one or two times during that time span.
Preheat the oven to 400° Fahrenheit. Transfer the tofu to a large baking sheet lined with parchment paper or a silicone baking sheet. Brush the leftover marinade on the tofu, then bake for 20 minutes. Carefully flip the tofu and brush the rest of the marinade. Bake for another 15 to 20 minutes, or until crispy and slightly browned. You may need more or less time, depending on your oven and thickness of the slices.
Notes
During the last 5 to 8 minutes of baking, check the tofu frequently to make sure it doesn't burn.
Tofu Scramble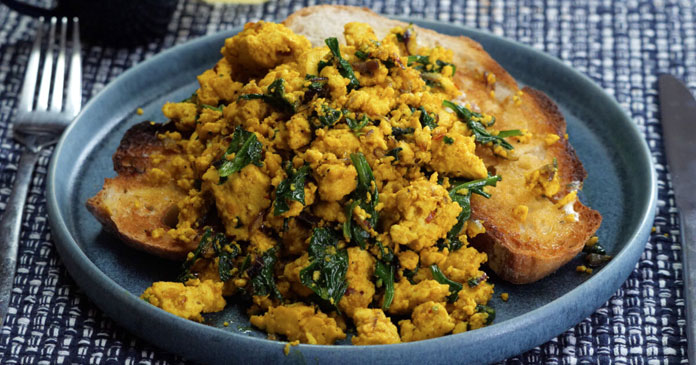 Ingredients
16 oz firm or extra firm tofu, pressed or drained
2 teaspoons avocado or coconut oil
2 cloves garlic, minced
1 cup finely chopped red onion
1 cup button mushrooms, chopped
2-3 Tablespoons water, if needed
2 teaspoons turmeric
2 teaspoons cumin
1 teaspoon sea salt
1/2 teaspoon ground pepper
1 cup shredded kale or baby spinach
1/4 cup nutritional yeast
hot sauce, to taste (optional)
Method:
Add oil to a large skillet over medium heat. Once hot, add garlic and onion and cook for about 3-4 minutes or until onions begin to soften.
Add mushrooms to the pan and use your fingers to crumble the tofu into chunks before tossing it into the pan as well. Cook for about 10 minutes, stirring occasionally. If the tofu starts to stick or the pan becomes dry, you can add a little water to the pan.
Add the turmeric, cumin, salt and pepper to the pan and stir to combine. Then add the kale and nutritional yeast. Stir and cook for an additional 3-4 minutes. Taste and season with additional black pepper and sea salt, if needed. Serve the scramble warm with sliced avocado and fresh herbs.
Scrambled Tofu Breakfast Burrito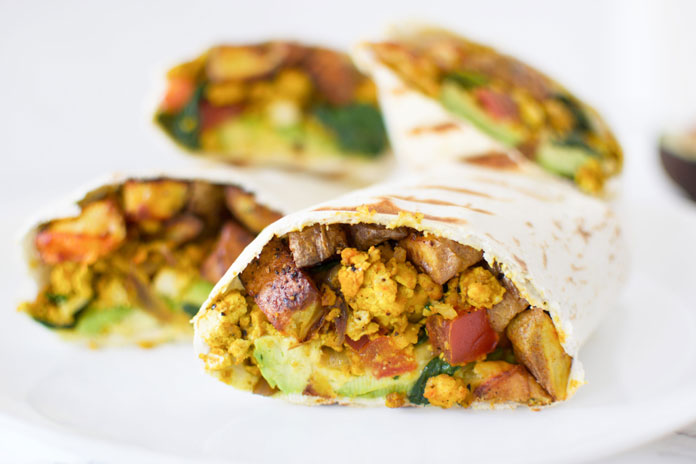 Ingredients:
¼ cup onion yellow or red, diced
½ cup bell peppers deseeded and diced
14 ounces tofu extra firm or firm, pressed
2 tablespoons nutritional yeast
1 teaspoon salt
1 teaspoon garlic powder
¼ teaspoon black pepper
¼ teaspoon turmeric
¼ teaspoon chili powder
15 ounces kidney beans
1 potato medium sized
1 tablespoon Oil
4 tortillas 4-6 large sized
Method:
If using potoatoes, toss with oil, salt, and pepper. Roast at 450° Fahrenheit for 15 to 20 minutes, or until tender and golden brown.
In a large saucepan over medium heat, warm 1 to 2 tablespoons oil. Cook the onions and bell peppers, if using, for 5 to 7 minutes or until tender.
In a large bowl, crumble up the tofu with a large fork. Add to the saucepan, along with the spices and nutritional yeast. Cook for 5 to 7 minutes, crumbling further with a spatula. Add leafy greens, if using, and cook until wilted.
Place a large tortilla on a flat surface. Add a layer of beans, potatoes, tofu scramble, and other add-ins of your choice. Fold the sides toward the center, the fold up the bottom. Tightly roll into a burrito, tucking in the sides as necessary. Serve with salsa, guacamole, or vegan sour cream.
Notes:
Add-Ins & Toppings:
salsa
avocado or guacamole
vegan cheddar cheese
leafy greens
carrot bacon
vegan sour cream
scallions
Vegan Breakfast Bowl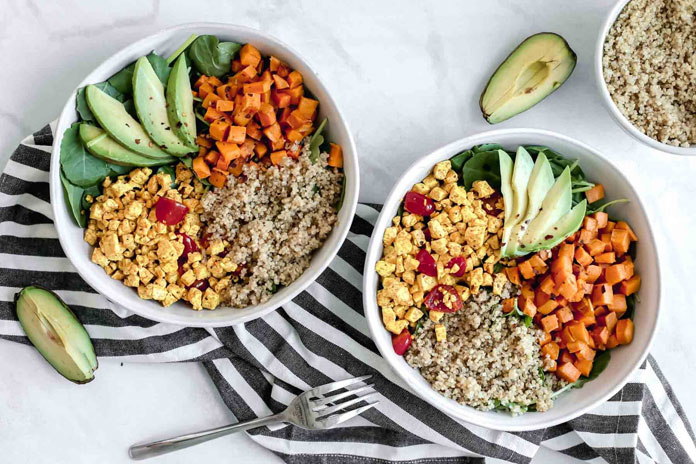 Ingredients:
For the scrambled tofu:
1 (14-ounce) block extra-firm tofu
2 teaspoons olive oil
1 medium clove garlic (minced)
1 teaspoon dried oregano
1 teaspoon cumin
1/2 teaspoon ground turmeric
1/2 teaspoon kosher salt
1/4 teaspoon freshly ground black pepper
For the black beans:
1 teaspoon olive oil
1 (15-ounce) can black beans, drained (or 1 1/2 cups cooked black beans)
1/2 teaspoon chili powder
1/2 teaspoon ground cumin
1/4 teaspoon kosher salt (optional)
Additional Ingredients:
1 medium avocado (halved and sliced)
3/4 cup cherry tomatoes (sliced)
Toppings:
Pepitas (pumpkin seeds)
Your favorite salsa
Sliced scallions
Lime wedge for squeezing over the top
Pinch smoked paprika
Method:
Have two or three serving bowls out and ready to fill.
Make the scrambled tofu. Drain the tofu and set it on a large cutting board. Mash with a potato masher. Set a large skillet over medium heat. When hot, add 2 teaspoons olive oil. Add garlic, oregano, cumin, turmeric, salt, and pepper. Cook, stirring frequently, until fragrant – about 1 minute. Add tofu and stir well to incorporate spices and garlic. Cook, stirring occasionally, until heated through, about 5 minutes. Divide scrambled tofu between bowls.
Heat the beans. Return skillet to burner. Add remaining 1 teaspoon oil. Add beans, chili powder, and cumin. Cook, stirring occasionally, until heated through, about 2 minutes. Taste and add salt if desired. Transfer to bowls.
Finish assembling bowls. Add cherry tomatoes and avocado slices. (You can add a pinch of kosher salt to each). Top with assorted toppings and serve.
Notes
Store individual portions of the tofu and black beans in the refrigerator (it keeps for about 3 days), then heat it up and top with toppings for efficient meal prepping.
Vegan Spicy Scrambled Tofu Breakfast Tacos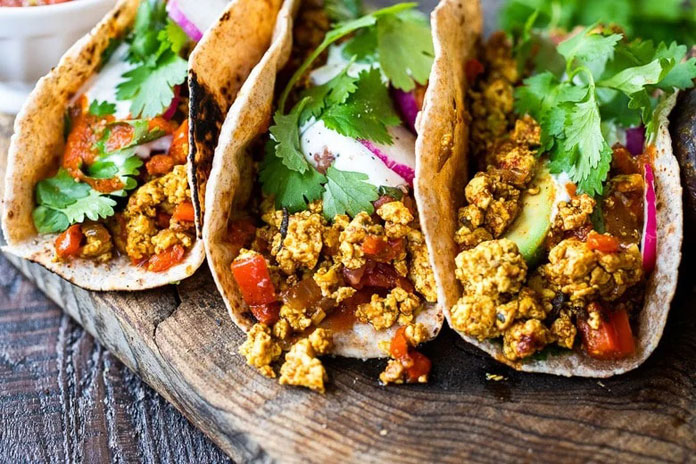 Ingredients:
Spicy Scrambled Tofu:
½ tablespoon extra virgin olive oil
1 poblano pepper, cored and diced
½ medium red onion, diced
3 Roma tomatoes
1 large jarred roasted red bell pepper, chopped (about ½ cup)
1 tablespoon chili powder
1 tablespoon smoked paprika
¾ teaspoon sea salt, plus more to taste
1 (16-ounce) block sprouted firm or extra-firm tofu, drained and rinsed
Juice of 1 lime, more or less to taste
Base + Toppings:
8–10 small corn tortillas, warmed
1 ripe avocado, halved, pitted, peeled, and mashed with sea salt + lime juice to taste
Cilantro leaves (optional)
Hot sauce (optional)
Method:
For the spicy scrambled tofu:
In a large sauté pan, heat the olive oil over medium heat. Add the poblano pepper and red onion, and sauté for 4–6 minutes, or until beginning to soften, stirring occasionally.
Meanwhile, add the Roma tomatoes to a blender and pulse several times to chop and purée. You want them to be thoroughly chopped yet maintain a bit of texture. Set aside.
Add the roasted red pepper, chili powder, smoked paprika, and sea salt to the pepper and onion mixture. Continue to sauté for 1 minute, or until the spices begin to bloom and become fragrant.
Stir in the Roma tomatoes, and crumble in the tofu. Simmer for 10–12 minutes, or until the liquid reduces, stirring occasionally.
Stir in the lime juice and continue to simmer for just 1 more minute. Then, turn off the heat.
Taste and season with more sea salt if desired. (I usually add another ⅛ to ¼ teaspoon. Proper seasoning is essential to a flavorful tofu scramble and while you certainly don't want to over-season, don't be too shy with the sea salt.)
To Serve:
Scoop a bit of the tofu filling into each warm tortilla. Top with a dollop of mashed avocado, a bit of cilantro (if using), and a few dashes of hot sauce (if using).
Serve immediately.
Leftovers can be refrigerated in separate containers for up to 2 days.
Vegan Omelet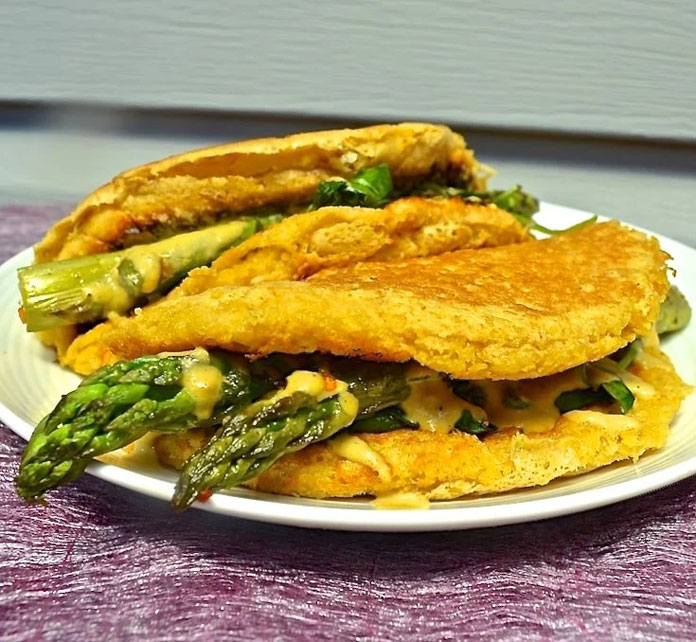 Ingredients
OMELET:
5 ounces firm silken tofu (drained and gently patted dry // 5 ounces yields ~3/4 cup)
2 Tbsp hummus
2 large cloves garlic (minced)
2 Tbsp nutritional yeast
Salt and black pepper
1/4 tsp paprika
1 tsp cornstarch or arrowroot powder
FILLING:
1 heaping cup veggies of choice (I like onion, tomato, mushroom, spinach)
TOPPINGS (optional):
Fresh herbs
Salsa
Vegan Parmesan Cheese
Method:
Preheat oven to 375 degrees F (190 C).
Prep veggies, drain and dry tofu, and mince garlic. Set aside.
Heat a small-to-medium, oven-safe skillet over medium heat. Once hot, add olive oil and minced garlic and cook for 1-2 minutes or until just lightly golden brown.
Transfer garlic to food processor, along with remaining omelet ingredients (tofu – cornstarch) and mix to combine, scraping down sides as needed. Add just a touch of water to thin – 1-2 Tbsp at most. Set aside.
To the still-warm skillet over medium heat, add a bit more olive oil and the veggies. Season with salt and pepper and sauté to desired doneness. I like to start with onions and tomatoes, then add mushrooms, and end with spinach so each has proper time to cook. Set aside.
Remove skillet from heat and make sure it's coated with enough oil so the omelet doesn't stick. Add back 1/4 of the veggies and spoon on the omelet batter, spreading it gently with a spoon or rubber spatula, being careful not to tear or cause gaps. The thinner and more evenly you can spread it the better. So you may not end up using it all.
Cook over medium heat on the stove top for 5 minutes until the edges start to dry. Then place in oven and bake until dry and deep golden brown – 10-15 minutes. The longer it bakes the less soft/wet it will be, so if you prefer a more "well done" omelet, cook closer to 15 or more.
Using an oven mitt, in the last few minutes of cooking carefully add remaining veggies back on top of the omelet and cook another 1-2 minutes to warm through.
Carefully remove from oven with oven mitt and fold over gently with a spatula. If it doesn't want to fold, you can serve it as a frittata or scramble!
Serve with desired toppings. You can go with salsa, vegan parmesan cheese, cilantro and toast.