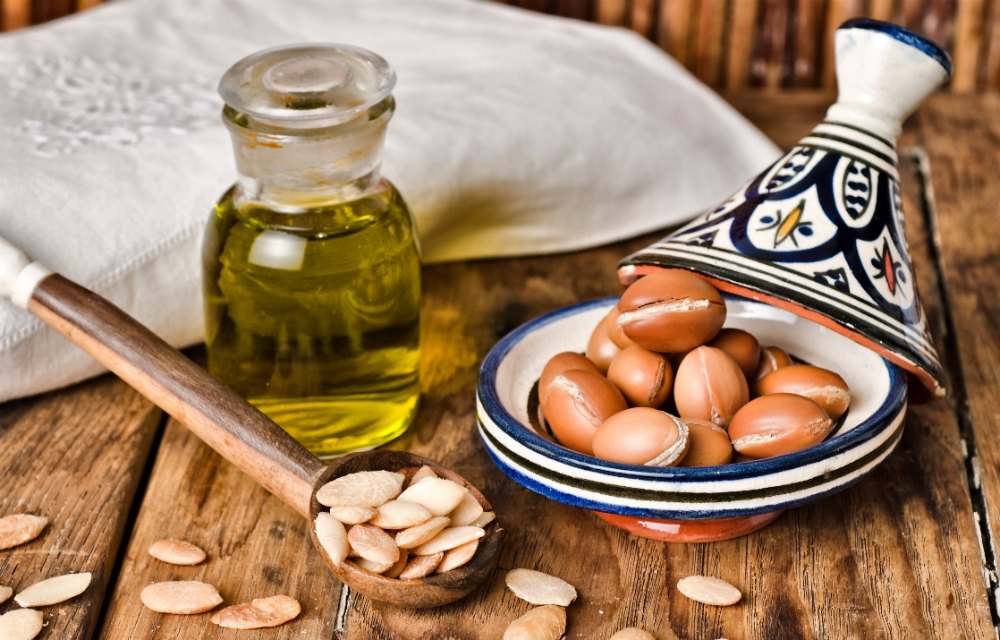 Have you heard about Argan oil?
Argan oil is one of many oils that have benefits for health and beauty. This oil is cold-pressed from the fruit of Moroccan Argan tree (Argania spinosa). This precious oil is used for various purposes, from dietary supplements to skin nourishment.
It is rich in Vitamins A, C, and E, as well as being loaded with antioxidants, linoleic acid and omega-6 fatty acids. It is not surprising that Argan oil is often found among the list of ingredients in many high-end skin and hair treatment products.
Here are the benefits that you can reap from Argan oil:
Skin moisturizer
Argan oil is perfect as moisturizer, especially nighttime moisturizer. It absorbs quickly, and does not leave any oily residue. Simply pour a single drop of Argan oil into your palm, and apply in a circular motion to your face and neck. The vitamin A and E in Argan oil help to reduce fine wrinkles and keep the skin (especially around the eyes) moisturized.
Acne healing
The triterpenoids in Argan oil can treat mild acne and heal the acne scars faster. Studies also revealed that Argan oil lowers sebum levels in those with oily skin, reducing greasiness and improving overall appearance. The linoleic acid in this oil also helps to reduce inflammation caused by acne while helping to heal skin cells that have been damaged.
Together with tea tree oil, Argan oil can work as a toner that will help in acne healing. Pour one cup of boiling water over a green tea bag and allow it to steep for about 10 minutes. Remove the tea bag and let it come to room temperature. Add 2 to 4 drops of Argan oil and a drop of tea tree oil. Use this toner after cleansing and before moisturizing.
Exfoliating
Regular exfoliation helps to remove dead skin cells and reduce the appearance of fine lines and wrinkles, while giving you a brighter and fresher complexion. To experience the Argan oil benefits while exfoliating, you can mix 1 tablespoon of brown sugar with a couple of drops of Argan oil in a small bowl. Mix well, and rub the mixture into your face in a circular motion for 2-4 minutes. Rinse with warm water, and pat dry. This exfoliator can also be used in other areas such as lips, dry elbows or heels.
Reducing stretch marks
Argan oil can help prevent stretch marks by improving the elasticity of the skin. The vitamin A and E will help to rejuvenate the skin while moisturizing, making stretch mark less likely to form. Warm 2-3 drops of pure Argan oil in the palm of your hands and gently rub your stomach, hips, thighs or any other potential problem areas. Rinse well.
Eliminating razor bumps
Razor bumps and burn can be uncomfortable, but Argan oil can be an effective treatment to soothe the wounds caused by razor. Simply warm a drop or two of the oil in your hands and lightly massage into the affected area.
Hair styling
When applied to hair, Argan oil prevents drying and environmental damage by coating the hair strands. The oil seals in moisture and softens flyaways, making hair more manageable and less prone to breakage from brushing and styling.
You can use Argan oil as a leave-in conditioner to help repair split ends as well as to prevent frizz and flyaways. Simply warm a few drops of Argan oil in your palms before applying it throughout your hair with your fingers. If you have oily scalp, focus only on the ends of your hair. It will work well to promote shine, tame frizz and leave the hair softer.
Nail treatments
Need some home nail treatments? Argan oil is good to condition your nails and keep your cuticles moisturized. First, remove all nail polish from fingernails and toenails and rinse thoroughly. Dry with a clean towel.
Next, dot a fraction of a drop directly onto each nail, one at a time, and rub into the nail bed and cuticle. Leave on until all nails have been treated.
Where to buy Argan oil is available in beauty shops and online. Just do a google search to find a supplier.
Now, do you think that Argan oil is one of those oils worth to keep in your drawer? Share your experience in using Argan oil in the comment section below!