Talking about Bali would be incomplete without the cuisine. Bali has many interesting and exotic selections that you would not want to miss while visiting the Island of the Gods, such as lawar, bebek betutu, or sate lilit; especially if it's your first time in there. Trust us; Bali is more than just surf-worthy beaches and luxury villas!
Below is the list of the best Bali foods you need to try, along with where you can get them:
Babi Guling (Spit Roasted Pig)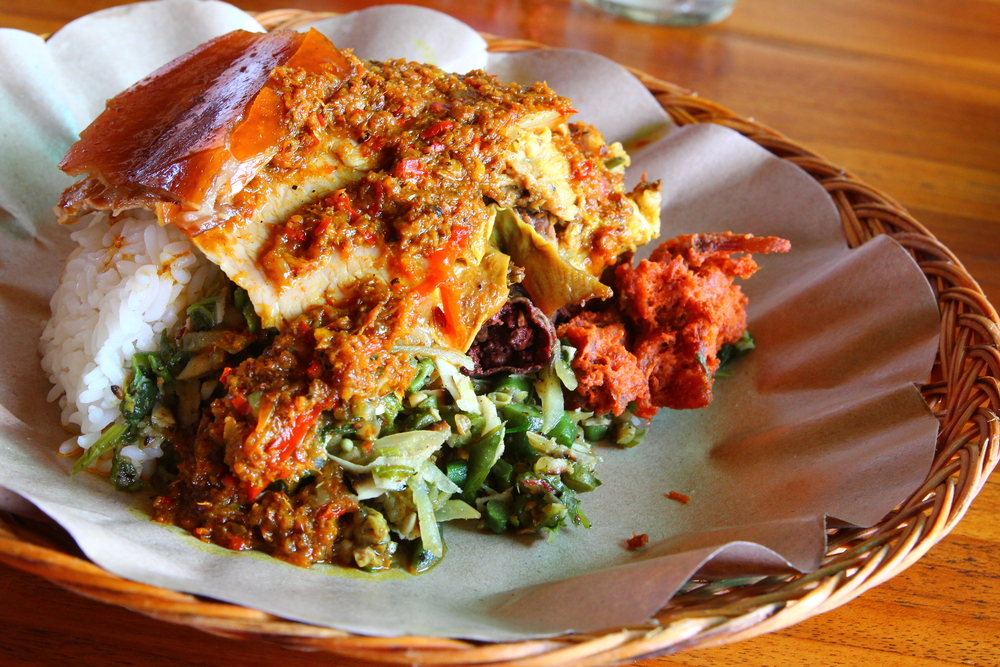 Babi Guling is arguably one of the all-time favorite Bali foods. It consists of spit-roasted pig stuffed with rich traditional spices and vegetable mixes. The tender meat is served on rice with stewed vegetables, pork sausage, fried pork meat and crispy skin. At first this dish was a communal treat only during special festivities and ceremonies, but now Babi Guling can be found at warungs and restaurants in Bali.
Recommended Babi Guling:
Warung Babi Guling Pak Malen, Jalan Sunset Road No 5 Seminyak, Kuta
Phone 0361-7452968
Sate Lilit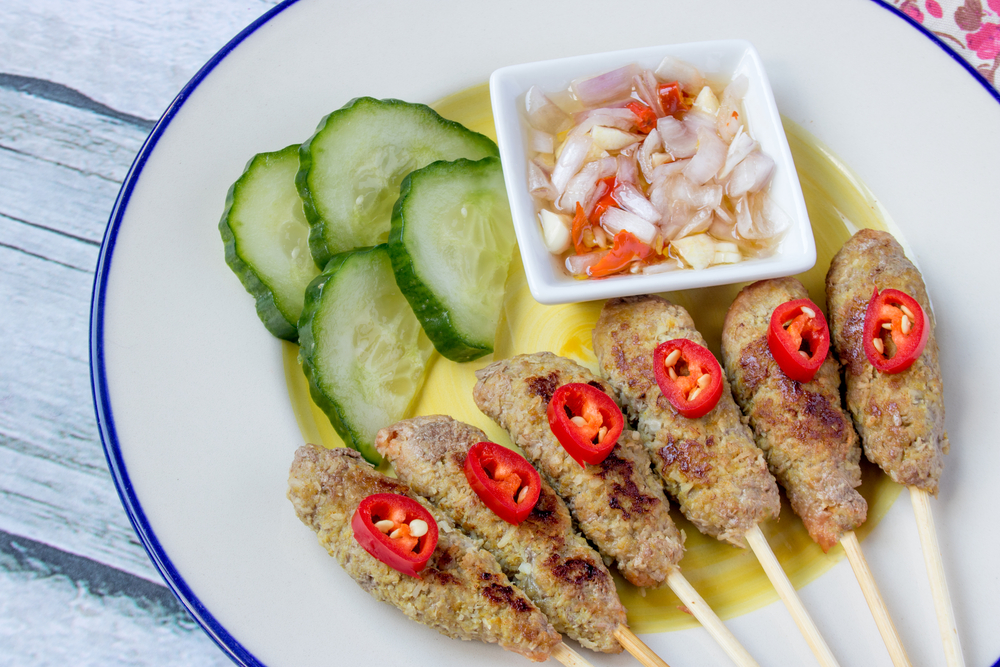 Sate or satay is a common food in Indonesia. Anything can be made into sate, from diced chicken and goat to eggs and tofu. Bali's own Sate variant is Sate Lilit, made from minced beef, chicken, fish, or pork that is mixed with coconut, coconut milk, and traditional spices. Unlike other variations of Sate, Sate Lilit is wrapped around bamboo, sugar cane or lemongrass sticks grilled. Sate Lilit can be enjoyed with or without sauce.
Recommended Sate Lilit in Bali:
Warung Ari, Jalan Tukad Pakerisan (right before Renon/Waturenggong Junction) South Denpasar
Phone 08124610765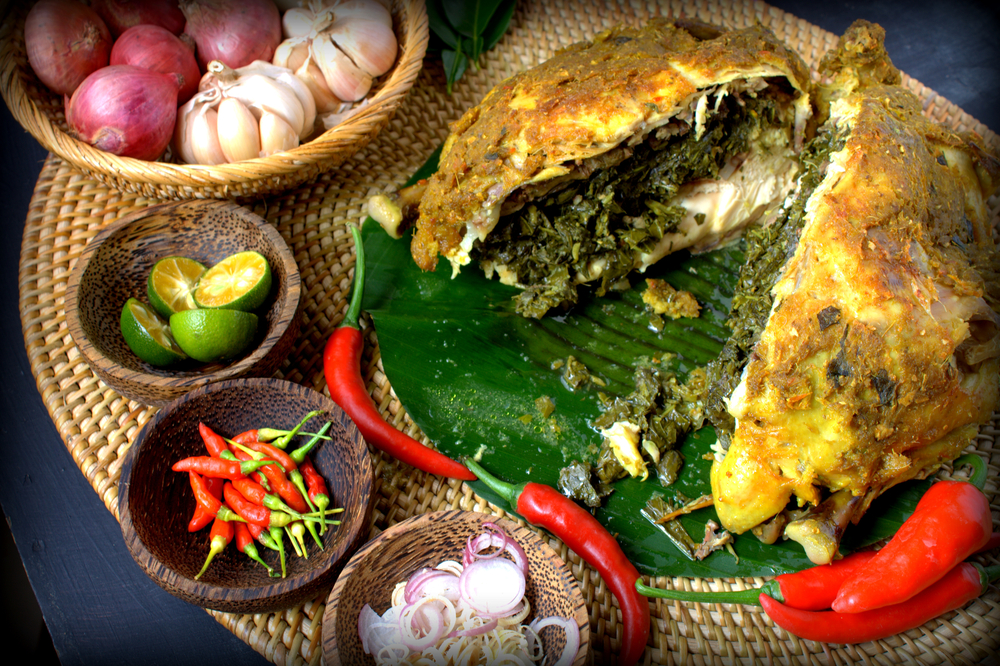 Betutu is an iconic Balinese favorite, consisting of a whole chicken or duck stuffed with traditional spices. The dish is then wrapped in banana leaves, then enveloped tight in banana trunk bark before it's baked or buried in a coal fire for 6 to 7 hours. You can imagine the result: juicy meat with rich flavor, with all meat easily falling off from bones.
Try Ayam Betutu at:
Ayam Betutu Khas Gilimanuk, Jalan Raya Tuban No 2X Kuta, Bali
Phone 0361-757535
Try Bebek Betutu at:
Bebek Tepi Sawah, Jalan Raya Goa Gajah, Ubud
Phone 0361-975656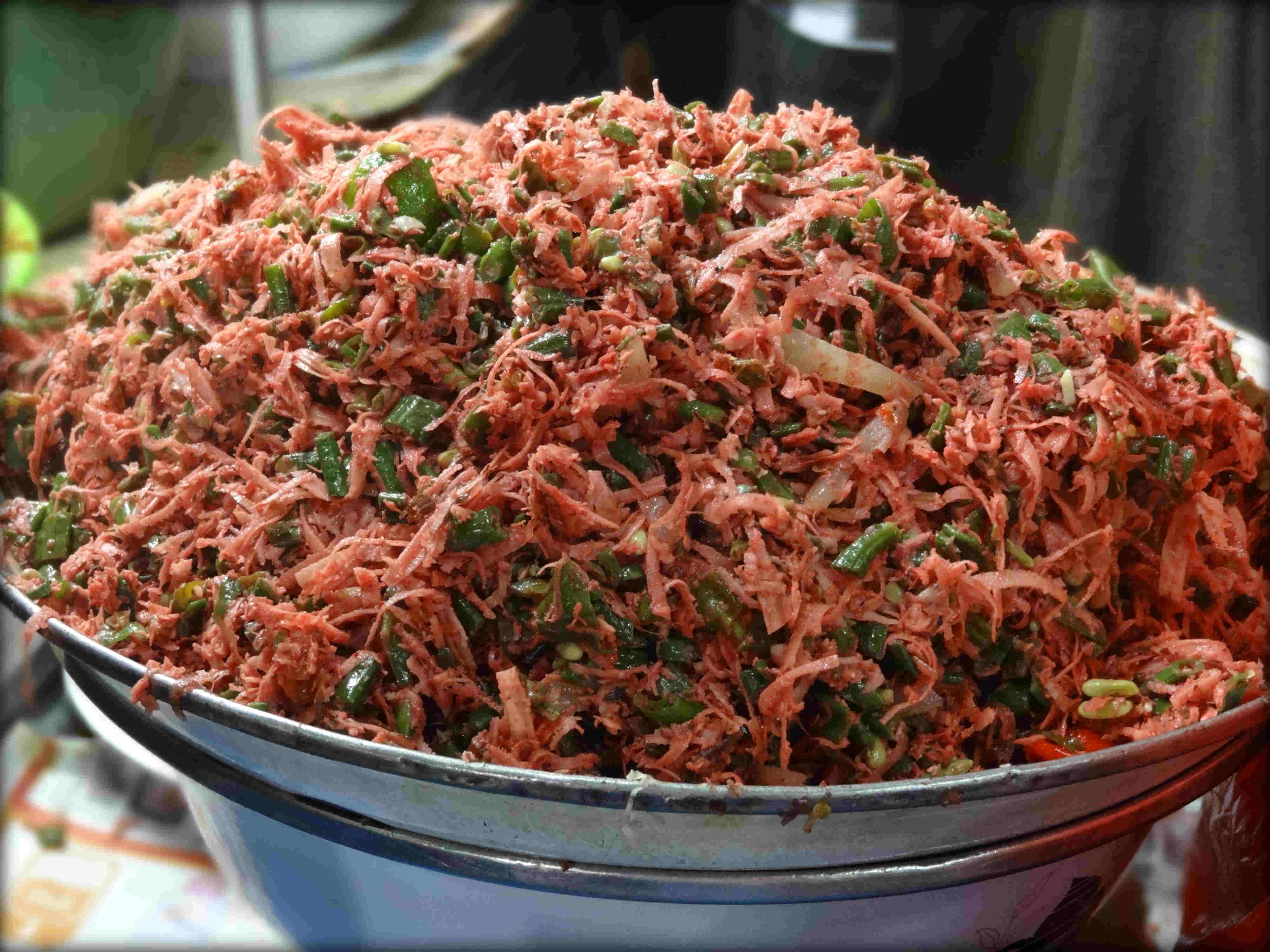 Lawar is a traditional mix containing fine chopped meat, vegetables, grated coconut, spices, and sometimes fresh pork or chicken blood. White lawar does not use blood in it, while red lawar does. Lawar should be served and consumed immediately after preparation as the ingredients can be soggy and cannot be kept long.
Where to try:
Lawar Kuwir Men Sono, Br. Muluk Babi, Sangeh Badung, Bali
Phone 085100532626
Seafood
Jimbaran beach is famous for its long stretch of endless eateries serving up freshly grilled local seafood, from shrimps, clams, crabs, calamari, lobsters, and a wide assortment of fish. In terms of taste, the secret lies in each of the café's owner recipes. But one thing that is irreplaceable is the experience when you're enjoying the seafood—facing the ocean, your feet in the cool sand, the breeze touching your skin and enjoying the setting sun.
Where to enjoy:
Jimbaran Seafood Cafes (location includes about 15 cafes/restaurants), Jalan Pantai Muaya, Jimbaran
Jimbaran Bay Seafood Club (location includes more than 30 cafes/restaurants), Jalan Pantai Kedonganan, South Kuta
Nasi Campur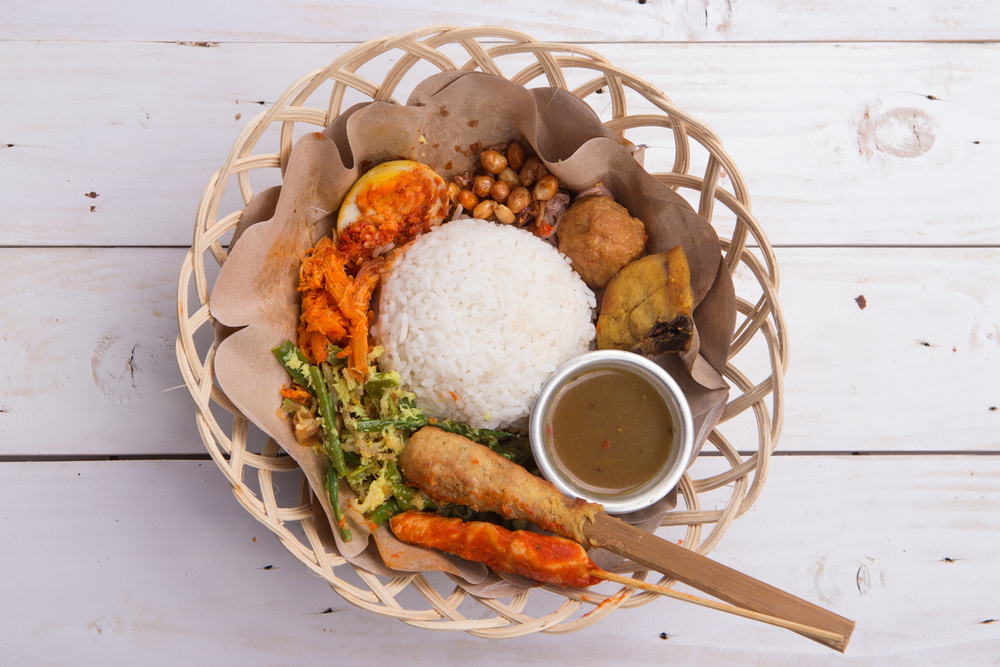 Actually Nasi Campur is not native to Bali—it's a common Indonesian menu. But, Bali has its own version of Nasi Camour. It's served on a plate consisting of white rice and several side dishes. The condiments could be grilled tuna, Babi Guling, tofu, fried tepeh, spinach, Sate Lilit, fried chicken—all depends on where you get it from. But there is one thing in common across most Balinese Nasi Campur: ridiculously hot sambal.
Try Nasi Campur at:
Warung Krisna, Jalan Kutat Lestari No 4 Sanur, Denpasar
Phone 0361-281661
Bubur Mengguh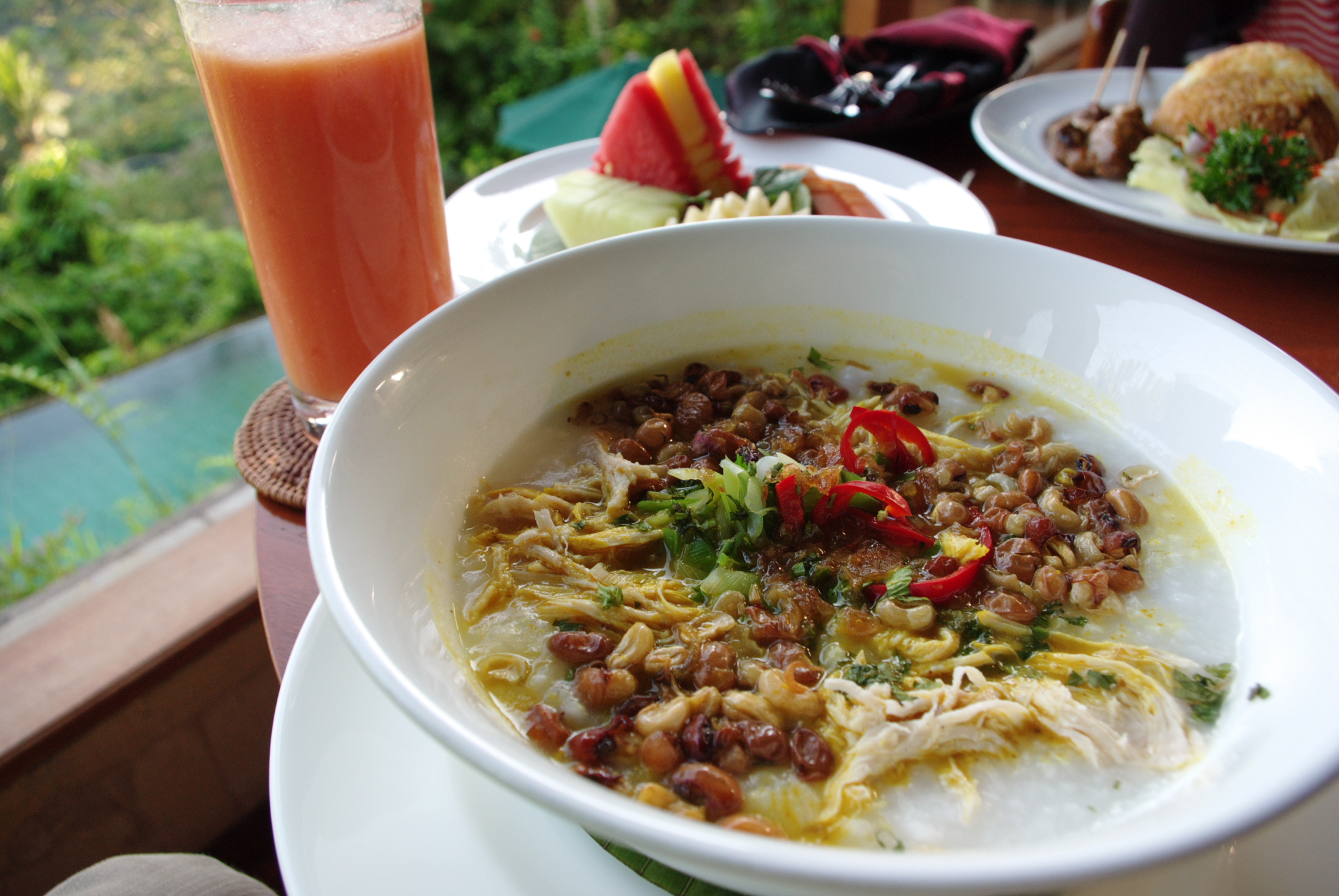 Bubur Mengguh is a more coconut-y version of Bubur Ayam (chicken rice porridge). A Buleleng specialty, Bubur Mengguh is made of rice that is cooked in coconut milk. It is then served with an assortment of fried peanuts, green beans, and chicken cooked with bay leaves and galangal. Usually there is also an additional sauce made of onions, shallots, turmeric, chilies, and ground pepper. A sprinkle of fried shallots and leek are added for extra flavor.
Where to try:
Warung Laota, Jalan Sunset Road No 88 Kuta, Bali
Which ones have you tried?