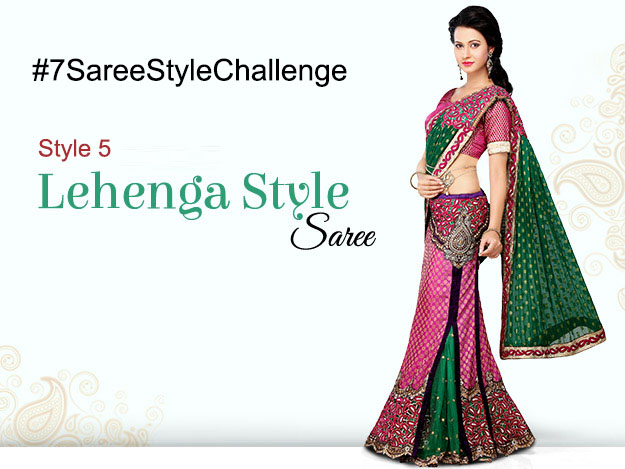 We are now in to day 5 of our #7SareeStyleChallenge and this drape can transform any saree into a lehnga. This unique drape can save you tonnes of money ad give you loads of flexibility to redesign your wardrobe for traditional style to be worn on  any special occasions and celebrations.
Wondering how to drape your regular Saree into a Lehenga in a jiffy? Here are some easy steps to quickly drape lehenga style saree.
Your Challenge
We invite you to participate in our #7SareeStyleChallenge with Indoindians. Add your photograph or video or facebook live wearing the lehnga style saree drape and post it on your facebook wall or the Indoindians Facebook with hashtags #indoindians #7SareeStyleChallenge #indoindiansSareeStory. Remember to tag @indoindians in your post 🙂 Invite your friends to participate too.
You Need
An embellished saree
A classy blouse
Satin petticoat
A pair of heels
Heavy stone studded Jewelry
Plenty of bangles
Few safety pins.
And around 4 Minutes
6 Easy Steps to Drape Lehenga Style Saree
Here are 2 easy to follow videos. The 1st is with the pallu in front and the other with the pallu at the back.
Start by tucking the Saree starting from center back only until right side of the waist.
Make pleats measuring a span width such that you get 5 pleat 'sets' in between right to left side of the waist.
Now, tuck the Saree until center back such that the Saree completes one round around the waist to the starting point.
Take the pallu to make pallu pleats.
Bring the pallu to the front, place it on the right shoulder and pin it up neatly.
Now, hold the upper corner of the pallu and take it left up until side waist and pin it up.
Tips & Tricks
Feel free to adjust the number of pleats to suit your body frame.
To avoid fluffiness around the waist, try wearing an inskirt or petticoat that has a belt fastener instead of the traditional string.
Make sure to wear your footwear beforehand to get the right length of Saree.
Keep safety pins for easy pin-ups.
Be ready with basic make-up.