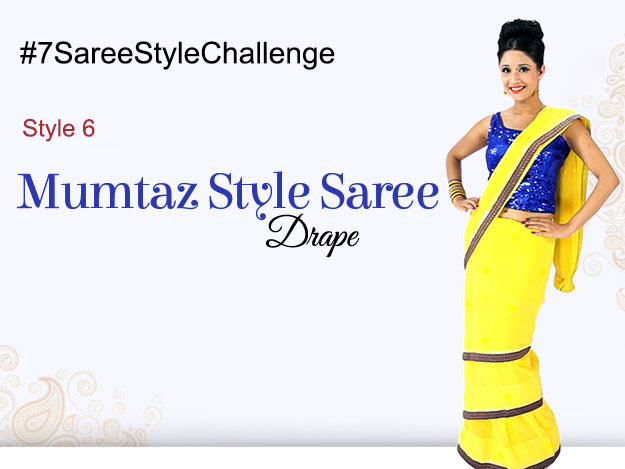 Do you remember the 1960s/70s actress Mumtaz in the famous song Aj kal tere mere pyaar ke cherche in her inventively draped orange saree? An iconic outfits that became a fashion trend.
This saree drape was the of the famous costume designer Bhanu Athaiya. Athaiya added outer pleats and a zipper on the side to make it easier for Mumtaz to dance in. This tightly wrapped silhouette is the perfect wrap for the girl who loves to show off her curves, and killer waistline.
The glamour act of yesteryear actress Mumtaz in the evergreen song must have made you think about how to wear Mumtaz style saree. So, here we are with Do-it-yourself video to learn this classic style of saree draping in our 7 saree challenge series.
Your Challenge
We invite you to participate in our #7SareeStyleChallenge with Indoindians. Add your photograph or video or facebook live wearing the fun Mumtaz style saree drape and post it on your facebook wall or the Indoindians Facebook with hashtags #indoindians #7SareeStyleChallenge #indoindiansSareeStory. Remember to tag @indoindians in your post 🙂 Invite your friends to participate too.
You Need
A solid colored Saree with border or preferably chiffon saree
Sleeveless blouse
Petticoat
A pair of heels
Complementing Jewelry
Few safety pins
And around 3 Minutes
7 Easy Steps to Drape Mumtaz Style Saree
We'll start with tucking one end of the Saree in the petticoat and wrap one full round.
Ensure the Saree length falls just an inch short of the floor.
Make only 1-2 pleats and tuck it in the centre of your petticoat facing left.
Bring the untied Saree portion from around the back to the front and tuck it 4-5 inch above the full length of the Saree.
Now, repeat the step of wrapping the untied Saree portion and tucking it 4-5 inch above the first round of the Saree.
Next, let's make 6-7 pallu pleats of the untied Saree portion.
Bring it from around the back over the left shoulder and fasten it with a pin.
Tips & Tricks
Make sure to wear your heels beforehand to get the right length of Saree.
You can add one more round four or five inch above the earlier round of Saree to get a slimmer look.
Instead of pleating the pallu, you can simply gather the pallu and fling it back.
To get the flawless look, keep the pallu length just above the hip level.
Keep safety pins close for easy pin-ups.
Be ready with basic make-up to save time.