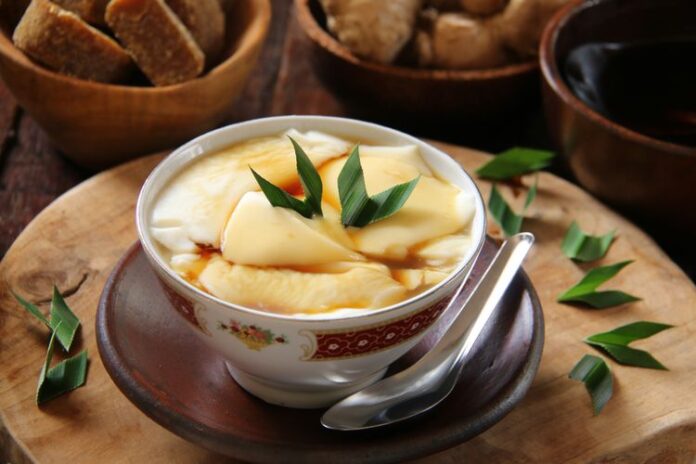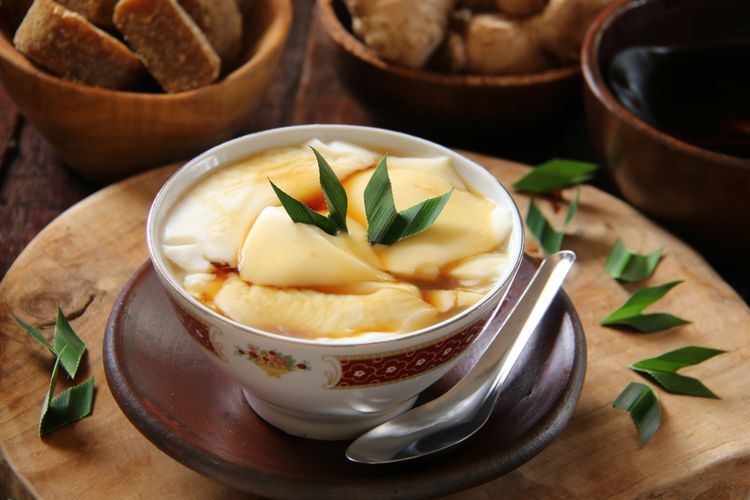 Traveling to Central Java is incomplete without stopping by the city of Semarang. The city, nicknamed Venetie van Java (Venice on Java Island), not only offers a variety of interesting tourist destinations, but also special foods. Not surprisingly, in 2015, Semarang was named one of the leading culinary tourism destinations by the Ministry of Tourism. You can easily find various kinds of processed food, chicken, and fish with a distinctive taste in every corner of the city of Semarang.
Here are some of the food you can try while travelling to Semarang:
Nasi Ayam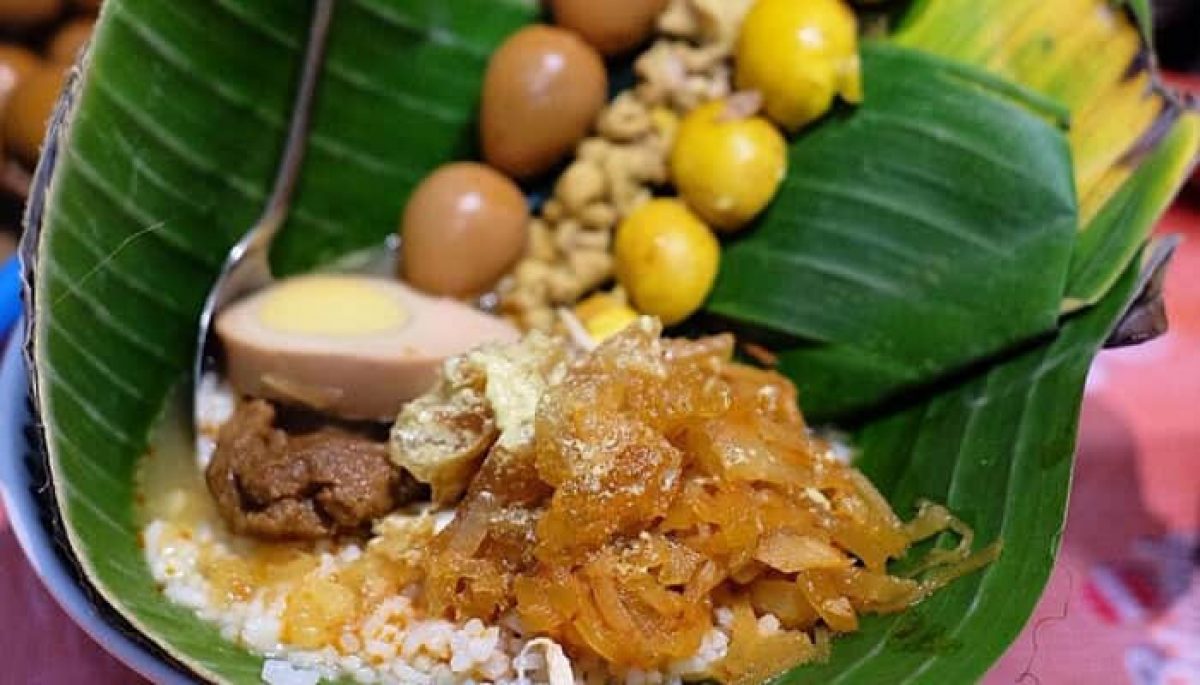 If in Yogyakarta there is gudeg, in Solo there is nasi liwet, then in Semarang there is nasi ayam (chicken rice). This rice with yellow opor (coconut milk) sauce is complemented by sayur labu manis (sweet stir-fry pumpkin), shredded free-range chicken and eggs, tofu and crackers with special spices. You can also choose additional side dishes such as egg satay, intestine satay, and other parts of the chicken such as breast, thigh and wings. The coconut milk and spices make this chicken rice delicious and undeniably delicious.
To enjoy this special dish, just head to the Bu Wido's Nasi Ayam depot which is open from 17.00 to 23.00 WIB every day.
Address: Jl Melati Selatan, Brumbungan,Semarang
Price: Starting 10,000 IDR per portion (without additional sides)
Tahu Gimbal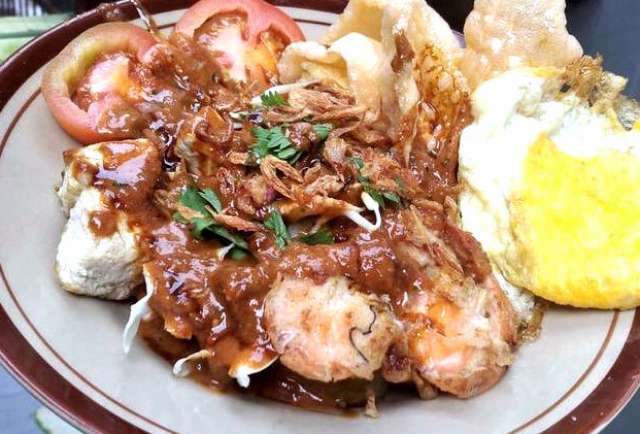 Considering that Semarang is located on the north coast of Java, travelling there would not be complete without tasting the petis-seasoned food like those in Surabaya, Lamongan and Tuban. In Semarang, the food with the famous petis seasoning is tahu gimbal.
Tahu gimbal contains pieces of rice cake, prawn bakwan (gimbal), sliced cabbage and bean sprouts doused with peanut sauce seasoned with petis. The taste is a delicious blend of sweet, savory and salty. Pak Edi's tahu gimbal is one of the recommended places to try this Semarang specialty.
Address: Jl Mentri Supeno, Mugassari, Semarang (samping kantor Gubernur)
Price: 14,000 IDR per portion
Burung Belibis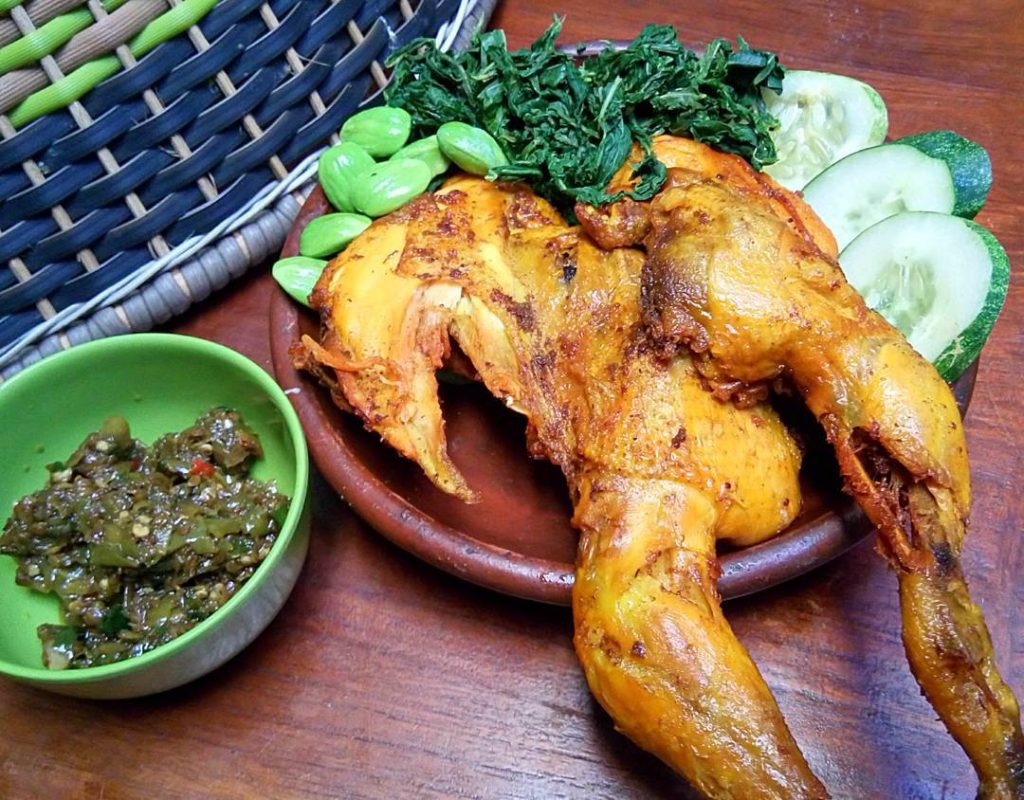 Duck and fried chicken have become a regular in culinary tourism in cities in Indonesia. But have you ever heard of bird dishes? At Warung Pak No, you can find various kinds of birds, one of which is Wandering whistling duck.
The texture is not much different from chicken, but more tender because it is cooked over low heat for a long time. The seasonings also vary, you can choose according to your taste.
Address: Jl Sawojajar I no.44 Semarang
Price: Starts from 25,000 IDR per portion
Sate Buntel and Pepes Opor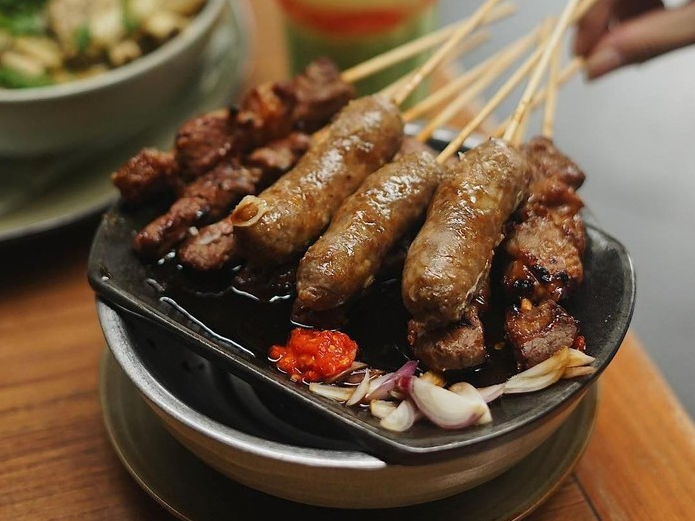 Those who love to eat goat meat must stop by this restaurant which has been established since 1945. At Sate and Gule Kambing 29, they offer many varied menus such as sate buntel and pepes olor. Sate buntel is a dish of seasoned minced mutton wrapped in thin lard and then grilled like satay. Meanwhile, Pepes olor is made from olor (bone marrow) which is cooked like Pepes (wrapped in banana leaves then steamed or grilled in charcoal). It is both delicious and healthier.
Address: Jl Letnan Jend. Suprapto no.29,Purwodinatan, Semarang
Price: Gule starts from 30,000 IDR per portion, Satay starts from 50,000 IDR per portion
Wedang Tahu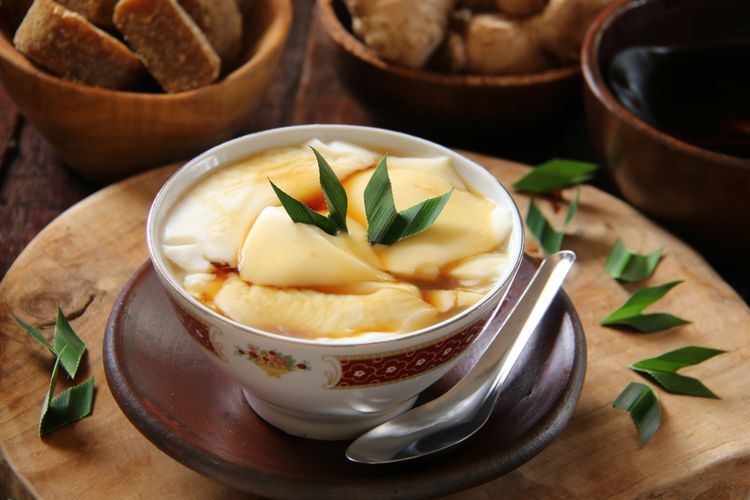 This unique cuisine is perfect for those of you who are hunting for a warm and refreshing drink. Wedang tofu is made from a mixture of brown sugar, ginger and beancurd made from soybean juice. The taste of this wedang tofu tends to be sweet and warm.
In addition, wedang tofu is believed to be beneficial for health such as breast milk production, lowering high blood pressure, improving metabolism, lowering cholesterol while being very affordable! Go straight to Wedang Tahu Pak Pardi to enjoy it.
Address: Depan Swiss House Ngaliyan Semarang
Price: 6,000 IDR
Mangut Welut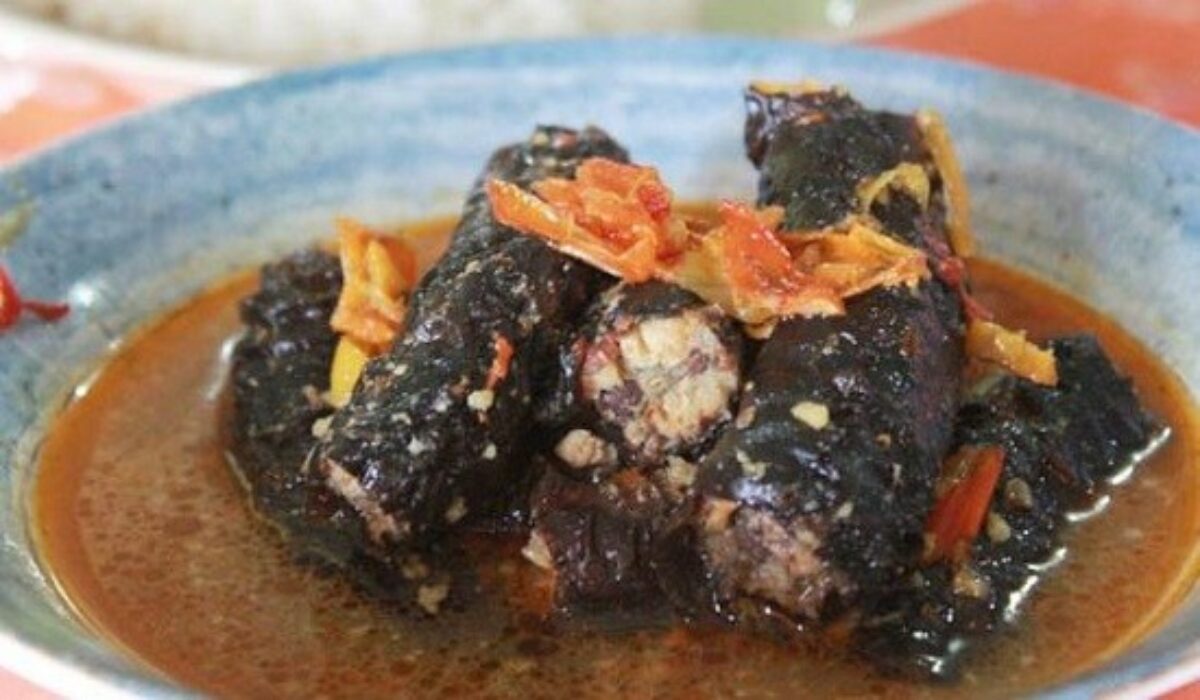 Eels are freshwater animals that have a fairly high protein content. In addition, eel is also famous for its savory taste, especially if it is fried until crispy. We may have seen fresh water mangut everywhere, but mangut welut, a typical Semarang food, cannot be found just anywhere.
WM Welut Bu Nasimah has been presenting the mangut welut menu since 1985 and has become its own prima donna for its customers. The savory taste of the eel combined with the fresh and spicy mangut sauce creates a unique culinary combination that will surely make you addicted.
Address: Jl Kyai Saleh no.10 Semarang
Price: Starts from 10,000 IDR (per portion for mangut welut)
Mie Kopyok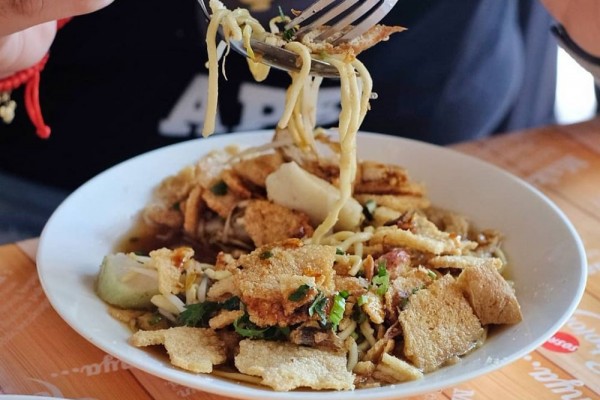 The appearance of Mie Kopyok at a glance will remind us of Bandung's Mie Kocok. However, this mie kopyok is made without using any meat. The noodle soup is made from a spices while the stuffing is in the form of pieces of rice cake, sliced tahu pong (tofu with no filling), celery leaves, bean sprouts and crumb crackers from the crust (gendar).
This simple dish is the signature of Mie Kopyok as it's one hundred percent plant-based, perfect for those of you who choose a vegan lifestyle. Although simple, mie kopyok are still delicious on the tongue, especially the noodles that are very soft but chewy. For vegetarians, just head over to Mie Kopyok Pak Dhuwur to try it!
Address: Jl Tanjung, Jl Kyai Saleh, Jl Perintis Kemerdekaan Banyumanik, Semarang
Price: Starts from 10,000 IDR
Es Puter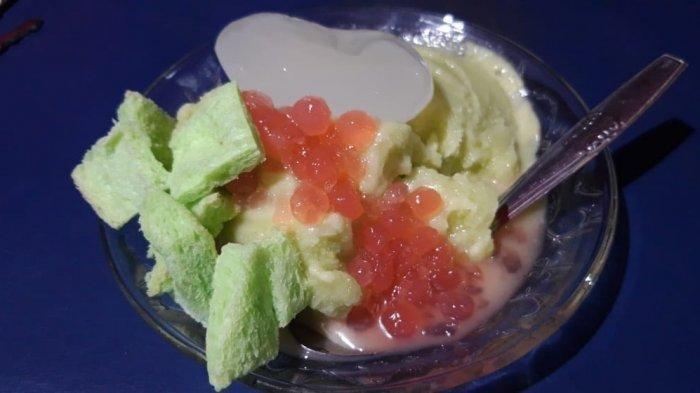 After eating heavy meals and soups, now is the time to pamper your tongue with something sweet and fresh. Just come to the legendary Es Puter Cong Lik. Not inferior to contemporary ice cream cafes, Cong Lik's ice puter is always crowded with visitors, both local residents and tourists.
Like traditional es puter in general, Cong Lik es puter also uses manual techniques. However, there is a special recipe that makes es puter Cong Lik special without using artificial sweeteners and preservatives. There are four choices of flavor variations that you can try; including chocolate, avocado, coconut and durian.
Address: Jl KH A Dahlan no.11, Semarang
Price: Starts from 12,000 IDR
Have you tried any of the food joints above? Share your experience in the comment section below!