Camping is probably the best ways to spend a weekend with you family and friends. Escaping from the concrete jungle that is Jakarta and enjoying the lush green forest with clean, fresh air is surely a good alternative to refresh your mind. Instead of staying the night in the conventional hotel, camping will sure give you extraordinary experience.
If you don't feel like purchasing or hauling a camping set, then you can try "glamping" or glamorous camping; where you will get all the fun things of staying outdoor, but without all the rush of regular camping. You don't need to cook, or make the tent. Just enjoy!
Here are our recommended "glamping" grounds you can try next long weekend:
Tanakita Camping Ground, Sukabumi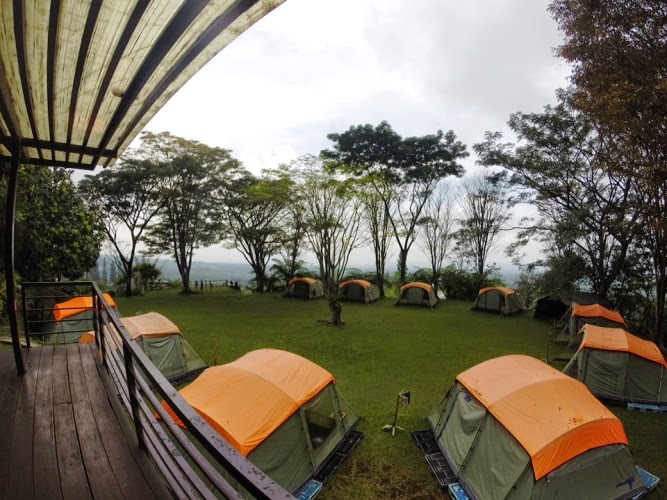 Located in the Gede Pangrango National Park, Sukabumi, Tanakita Camping Ground is an ideal location to camp. The temperature is ranging from 20° to 22°C during the day, so you can imagine how fresh the air is in there. Tanakita provides necessary equipment for convenient camping such as tent, warm mattress, sleeping bags, toilet, and bathroom with hot running water! Enjoy lodging and facilities at Rp550.000/night, which includes 3 meals and 2 snacks.
Sayang Heulang, Bandung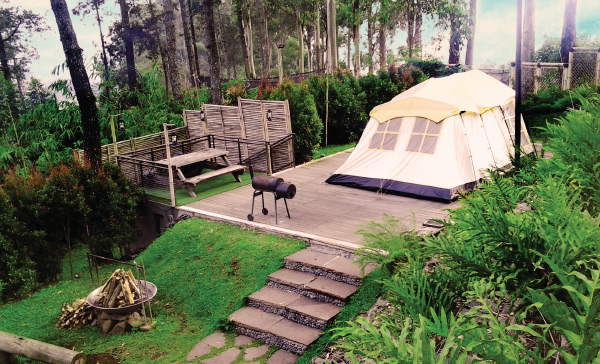 This glamping ground is a part of Dusun Bambu Leisure Park which is home to the Kampung Layung Sundanese villa, Café Burangrang, Lutung Kasarung, and Purbasari restaurant. You can enjoy a night of glamping here with the view of Burangrang Mountain. Adopting a premium camp concept, Sayang Heulang or Eagle Camp is equipped with modern facilities thatallow guests to feel privileged when spending the night in the open.
Visitors can rent Single Camping Decks at Rp1.700.000++ (1 tent, 2 bed mattress, private entrance garden, bonfire and BBQ facilities) or Double Camping Decks at Rp2.750.000++ (2 tent, 4 bed mattress, private entrance garden, bonfire and BBQ facilities).
Gunung Pancar, Bogor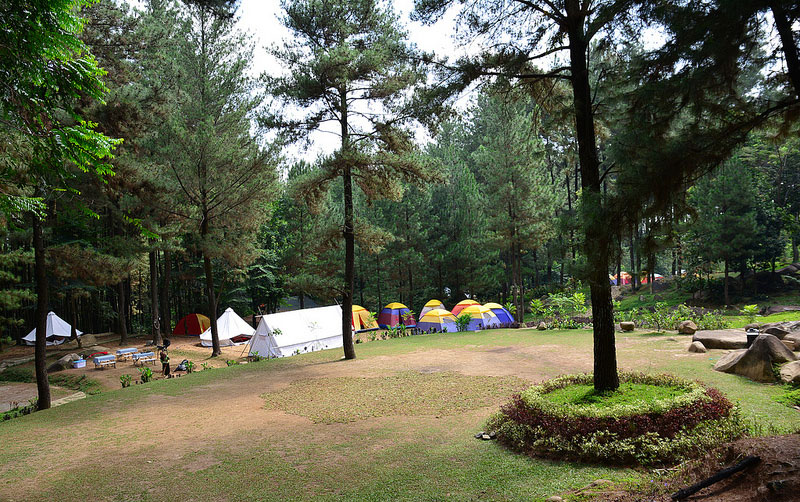 Not only one of the must visit place in Bogor, this is one of the "hippest" camping grounds among Jakarta and Bandung youngsters. Gunung Pancar camping ground offers both regular camping area and glamping facilities. The area is in the middle of lush pine forest with fresh air and calm ambience. For the glamping, a minimum of 4 people booking is necessary to rent a glamping tent.
Tents are rented at Rp330.000/person/night (includes tent, electricity, bed, and BBQ grill) with an additional Rp55.000/person for dinner and breakfast.
Consina Bumi Geulis, Bogor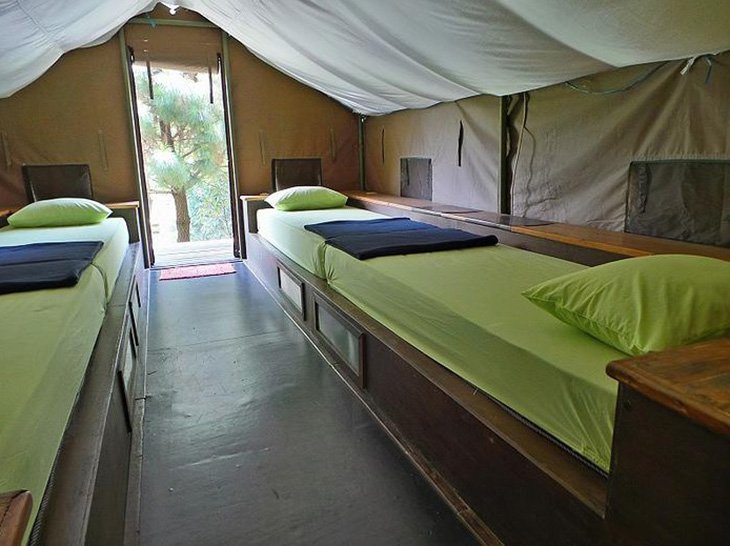 Located in Bogor, this glamping location is considered to be one of the closest locations to Jakarta. Activities are abundant in this location, for the Gunung Geulis Campsite is located between Gede-Pangrago National Park and Halimun-Salak National Park. Biking, swimming, paintballing, river rafting are just some of the activities that visitors can actively participate in. Lodging options also vary between closer to nature with dome tents, semi permanent tents with built in toilets, or at a campsite with permanent lodging.
Four-people dome tent named Halimun tents are priced at Rp 285, 000 per night, which already includes three daily meals and snacks.
Legok Kondang, Ciwidey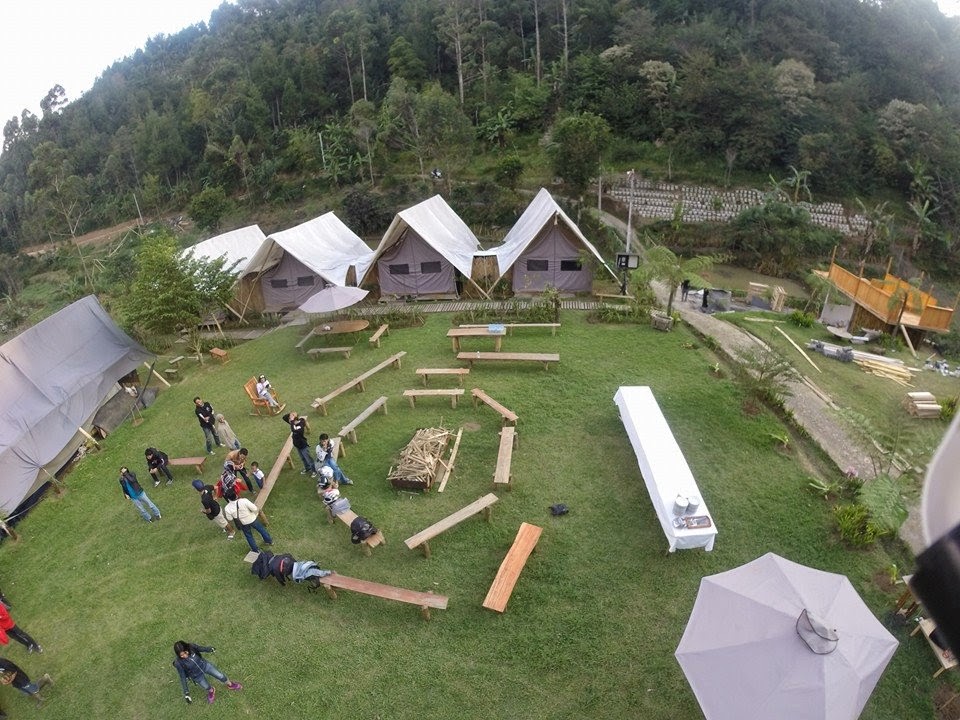 Located in Ciwidey, a couple of hours south of Bandung, Legok Kondang offers beautiful scenery and a spacious ground for plenty of outdoor activities. It is also really close to Kawah Putih and the strawberry farms around the area. At this glamping area you can still get cable TV and wifi (well, it is named glamorous camping for reasons!)
The rates are Rp1.050.000/tent/night for standard room, Rp1.750.000/tent/night for family size tent and an additional Rp120.000/person if you want to enjoy a barbecue dinner cooked in front of your tent.
Trizara Resort, Bandung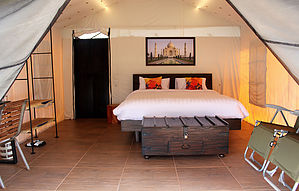 If you are a nature enthusiast who wants a nice place to admire and enjoy the nature without having to compromise on convenience and comfort while doing it, Trizara Resort may be a perfect place for you. Here you can enjoy the glamorous camping experiences with your friends and family, with the complete facilities and exquisite service. You can also do many fun activities here such as yoga, outdoor zumba, BBQ party, board games, and many more! Visitors can enjoy all of these facilities at the price of Rp1,600,000 – Rp1,800,000/night (exclusive of tax).
Rancabali Lake Side Ciwidey, Bandung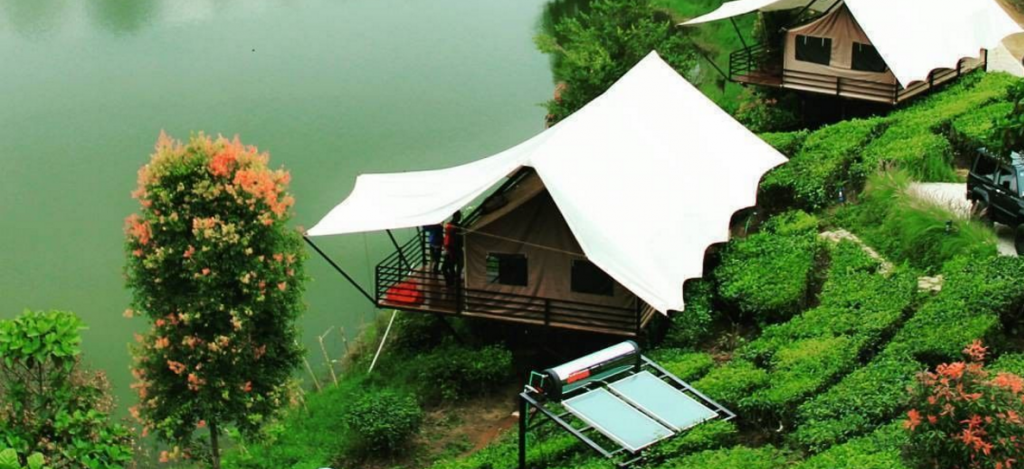 The nature at Rancabali is said to be awesome, for the tents are located in the woods overlooking the Situ Patenggang lake. Visitors can enjoy a multitude of activities from boat rides on Situ Patenggang, a hot spring in Kawah Rengganis, or dining at Phinisi Resto, which is shaped like a boat.
The entrance rate for each person is about Rp 20, 000. Prices to rent vary from the amount of people to the day of the rent. 4-people tents are rented for Rp1.800.000 on the weekends and RpRp2.272.000 on the weekdays. On the other hand, 8-people tends are rented at  Rp2.400.000,- on a weekday and Rp3.036.000, on the weekends.
 Maribaya Glamping Tent, Lembang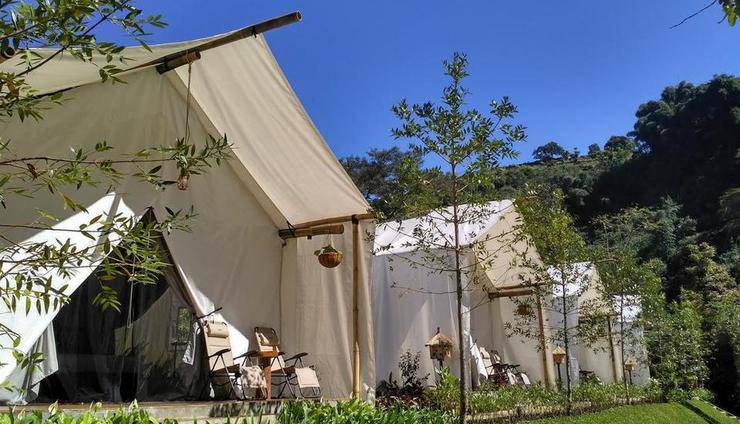 Famous for its hot waters, the lodging provided at this area is also considered unique.
The lodging at this area is considered four star for its service and the facilities they offer to to visitors. Activities vary from Sky Bridge Tapak Halimun, relaxation at the di Family Foot Spa or dipping pool, taking pictures at Gerbang Eyang Raksa Dinata, live music at the amphitheatre to take children at the Rumah Hobbit or Rabbit Feeding.
This area is considered to be a four-star accommodation complete with hot water and even a hot tub. Other than the facilities mentioned above, the Maribaya lodge offers barbeque areas for the convenienct of your family.
There are two choices of lodging, one for two people and the other for families. two people is Rp 2,450,000. Maribaya Glamping Tent also provide rooms for families.
If you spend your holiday at these places, don't forget to bring our finest camera as the place is very Instagram-able! You must want to capture as many moment as possible. During the night you can enjoy the cold air while stargazing to the clear sky. Sound fascinating, right?