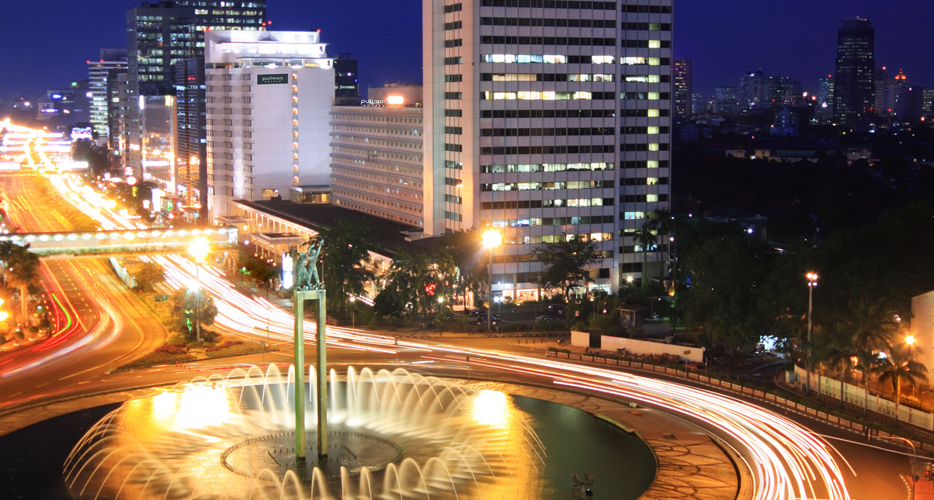 Once saddled with a reputation as a poverty-ridden hell hole, Jakarta mutated into a metropolis with all the outward appearance of an Asian boom town in not much more than a decade. It took only a week of rioting in May 1998 to reduce some of this modern facade to a burnt out shell. Shopping malls, offices, banks and businesses owned by ethnic Chinese and the Suharto family took the brunt of the rioters' anger.
Jakarta remains very much at the centre of political events re-shaping Indonesia, and how quickly the city recovers from the riots and the political and economic turmoil remains to be seen. That said, Jakarta is the most expensive city in Indonesia, the most polluted and the most congested, but if you can withstand this onslaught and afford to indulge in its charms, then it is also one of the region's most exciting metropolises. Consider Jakarta the `big durian' – the foul-smelling exotic fruit that some can't stomach and others can't resist.
Jakarta boasts one of the best sights in all of South-East Asia: Sunda Kelapa, the old Dutch port, is awash with magnificent Makassar schooners (pinisi) and anyone who spends an early morning here will not forget the experience. Nearby Pasar Ikan, the early-morning fish market, is a colourful scene of busy, bartering crowds. Other sights include Old Batavia, an area of 18th-century houses and streets that are gradually being restored; the Gereja Sion church, which is the oldest in Jakarta; and the zoo with its Komodo dragons and orang-utans.
There are a number of interesting museums including the Indonesian National Museum, which houses an enormous collection of cultural objects from the country's various ethnic groups; and the Jakarta History Museum, which contains memorabilia from the Dutch colonial era. The city's public monuments include the fanciful National Monument (Monas) in Merdeka Square and the Statue of Welcome (known locally as 'Hansel and Gretel').
Jakarta's cultural showcase, Taman Ismail Marzuki, hosts a variety of Western and Indonesian performances, ranging from poetry readings and jazz concerts to premier showings of international films and gamelan concerts. There are a number of upmarket bars, discos and restaurants on Jalan M H Thamrin that feature live acts; for somewhat sleazier entertainment, try the nightlife along Jalan Abang Timur 14. A cheaper alternative is to walk to Taman Ria at Merdeka Square and see the local talent perform amid the bright lights of the merry-go-rounds.
Jakarta's cheapest and most central accommodation area is along Jalan Jaksa, a small street south of the National Monument. Many of the mid-range hotels are also found in this vicinity. Jakarta has the widest range of street hawkers, markets and restaurants of any Indonesian city; most are found on and around Jalan Jaksa or in the markets around Jalan Surabaya in Menteng.
Off the Beaten Track
Pulau Seribu
Scattered across the Java Sea to the north of Jakarta are the Thousand Islands – well, 112 of them anyway. Only a few of the islands have been developed, and the empty beaches and scuba sites on islands such as Pulau Damar, Pulau Tikus and Pulau Pari are good day-trip destinations from Jakarta. Further north still, tropical-paradise havens have been created for affluent travellers on the islands of Pulau Putri, Pulau Pelangi, Pulau Perak and Pulau Papa Theo (collectively known as Pulau Seribu Paradise).
Krakatau Islands
The remains of the legendary volcano lie only 50km (31mi) from the West Java coast (not east of Java as the film mistakenly described it). Krakatau blew itself apart in 1883 with the biggest bang thought to have ever occurred on earth – audible in Alice Springs, 3500km (2170mi) away, and affecting the wave patterns in the English Channel. A new crater, 'Child of Krakatau', belches glowing rocks and ashes, but boats can land on the eastern side and it's possible to climb right up the cinder cones to the caldera. The hike is best made in the cool of the early morning, and the mainland German-run beach resort at Carita is a popular base for tours and fishing-boat hire (for once, a tour may be the best bet – unless you fancy the possibility of spending a couple of days adrift at sea).
Karimunjawa Islands
This lovely archipelago of 27 islands off the north coast of Central Java has been declared a marine national park. The islands' main attractions are the smattering of white sandy beaches, the calm, clear water, and the peace and quiet. The main island Pulau Karimunjawa has homestay accommodation, but is mostly ringed by mangroves. However, boats can be chartered from here to nearby islands with reefs and beaches. Don't expect the snorkelling to be too impressive thanks to that scourge of South-East Asian coral – dynamite fishing. A ferry leaves from Jepara twice a week on the four and a half hour trip to Karimunjawa. Smaller fishing boats also brave the seas, but safety standards are minimal.
Baluran National Park
Baluran National Park in the north-east corner of Java, is the most accessible of Java's large wildlife sanctuaries. The parklands surround the solitary hump of Gunung Baluran (1247m), and its main attractions are feral water buffalo, deer, monkeys, leopards and civet cats. Birds include the green junglefowl, peacocks, bee eaters, kingfishers and owls. The park is billed as 'Indonesia's African Safari Park', and it is surprisingly reminiscent of parts of Australia or African savannah, with dry grasslands bordered by coastal mangrove. The dormant Ijen Plateau, north-east of Baluran, has a magnificent turquoise sulphur lake, and is a popular destination for trekkers.
Getting There & Away
Jakarta is Indonesia's busiest international airport and is the hub of the domestic air network. The departure tax on international flights is around US$10; on domestic flights it's around US$4, but is usually included in the ticket price. Be sure to reconfirm bookings at least 72 hours before departure. A ferry shuttles between Ketapang in eastern Java and the west-Balinese port of Gilimanuk. Boat/bus combination tickets between Yogya or Surabaya and Denpasar in Bali can be purchased. There are numerous ships/ferries between Java and various ports in Sumatra. The Merak-Bakauheni ferry is probably the most popular. There are also ships between Jakarta and Singapore via the Indonesian island of Tanjung Pinang.
Getting Around
There's no reason to fly around Java unless you want an aerial view of the island's spectacular volcanoes. There are a number of domestic airlines, including Garuda, the national carrier, Merpati, Sempati and Bouraq. A tax of 10% and a domestic departure tax of between 5500 rp and 11,000 rp is added to the fare. It's essential to reconfirm your ticket since overbooking of flights is common. Buses are the main form of inter-city transportation. They range from slow, crowded, ordinary public buses to convenient, quick and comfortable luxury services. Small minibuses cover shorter routes, backroads and inner-city destinations. Like the buses, they range from pack-'em-in sweatboxes to a good network of door-to-door minibuses.
Java has a pretty good rail service running from one end of the island to the other. In the east (at Ketapang), it connects with the ferry to Bali; in the west (at Merak), it connects with the ferry to Sumatra. The two main lines run between Jakarta and Surabaya – one via Yogya and Solo; the other, shorter route via Semarang. Choose your train carefully for comfort and speed. They range from cheap, squalid cattle trains to reasonably comfortable expresses.
Cars can be hired in Jakarta, but rates are triple those in the West and you'll need the patience of a saint and the concentration powers of a grand chess master to drive on Java's busy main roads. There appear to be no road rules, but a form of logic does exist: drive on the left, and give way to anything bigger than you, more or less sums it up. It's best to hire a car or minibus with a driver, and private operators can arrange this for a fraction of self-drive rates. Motorbikes are readily available for hire across Java, but make sure that you're a competent rider because your skills will be tested. Bicycles can be rented in tourist centres; they're mainly for nipping around town – not for touring the island.
GENERAL INFORMATION
Jakarta, the capital city of the Republic of Indonesia, is located on the northern coast of West Java.  Jakarta also enjoys status as a province consisting of Greater Jakarta and covering an area of 25,498 square miles (63,744sq.km).
Jakarta is believed to have been founded in the 16th century by Prince Fatahillah, who named the city Jayakarta meaning Glorious Victory.  The Dutch East Indies Company captured the city in 1619, changing its name to Batavia.  During World War II, it was invaded by the Japanese who changed the name back to Jakarta as a gesture aimed at winning the sympathy of the Indonesians.
Today Jakarta is the nerve center of the country.  It is the seat of the central government. The world's ideas, technology and fashion first reach Indonesia through Jakarta, as Indonesia's main gateway is here at Soekarno-Hatta International Airport.  The city reflects the national motto "Unity in Diversity," as the population is a blend of all the ethnic and cultural groups found throughout Indonesia.  It has the country's most expensive buildings as well as dark and gloomy slums.  Jakarta is equally home to the most educated among Indonesians as well to as many of the country's completely illiterate citizens.
The capital city's attractions are historic museums, colonial architecture, traditional temples and bustling markets in obscure corners of the city.
LOCAL CUSTOMS
General:
Indonesians never show their anger openly.  Loud voices are particularly offensive. The more important and vehement the subject under discussion, the quieter an Indonesian voice is likely to become.
It is rude to point with your forefinger; instead, use your right thumb for pointing. The left hand is considered unclean, so never use it to touch someone or to give and receive things.
The feet are considered the lowliest part of the body. It is a serious offense to sit with the soles of your feet facing people or to use your feet to point to something on the ground.
Business:
Indonesians tend to be late for appointments, so be prepared to wait.  Meetings are usually held at your contact's office or in your hotel lobby.When meeting an Indonesian, shake hands and smile along with giving a greeting in Indonesian appropriate to the time of day.  Business cards are exchanged immediately after introduction. Businessmen rarely wear jackets because of the heat in Indonesia.  A shirt and tie are often appropriate.  Safari-style leisure suits are comfortable and accepted.
Women tend to dress modestly because of Muslim tradition. Makeup and perfume are acceptable, if used moderately.
MEDIA
Daily English-language newspapers are the "Indonesian Observer," the "Jakarta Post," the "Indonesian Times" and the "Surabaya Post. "Time" and "Newsweek" are readily available in the country and are no longer more censored.
Indonesia has many TV channels, which provide round the clock news and entertainment. Most hotels also offer 24-hour CNN satellite news. On the radio, Voice of Indonesia, 117.9 AM and 151.5 FM, broadcasts news at 9am and 4pm.
CURRENCY
The Indonesian monetary unit is called the Rupiah.  Notes are issued in the values of Rp1,000, Rp5,000, Rp10,000, Rp20,000, Rp50,000 and Rp100,000. Coins are issued in the values of Rp100, Rp200 and Rp500.
Map of Jakarta
THINGS TO KNOW
Population : 9,000,000

Primary : IndustriesManufactures shoes and clothing, petroleum and mining.

City Code : 021

Shop Hours : 8am to 9pm daily. Sunday is a public holiday, but some shops are open for part of the day.

Bank Hours : Monday to Friday, 8am or 8:30am to 4pm. Shops are usually closed Saturdays.

Time : Zone is on West Indonesian Time, which is 7 hours ahead of GMT (Greenwich Mean Time).

Tipping : Hotels and most  restaurants add a service charge of 10% to the bill, although a tip is always very much appreciated.
If no service charge was added, a tip of 5% to 10% is appropriate.

Porters : Rp 5000 per bag.
Taxis : Minimum of Rp 1,500.
WEATHER CONDITIONS
Indonesia has a tropical climate with two main seasons:  a dry season from May to September, and a wet season from October to April.  The heaviest rainfall occurs in December and January.  The average temperature in Jakarta is 80ºF (27ºC) during the day and 75ºF (25ºC) at night.
Please click on the weather icon on your screen for the current weather condition in Jakarta.
CITY ORIENTATION
At the center of Jakarta lies Medan Merdeka (Freedom Square), a large square crossed by broad ceremonial boulevards, with the National Monument towering in the middle. To the north of the city center lies Ancol and the Java Sea.  Ancol houses the major tourist complex, Ancol Dreamland and Fantasy Complex.
The main street of Jakarta connects Medan Merdeka with Kebayoran Baru, which is a suburb of Jakarta.  Many international hotels, office buildings, theaters, restaurants and nightclubs are on this street. To the east lie the older colonial residential areas of Menteng, Cikini and Gondangdia, with their luxurious mansions and tidy, tree-shaded streets.  Jalan Imam Bonjol/Jalan Diponegoro is called the "Embassy Row," lined with many of the finest mansions in Jakarta.  Many shops, boutiques and restaurants are in this area, as is TIM (Taman Ismail Marzuki), the arts/cultural center of Jakarta.
LOCATION
Jakarta is located at the northwestern coast of the island of Java on a bay called the Bay of Jakarta.
SIGHTS
For more information on the following attractions, contact:
Jakarta City Government Tourism Office
Diparda DKI Jakarta
Jalan Abdurrohim 2
Kuningan Barat
Jakarta 12710
( 021 ) 510738
( 021 ) 511073
( 021 ) 511369
or contact:
Visitor Information Center
Jakarta Theater Building
Jalan M.H. Thamrin No. 9
Jakarta Pusat 10340
( 021 ) 332067
( 021 ) 354094
( 021 ) 364093
Fantasy Land
In Fantasy Land you are taken on a journey of Old Jakarta, Africa, America, Indonesia, Europe, Asia and the Palace of the Dolls.  It is located inside Ancol Dreamland (Taman Impian Jaya Ancol).
Jalan Lodan Timur Ancol
( 021 ) 681512
Gareja Immanuel
An attractive circular domed church built by Dutch Protestants in the classical style in 1835.
Jalan Pajembon
Indonesia in Miniature Park
This 400 acre (160 hectare) cultural park has pavilions in the shape of traditional houses from each of the 27 provinces.  Every Sunday there is a regional dance performance in one of the pavilions.  Also within the park is an aviary, Museum Indonesia and the Keong Emas theater.
Taman Mini Indonesia Indah – Jl Raya Pondok Gede Kramat Jati
( 021 )8400022
Itiqlal Mosque
This is the largest mosque in Southeast Asia
Located near Banteng Square
Jaya Ancol Dreamland
(Taman Impian Jaya Ancol)
This dreamland occupies 343 acres (137 hectares) of former marshland, right by the sea.  It has a resort hotel, art market and gallery, restaurant, hawker stalls, nightclubs and various other entertainment facilities.
Keong Emas Imax Theater
Located within Indonesia in Miniature Park, this theater is in the shape of a golden snail. It features a film on Indonesia.
Taman Mini Indonesia Indah – Jl Raya Pondok Gede Kramat Jati
National Monument
The monument is a 137-meter-high (449ft) stylization of the ancient Hindu Linnga/Yoni symbolizing fertility. You can take an elevator to the top where, from the viewing platform, you may observe Jakarta.
Located in Merdeka Square
( 021 ) 681512
Ragunan Zoo
Officially known as the Ragunan Wildlife Reserve.  The zoo has over 3,600 animals and birds, including the Komodo lizard.
Soekarno-Hatta Monument
Dedicated to Soekarno (in the West, spelled Sukarno) and Hattam, the nation's leaders who proclaimed Indonesia's independence in 1945.  The monument is made of bronze built to last many years. Jalan Stasiun Manggarai
Sunda Kelapa Harbor
This harbor marks the beginnings of Jakarta's history.  The harbor is still functioning today.  You will see the magnificent Bugis schooners (still used for inter-island trade).  Relics from the days of the spice trade are still available for observation.
TIM Cultural Center
(Taman Ismail Marzuki Cultural Center)
This complex is the place to see cultural performances of music, dance, and drama. The center has six modern theaters, exhibition halls and galleries, an archives building, a planetarium and an Art Academy. TIM is named after Ismail Marzuki, a native of Jakarta, who composed many of Indonesia's patriotic songs.
PARKS
Orchard Garden
A landscaped garden with thousands of orchard species and varieties native to Indonesia.  Inside a mini-laboratory, you can learn how to produce orchards and cross seeds, Slipi.
Senayan Amusement Park
This park has an artificial lake for boating, canoeing and boat cycling. Jalan Pintu Delpapan
MUSEUMS
Jakarta Museum
Exhibits display Old Batavia's history (Batavia being the name the Dutch gave Jakarta).  An old Portuguese cannon, known as Si Jagur, stands in front of the museum.  Many Indonesians believe it has mystical powers, Fatahilla Square.
Museum Bahari (Maritime Museum)
Exhibitions display Indonesia's maritime history.  It is housed in two former Dutch East Indies warehouses.
11th Jalan Pasar Ikan
( 021 ) 6692476
Museum Wayang (Puppet Museum)
The museum contains wayang puppets from all over Indonesia, Malaysia, Thailand and China. Wagang are famous shadow puppet plays (or shows that dramatize life with its contradictions and anomalies and teach the meaning and purpose of life) that depict Javanese history and folklore.  On Sunday mornings there are performances of Wayang Kulit shadow plays.
Pintu Besar Utara (021)279560
Museum of Natural History
Jalan Silang Monas
( 021 ) 681512
National Museum
The museum has a great collection of Chinese ceramics, and Hindu Japanese art.  The treasure room is open to the public on Sunday mornings.
Jalan Merdeka Barat 12 (021)360976
Textile Museum
This is a collection of over 327 types of textiles, consisting of various batik and woven products.  A workshop within, demonstrates the process of making batik.
Jalan Satsuit Tubun 4(021)593909
TOURS & CHARTERS
Before you leave for Indonesia, contact the Indonesian Hotel Network at http://www.aseansearch.com/hotels/indonesia.html to assist you in planning an authentic Indonesian experience.
Jakarta's tourist service has established a Tour Center that provides various tours of Jakarta (offered by different tour operators).  The center is open seven days a week and operated on a "walk-in" basis, or you can make advance bookings via your hotel's front office.
Tour Center
Lapangan Banteng (Banteng Square)
Located in the center of the square
TOUR OPERATOR
Panorama Tours DMC
Jl. Tanjung Selor 17, Jakarta Barat 10150
Phone : 62-61 630 8150
Fax : 62-61 6386 2018
e-mail : dmc@indosat.net.id
website : www.panorama-tours.com
SHOPPING
Bargaining is a must in this country, so, before you buy anything, ask around to determine the correct price for an item or service.  For luxury items such as jewelry and paintings, start out with one-quarter of the asking price.  For essentials like groceries, toiletries and room rental, start off at three-quarters of the asking price, but be flexible.  Your position is strongest when you appear not to care.  When you have offered the highest price you are willing to pay, walking away as a last resort always works.  Just smile, shrug your shoulders and walk slowly away.  Often the seller will call you back and agree to your last bid. Finally, it is rude to continue to bargain after a deal has been struck, a service rendered or an item bought.
Batik:
Indonesia's most renowned textile craft is made using a "wax-resist" method.  Wax is applied to the cloth in order to resist the dye.  The quality of the cloth used is always an important determinant of the price.
Batik Hajadi
Jalan Palmerah Utara 46
( 021 ) 540656
Batik Mira
Jalan M.P.R. Raya 22
( 021 ) 761138
Batik Semar
Jalan Tomang Raya 54
( 021 ) 593514
Hayadi
Jalan Palmerah Utara 46
( 021 ) 540656
Iwan Tirta
Jalan Panarukan 25
( 021 ) 349122
Batik Keris
Jalan HOS Coroaminoto 87-89
( 021 ) 334 516
Antiques, Souvenirs and Art shops:
Before you go to any antique shop, try to learn as much as you can so you can discern the real gems from the artificial.  Most antique stores are cluttered and disorganized, so you really have to dig around.
Arjuna Craft Shop
Jalan Majapahit 66 A
( 021 ) 344251
Bandung Art Shop
Jalan Pasar Baru 18
( 021 ) 362722
Djelita Art Shop
Jalan Falatehan I-37
( 021 ) 770347
Garuda NV
Jalan Majapahit 12
( 021 ) 342712
Indonesian Bazaar
Jakarta Hilton Hotel
Jalan Jend. Gatot Subroto
( 021 ) 587981
King's Gallery
Jalan H. Agus Salim 55
( 021 ) 323316
Lucky Art Shop
Jalan Ciputat Raya 2
( 021 ) 742774
Pura Art Shop
Jalan Falatehan I-43
( 021 ) 773173
Jewelry:
Many jewelry shops in Jakarta design and produce their own gold and silver on site. Although their prices are a little bit higher, those who are interested in Indonesian gems readily recognize that the superior quality of the materials and the designs.
Ana Gold
Gadah Mada Plaza 1/F-39
Jalan Gajah Mada
( 021 ) 341437
SCL Jewelry
Gajah Mada Plaza 1/F4-5
Jalan Gajah Mada
( 021 ) 346452
SPORTS
Try one of the following places for athletics or recreation:
Golf:
Halim Golf Course
Lanuma Halim Perdanakusuma
( 021 ) 800729
Jakarta Golf Club
Rawamungan Muka Raya
( 021 ) 4891208
Padang Golf Jaya Ancol
Jalan Lodan Timur Ancol
( 021 ) 681121
Kebayoran Golf Course
Asia African Senayan
( 021 ) 582508
Pondok Indah Golf and Country Club
Jalan Metro Pondok Indah
( 021 ) 764906
Sawangan Country Club
Jalan Raya Sawangan-Parung
( 021 ) 742193
Bowling:
Jaya Ancol Bowling Center
Jalan Lodan Timur
( 021 ) 681511
Monas Bowling Center
Jalan Silang Monas
( 021 ) 3840453
Kebayoran Baru Bowling Center
Jalan Kebayoran Baru Blok M.
( 021 ) 703208
Swimming:
Jaya Ancol Dreamland
Jalan Lodan Timur
( 021 ) 681511
Senayan Swimming Pool
Gelora Senayan, Stadium Utama Senayan
( 021 ) 5734070
Taman Mini Indonesia Indah
Jalan Raya Pondok Gede Kramat Jati
( 021 ) 8400525