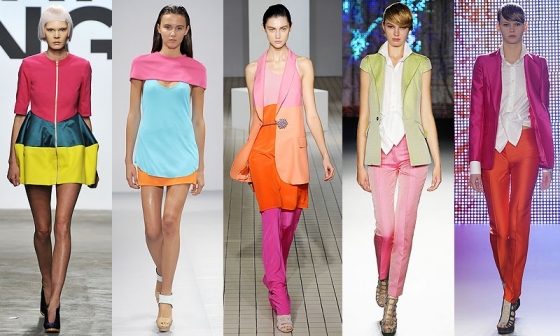 Simple style rules for a complex fashion world
1. Wear black. Black clothes always look more:
Expensive
Flattering
Sophisticated
2. Don't be a fashion victim. Update in small doses.
Not sure the urban gypsy look is you? Try a peasant blouse with jeans or tailored pants.
Tie on a small silk neck scarf in a hothouse floral print.
Try subtle ruffles at the neckline or hemline.
Use a touch of sheer – maybe under a jacket or with a modest camisole underneath.
3. If you think you are too old to wear something (and you're not Madonna or Cher ) then you probably are. Always go with how fashion makes you feel about yourself. Be chic, not silly. At the same time, it's OK to shop out of your age league.
4. If you're flat broke, skip shopping for a few months. Cheapo, just-to-be-buying-something items are almost always a bad investment (unless you're 18 with a great body). Remix existing clothes, alter your hair, makeup and accessories or steal something from your significant other's closet until the financial situation brightens.
5. Fads are usually over by the time the public hears about them. Fads are a blip on the fashion timeline. General trends have a longer shelf life and are a better fashion bet and can be found at all price points.
6. Rejuvenate your passion for fashion by leaving your look for a while; Ultra-conservative? Punch in a miniskirt, lowcut jeans or a fringed handbag. Downtown diva? Try a girly knee-length skirt. In other words, play, have fun, try to remember that style should work for you, not the other way around. You'll probably go back to your look after experimenting, but with a new approach.
7. Never sacrifice your professional image for the sake of fashion. No matter how cheesy the "Suntan" color family of pantyhose look and feel in the summer with your pumps, you can't go bare if you're the loan officer at a bank. Strappy, see-through, extra-tight or downright sleazy styles won't ever do your career any favors, regardless of your career path. Many fashion spreads will trumpet high slits, plunging necklines, sheer and a plethora of inappropriate looks in the name of "femininity." But sexy doesn't cut it for 9 to 5. Ever.
8. Fashion is just one part of how the world perceives you. Put much more thought into your reading repertoire, spiritual nourishment and personal relationships than your wardrobe. An inner peace and glow will never go out of style. Even designer Kenneth Cole says "To be aware is more important than what you wear."
9. The #1 fashion rule
If you love it, look great in it and can afford it, buy it. Yes, it's really that simple