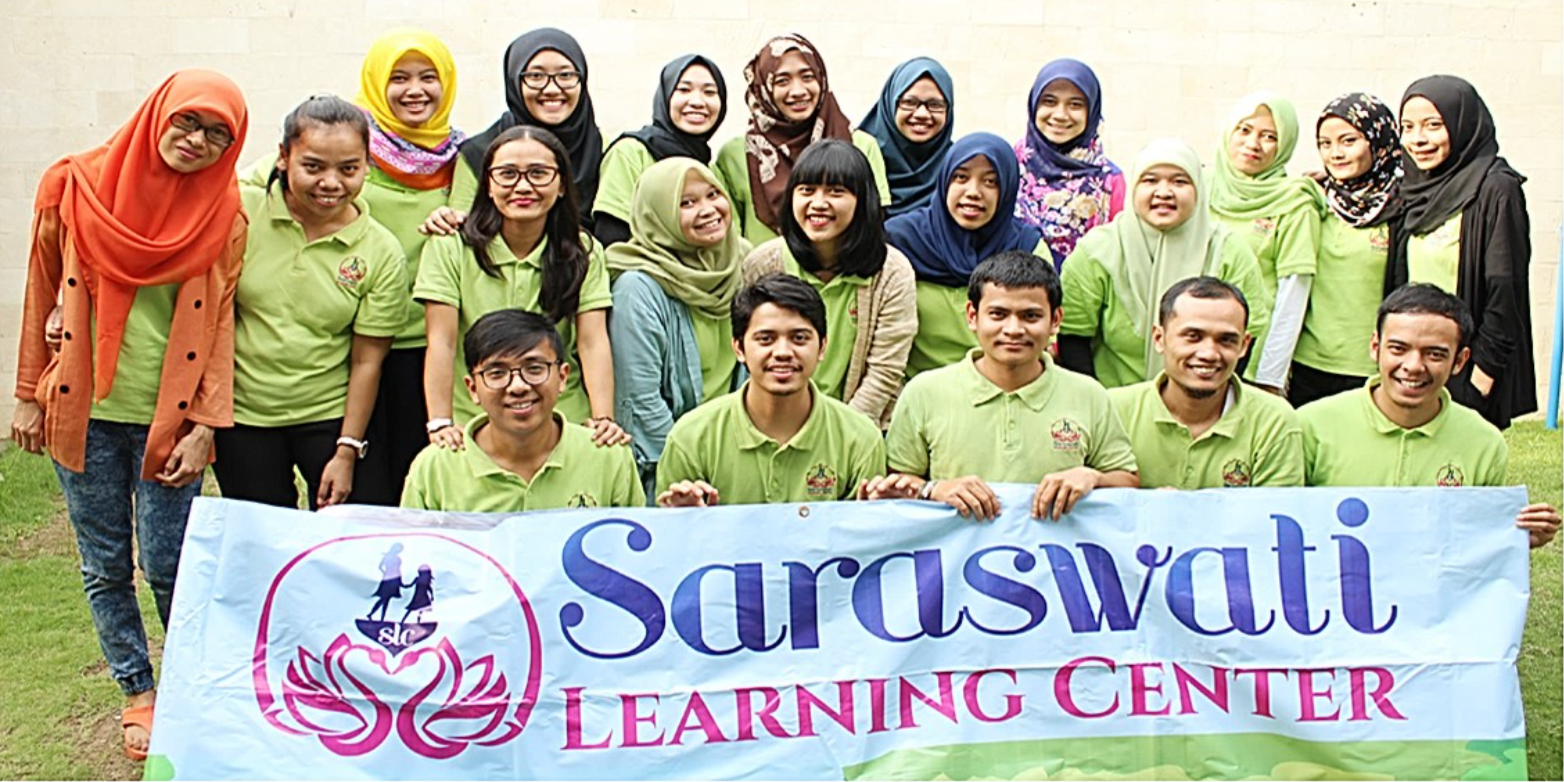 About Saraswati Learning Center (SLC)
Saraswati Learning Center (SLC) is a non- profit organization working for children with special needs from newborn to 18 years upwards. We believe that every child has a right to education and deserves the opportunity to reach their maximum potential. We are now working with over 50 students and their families, which include both privileged and non-privileged students. Currently, we have a student- teacher ratio of 3:1/1:1, where the student gets more individualized attention for an all-round development. The children in the school receive different facilities to ensure their maximum growth.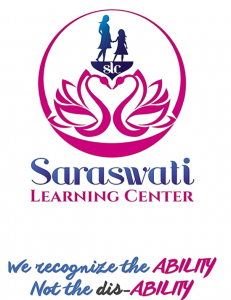 History of SLC
Ms. 

Reshma

 Bhojwani
started SLC after she discovered that there were very limited facilities for her special needs daughter in Jakarta. She also observed that the therapy services in English were unaffordable. So in 2014, PT Dalzon Chemicals Indonesia, helped her to get an old house and Paul, an Australian Interior decorator worked with her to renovate this old house into a lively space for a school for the special needs, free of cost!
SLC started operations in July 2016, with 17 students
. Currently, the school has 70% students who can afford and cover the operational costs of the school whereas PT Dalzon Chemicals Indonesia and Rich accessories are covering the other 30% students.
Our Services  Professional Team
The school has a team of clinical psychologist, therapists and special educators, who assess the child and monitor their continuous growth. The team is equipped with both English and Bahasa language.
Therapy
The children receive different therapy services like Physiotherapy, speech therapy, Occupational therapy, Behavior therapy, accordingly to their need and areas of concern. Therapy sessions are focused and help to stimulate the children in their areas of delay.
Extra-curricular Activities
Activity Based Learning helps the children to experience and learn new skills faster through different activities. The extra-curricular activities in the school focuses on this hands on style of learning. SLC has a number of activities like cooking, music; art and craft, PE, swimming, outdoor play, field trips and stage performances.Our school accepts children with different capabilities and disabilities like Autism Spectrum Disorder, Downs Syndrome, Global Developmental Delay, Intellectual Delay, ADHD and many others. In this short span, all our children have shown tremendous improvement.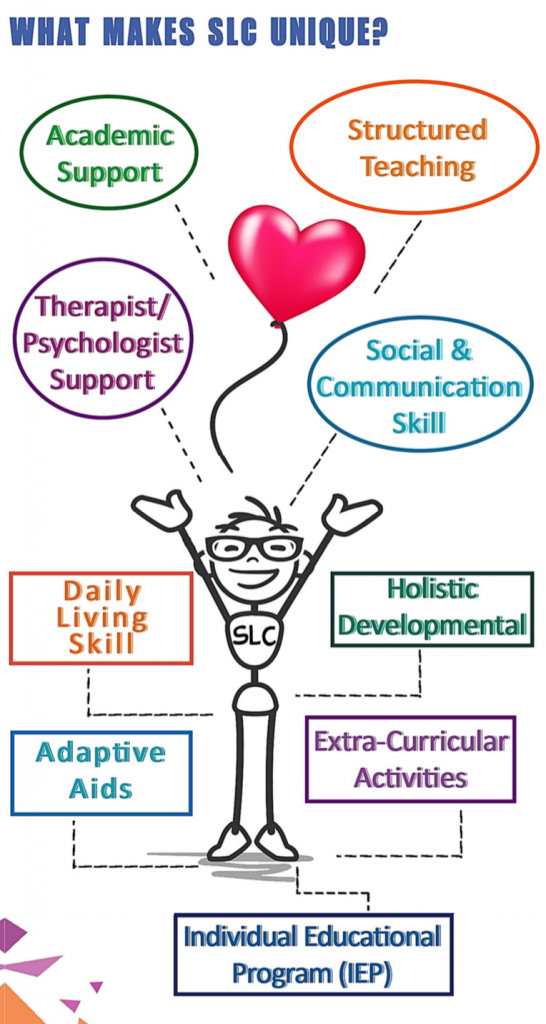 Our Success Story  Ari (name changed), 5 years old, came to us 2 years ago. He was diagnosed as having microcephalus and showed severe delay in areas of speech development, physical development and cognitive development. His walk was wobbly with stiff hands and uncontrollable drooling of saliva. During snack time, eating rice with a spoon was a great effort for him. Ari showed great determination and throughout his journey in SLC in these 2 years, he has grown and showed tremendous improvement. Different hand and eye co-ordination activities helped him to strengthen his grip and gain more control. He attended speech therapy to strengthen his oral motor and now he is not drooling anymore. Last but not the least, he has shown improvement in his pre-academic skills. He knows colors, numbers, vocabulary and is communicating through one word beautifully. The school program along with the therapy program has given boost to his growth and shown improvement in the child.
Charitable Giving and Philanthropic Engagement
Your organization displays a spitit of being socially responsible and serves its community through its volunteerism, charitable giving to community organizations and the development of lasting programs which have a meaningful social impact. Keeping this spirit in mind SLC would like to offer some options of partnership for your consideration.
SLC's Suggestions 
SLC is open to support that can be made in cash or kind. Following are some of the areas, which state the current need of our organization.
Developing School Resources SLC is non-profit organization and needs a lot of support to develop our resources for the children.
Developing our IT Section for the school Currently, the school requires tabs/i-pad, T.V or Computers for all classes. This will help the special needs children to maximize their learning in class.
Improving the playground The school is looking at improving the playground facilities for the children safety mats and better equipment for their physical growth.
School Bus The number of children with special needs in SLC is growing. Transport becomes a big hurdle for these children to come to school.  For educational trips, the cost of hiring a bus is too expensive. Keeping these above factors and to serve these children better we would like to request you to sponsor a school bus for our children.
Therapy equipment Presently, we have the basic equipment's required for the therapy and would like to add more specialized equipment for the children in our therapy rooms. Therefore, we require support to develop these equipment's.
Creating Awareness and Fund Raising Our young special needs adults (18+) have been making merchandise goods like: bracelets, necklace, candles, chocolates, breads and many more. Every month, different associations sponsor us in providing a stall for promote inclusion and opportunity for working experience. This movement hence creates a strong awareness that " special needs children can do it!" Creating Awareness and believing in the abilities of the children with special needs is the key to bring about a change in the society.Change can be brought about by having different events, which focus not only on awareness about children with special needs but also on raising funds. For example, we had a group of people who organized a charity bingo event and the money raised was given to SLC.  At another time, there was another organization that had a party for the festival of Holi where they not only sponsored a stall to sell our products and generate funds but also gave free tickets for our children to have a fun experience.      
Afternoon center for 30 Underprivileged children with special needs
Saraswati Learning Center has always extended our hands to all children with disability. We do not limit ourselves due to age, religion, income, caste, type of disability or the severity of the disability. Currently, we have around 30 and more children who need financial support to be in school and avail the therapy services. These families have varied backgrounds like large family size, only one earning member and a monthly income of below 3 million.
Our school has limited space and would like to accommodate these students. Keeping this in mind, we would like to open an afternoon school for these 30 students who can use the same infrastructure and facilities for their optimum development. SLC is urgently searching for donors/ sponsors to bring these under privileged children to school from the academic year 2018-19.
We believe that each child deserves the opportunity to get basic education and become functional individuals and hope that you will help us make this belief come true!
With this belief we opened our sponsorship a child program. In order to make our sponsorship affordable, Rp 750,000/per month can be contributed for a part of the total cost to support one child. Therefore, to borne the whole cost of one child there may be more than 4 or 5 individual sponsors depending on the child's needs. However, we also provide another option to support/borne the whole cost of one child for his/her school and therapy services.         
The current school structure is as follows:
Kindergarten (8.30am-10.30am) : Monthly fee: Rp. 3,335,000
Primary (8.00 am– 12.00pm) : Monthly fee: Rp. 4,420,000
Therapy (2 times a week/therapy, 1 hour session) : Rp. 1,200,000/month
Your contributions can be made six monthly or yearly for the group of children.
Download sponsorship form here >>
Don't hesitate, call us!  We are looking forward to a positive reply and support from you. Whatever support you choose to contribute to SLC, we can provide advice on how to design your request in a way that best reflects your aim and vision and also help our children. Your contributions, support and belief will surely help the children to have a brighter future!
Saraswati Learning Center
Jl. Cempaka Putih Tengah XVII Blok F No. 19
Jakarta Pusat 10510
Telp. 021-4240815 / 021-4246862
website: www.saraswatilc.com