One of the most difficult meals to prepare isn't for adults-but for children. You have to make sure that the snacks are something that they love to eat, healthy and easy to make in order not to add more burden to your to-do list. Which is why we urge you to make these munchies-made in a flash-using a microwave.
STICKY BUNS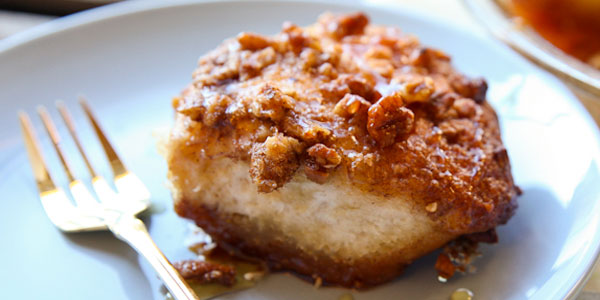 Ingredients :
¼ cup margarine or butter
¼ cup brown sugar
2 tablespoons maple-flavored syrup
½ teaspoon cinnamon
1/3 cup chopped dried fruit
1/3 cup chopped nuts
17.5 ounce can refrigerated biscuits
Directions :
In 8- inch round baking dish cook margarine, covered, on High 45 melted.
Stir in sugar, syrup, and cinnamon, then fruit and nuts spread mixture evenly in bottom of dish. Arrange biscuits around edge of dish.
Cook on High 2 ¾ to 3 ½ minutes just until biscuits spring back when lightly pressed. Invert dish onto serving plate. Let dish stand over buns for 1 minute remove dish. Serve warm, pulling buns apart. Makes 10 buns.
Each bun : About 175 calories, 10 g fat, 0 mg cholesterol, 290 mg sodium.
TEDDY BEAR POPCORN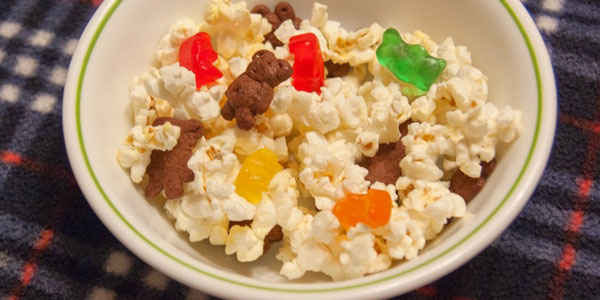 Ingredients :
3 – to 3,5 ounce package salt-free microwave popcorn
2 tablespoons cinnamon sugar
1 tablespoon cocoa
½ teaspoon salt
1 ½ cups bear-shaped vanilla graham snacks
½ cup M & M's
Directions :
Prepare popcorn as package directs. In large bowl, combine cinnamon sugar, cocoa, and salt.
Stir in popcorn, tossing graham snacks and M&M's. Makes 11 cups.
Each ½ Cup : About 65 calories, 3 g fat, 0 mg cholesterol, 75 mg sodium.
CHOCOLATE BANANA POPS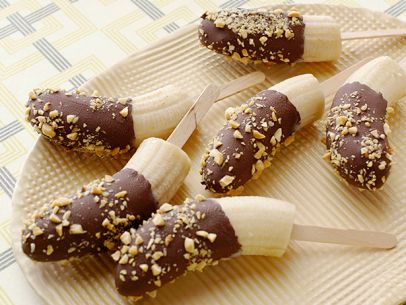 Ingredients :
3 firm, ripe, medium bananas
6 flat, 4 -inch – long wooden sticks
½ cup semisweet – chocolate pieces
2 tablespoons shortening
Directions:
Line baking sheet with waxed paper. Peel bananas cut each in half. Place on baking sheet.
In 2-cup glass measure, cook chocolate and shortening on High 1 ½ to 2 minutes until almost melted, stirring halfway through cooking. Stir until smooth.
Dip bananas into chocolate using a spoon to completely coat them. If you like, sprinkle each banana with sprinkles, granola, chopped nuts, or coconut.
On Baking sheet, freeze bananas 15 to 30 minutes until chocolate is set. Serve immediately or wrap to serve later store in freezer. Makes 6 pops.
Each pop without topping : About 160 calories, 9 g fat, 0 mg cholesterol, 5 mg sodium.
ITALIAN POTATO WEDGIES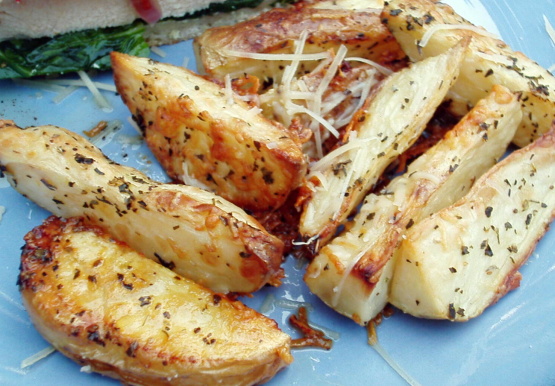 Ingredients :
1 tsp vegetable oil
¼ tsp Italian seasoning
¼ tsp paprika
1/8 tsp salt
1 medium unpeeled potato, cut lengthwise into 8 wedges
1 tablespoon Parmesan cheese
Directions :
On dinner plate, combine oil, Italian seasoning, paprika, and salt. Add potato wedges, turning to coat with mixture arrange in spoke-like fashion, cut-sides down.
Cook, covered with waxed paper, on High 4 to 5 minutes until tender rotate each wedge halfway through cooking. Sprinkle with Parmesan cheese. Let stand 3 minutes.
If you like serve with catchup or tomato sauce.
Makes 1 serving
Without sauce : About 155, 6 g fat, 4 mg cholesterol, 370 mg sodium.
APPLE CRISP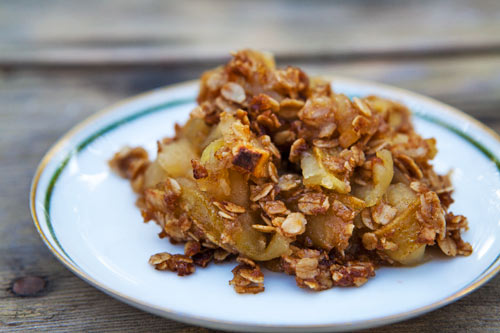 Ingredients :
1 medium apple, thickly sliced
2 tbsp quick-cooking oats
2 tbsp chopped walnuts
1 tbsp brown sugar
2 tsp margarine or butter
1/8 tsp cinnamon
Directions :
Place apple slices in small bowl.
Combine oats, walnuts, sugar, margarine, and cinnamon sprinkle on apple. Cook on high 4 to 5 minutes until tender. Let stand 1 minute.
Makes serving.
* About 389 calories, 18 g fat, 0 mg cholesterol, 112 mg sodium.
* For 2 serving : Double ingredients, use 2 bowls and cook 8 to 9 minutes.