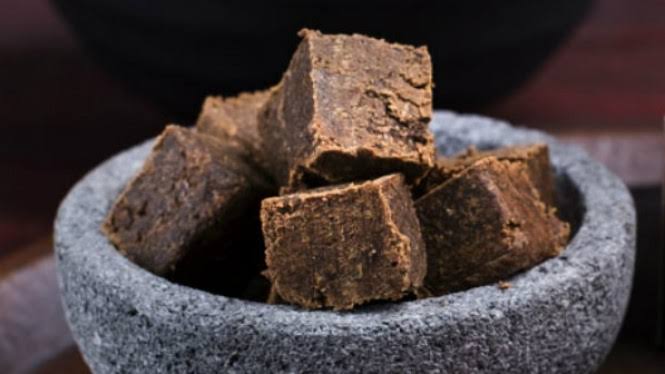 Terasi is a shrimp paste that is used as ingredient in numerous dishes in Indonesia. It is primarily made from finely crushed shrimp or krill mixed with salt, and then fermented for several weeks. . Although it does not have the most pleasant smell, it is used after dry roasting or frying in numerous ingredients especially in sambal terasi, because of the umami flavoring. Interestingly, terasi has several different names in other countries. Terasi is called Balacan in Malaysia, Bagoong Alamang in the Phillipines and Kapi in Vietnam and so on.
What is Terasi?
Terasi is known to be a shrimp paste that is used to add flavoring to certain dishes. However, terasi can vary from dried, coarse shrimp powder to shrimp paste. Not only the texture, but the color and fragrance of terasi also differentiates from village to village. The colour itself ranges from a soft purple-reddish hue to darkish brown.
There are mainly three most popular types of terasi in Indonesia, from terasi to petis. In Cirebon, terasi is made from rebon which is tiny shrimp. Rebon, mixed in with palm sugar is called petis. Another combination of terasi is a mixture of ingredients such as fish, small shrimp, and vegetables. This combination originates from sidoarjo. Finally, there is another more savory and sweet shrimp paste coming from Lombok, called lengkare is made.
Process of Making Terasi
There are many ways terasi can be processed. For the first method, the shrimp are rinsed and cleansed. Afterwards, the shrimp are dried to make the process easier. It just takes a few hours until the shrimp is dried, then pounded to create a much softer terasi. Let the terasi dry once more, to allow the shrimp to dry evenly. To make it even softer, the shrimp solution is pounded once more. It is then shaped to be sold at the markets!
Another method to it is by using Petis, in which fish is boiled for its borth to be used as petis. The broth will be continuously boiled and stirred until it forms a thick shrimp paste. Various sugar is then added to trigger the fermentation process. The process can be slightly different from village to village, but the overall process is largely the same for petis.
Where is Terasi Usually Eaten?
Terasi, despite its odor and taste, is an important ingredient used in many Indonesian dishes. Some of the examples include sayur asam (sour vegetable soup), lotek (boiled vegetables with peanut sauce), karedok (raw vegetables with peanut sauce), and rujak (spicy fruit salad). However that is not all, as sambal terasi can also be used in everyday Indonesian dishes like sambal terasi (Indonesian spicy paste), telur terasi, nasi goreng kencur (galangal fried rice), ayam goreng terasi and sambal udang petai.

Recipes that Uses Terasi
Sambal Terasi
Ingredients:
5 red chilli pepper, cut into halves
15 pieces cayenne pepper
5 cloves of garlic
9 cloves of shallot
2 tomatoes, chopped to pieces
1 ruas gula merah
1 piece of terasi
some salad
some MSG
Directions:
Stir-fry the garlic and shallots in a heated pan.
After all has been half-cooked, put both the chilli into the pan.
Wait until everything has withered in the pan, before straining.
Mash everything with a pestle and mortar or a blender.
Stir-fry the tomatoes until everything falls apart. Add in terasi.
Finally, add the mashed or blended sambal for the final blend.
Add in MSG and brown sugar for additional flavoring of your sambal terasi.
Telur terasi 
Ingredients:
3 eggs
2 Tbsp sambal terasi or sambal bajak
2 Tbsp leeks, roughly chopped
Some cooking oil
Directions:
Break the egg and put it inside a bowl.
Stir everything in a fast pace until it becomes a froth.
Masukkan sambal dan daun bawang. Kocok hingga rata.
Heat the oil in a pan.
Put in the egg and fry until the top layer dries.
You are done! The ideal side dish to serve this is with some warm rice.
Nasi Goreng Kencur
Bahan:
2 Tbsp vegetable oil
3 stalks of young galangal, finely chopped
100 g shrimp, peeled
1 stalk of leek, roughly chopped
200 g white rice
Ingredients to Puree:
2 red chilli pepper
2 red cayenne pepper
2 cloves garlic
2 cloves shallots
2 cm galangal
¼ tsp pepper granules
1 tsp terasi
1 tsp salt
Directions:
Stir-fry young galangal and the puree until fragrant.
The first step is to put in shrimp and chopped leeks, stir everything until it changes color.
Add in some rice and stir evenly.
Serve with fried egg and fried shallots.
Ayam goreng Terasi
Bahan:
1 chicken, cut into 12 pieces
2 cloves garlic, shredded
1 tsp salt
4 Tbsp Cooking Oil
1 tsp sweet soy sauce
1 stalk lemongrass, white part taken only, then chop finely
1 red chilli pepper, seeds thrown, finely chopped
1 tomato, chopped to thin pieces
Ingredients to Puree:
8 pieces of red chilli pepper
6 pieces of cayenne pepper
3 cloves garlic
1/2 tsp granulated pepper
1 1/2 tsp fried terasi
1 tsp salt
Directions:
Cover the chicken pieces with garlic and salt evenly.
Fry in hot oil, but don't make it too dry. Take it out of the pan when done and strain the oil.
Heat cooking oil, then stir-fry the chilli and lemongrass until it withers in the pan.
Put in the tomato and pureed herbs, stir until fragrant.
Fry the chicken and stir until evenly cooked.
Your chicken is done!
Sambal Udang Petai
Ingredients:
250 g medium-sized shrimp
4 Tbsp vegetable oil
4 cloves shallots, thinly sliced
2 cloves garlic, thinly sliced
1 red chilli pepper, throw out the seeds, thinly sliced
15 bitter beans, peeled
1 Tbsp lime juice
Ingredients to puree:
3 pieces of red chilli pepper, seeds thrown away and boiled
4 pieces of cayenne pepper.
3 cloves shallots
2 cloves garlic
5 pieces of bitter beans, peeled
½ tsp fried terasi
1 tsp salt
1 tsp granulated sugar
Method:
Peel the shrimp, leaving only the tail.
Fry the shrimp with hot oil until slightly dry. Strain the oil and set aside.
Stir-fry shallots and garlic until the ingredients wither in the pan.
Put in the red chilli peppers and fry until the ingredients wither.
This time add in the pureed herbs and stir until everything is cooked evenly.
When adding in the fried shrimp, stir until the solution boils.
Add in the bitter beans, lime then stir evenly.
Serve while still hot.