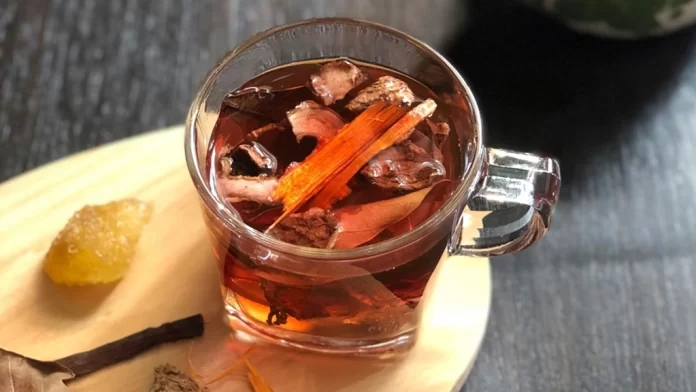 Wedang secang is a traditional drink from Mojokerto, East Java. Wedang in Javanese means drink. Wedang Secang is drink made with secang and is thought to be immunity boosting against viruses and to lower cholesterol. The combination of grated secang wood and lemongrass not only makes wedang secang healthy, but also has a delicious aroma. The taste is sweet, warm, with a distinctive aroma of spices.
Secang is Sappan wood or Caesalpinia sappan Linn. (Fabaceae), a flowering tree native to tropical Asia, has antioxidant and anti-inflammatory properties. It is used as a natural dye to color food and beverages and as a traditional treatment for diarrhea, diabetes, and blood stasis.
Try this wedang secang recipe to boost health, especially during season transition!
Ingredients:
1.5 liters of water
15 grams of Sappan wood shavings (secang)* note below
5 knuckles of roasted and crushed ginger
2 cardamom pods
2 sticks of lemongrass, crushed
1 pandan leaf
2 cm of cinnamon
150 grams of rock sugar or palm sugar
Instructions:
Boil the water in a pot over medium-high heat.
Add the Sappan wood shavings, ginger, cardamom pods, lemongrass, pandan leaf, and cinnamon to the pot.
Stir the mixture and let it simmer for about 30 minutes until the water turns into a reddish-brown color.
Add the rock sugar or palm sugar to the pot, stir until the sugar dissolves completely.
Simmer the mixture for another 10-15 minutes, stirring occasionally.
Strain the wedang secang using a fine-mesh strainer into a pitcher or teapot.
Serve the wedang secang hot in mugs or glasses.
Enjoy your a cup of wedang secang!