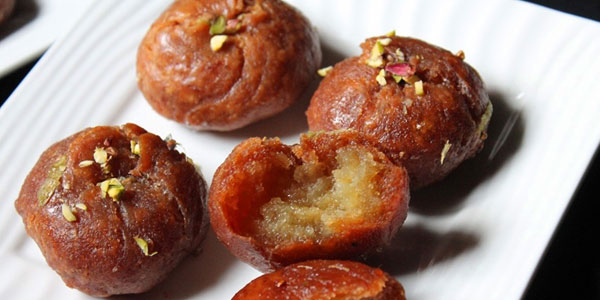 North Indian savories
Ingredients For Balu Shahi :
225 gms refined flour
125 gms ghee
2 tbsp. warm milk/curd
1 tsp. baking powder
1 tsp. warm water
For syrup :
250 gms sugar
2 teacupful water
Method:
Sieve the flour in a mixing bowl and add the heated ghee and baking powder.
Rub the mixture with your hands , gradually adding milk/curd and warm water, and mix into a stiff dough.
Break off a small portion of the dough into a ball , then flatten it, and make a deep hole through the center.
To prepare the syrup, boil the sugar and water together in a large pan for 15 minutes; the syrup should be quite sticky.
Heat the ghee in a frying pan and fry the balu shahi quite slowly until they are golden brown.
When they are fully done, put them in the warm syrup for a few minutes, shaking the pan frequently to let them become well-coated with syrup.
Take them out singly from the pan and place on a shallow dish.
Serve cold or hot as you desire.