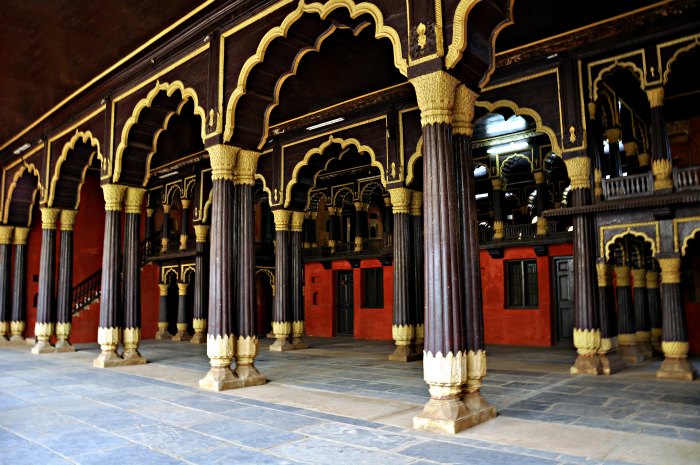 By: Yuliani Nursyahri

In the midst of a colourful and crowded bazaar are the remnants ot a sturdy fort and a charming palace, historic buildings that formed the nucleus of Bangalore city over 200 years ago.

ln the year l537, when Bangalore formed a part of the mighty Vijayanagara Empire, Kempe Gowda, a feudatory of the Vijayanegara kings, once witnessed the unusual Spectacle of a dog being chased by a hare. Reasoning that this uncommon sight signified that this was a land for heroes and heroic deeds, Kempe Gowda built a mud fort here, within which he laid roads and established markets, irrigation tanks and temples. From then on, the fort city of Bangalore continued to flourish. After 1638, when the Vijayanagara Empire fell, Bangalore was ruled by various rulers including the Marathas, the Mughals, and the Wadiyars or Mysore, who added a small oval citadel to the fort. ln 1759, the fort came into the possession of Hyder Ali, who enlarged and rebuilt it entirely in granite. lts formidable fortifications now include several watchtowers and ditches, ln 1791, the British captured the Fort and occupied it for a year, after which it was returned to Tipu, Hyder Ali's son, under the terms of a treaty with him. The British regained its possession after Tipu's death in 1799 and used the fort to station their garrison, which remained here until Bangalore cantonment was established in 1809. The fort also housed their arsenal, treasury and a hospital. Tipus summer palace housed public otfices until 1868.

The Fort
Sloping granite walls and lofty ramparts mark the remains of Bangalore Fort. Only one of the original gates still survives. Its huge wooden doors are studded with spikes to deter battering enemy elephants. The top of this entranceway has beautiful stucco floral decorations. The small 16th century Ganesha temple inside, built by the Wadiyars is adorned with their double•headed eagle symbol. A plaque marks the spot where British forces under Lord Cornwallis breached the fort walls in 1791. Small, dark cells where Hyder Ali and Tipu held their prisoners can he approached  from the battlements. The celebrated General David Baird, who eventually defeated Tipu in 1799, was imprisoned here for a few years.

Reaching there :

By Air : Bangalore Airport- 30 km

BY Rail : City Railway Station – 8 km from MG Road,
Cantonment Railway Station – 3 km from MG Road,
Yeshwanthpur Railway Station – 10 km from MG Road

By Road : from MG Road of Bangalore