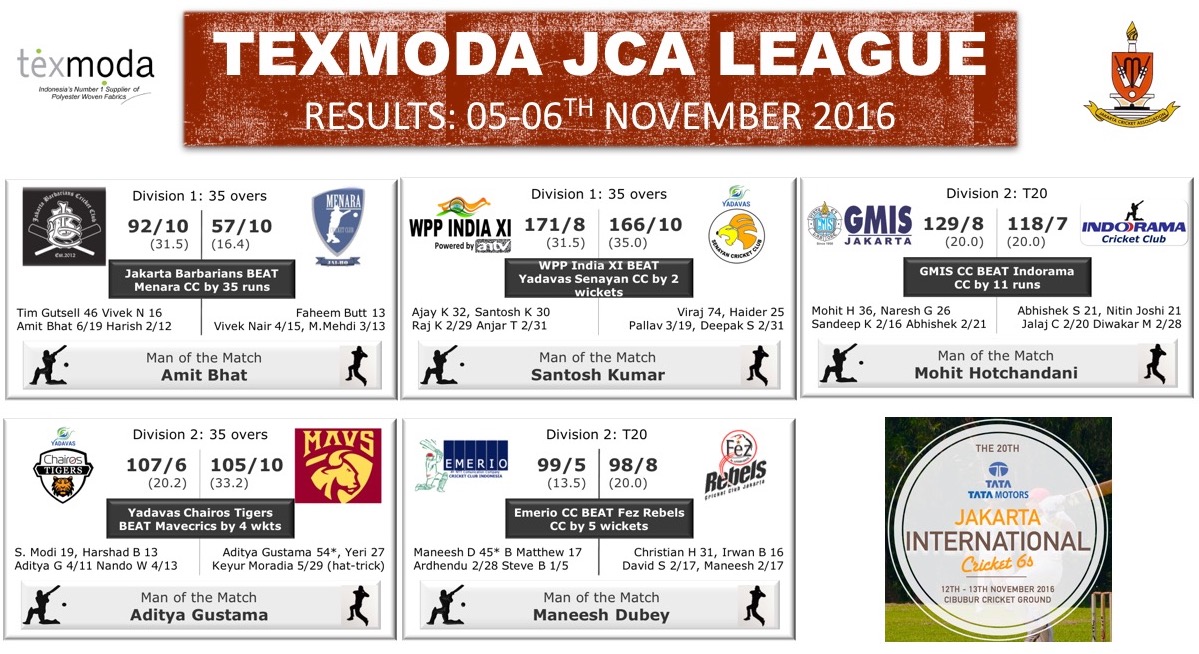 The Indonesian youngsters of Yadavas Chairos Tigers beat Mavecrics CC by 4 wickets in a low-scorer. Mavecrics were off to a decent start but some tight bowling coupled with very good fielding & catching restricted the scoring & Mavecrics who are struggling for batting form, folded up for a low 105 runs. Sanjeev Modi (19) was the top scorer. The young Aditya Gustama (4/11) & his coach Nando Fernandes (4/13) were the pick of the bowlers. The Tigers started well with Yeri Rosongna (27) & Aditya Gustama (54no) putting together 61 runs and were coasting, till Yeri fell. The Mavecrics captain Keyur Moradia (5/29) who is in tremendous bowling form, then had the Tigers in all sorts of strife with a 4 wicket over, which also got him his 2nd hat-trick of the tournament. The young Aditya Gustama then stepped-up, demonstrating a lot of maturity to take his side home in the 21st over.
In a low scoring encounter at Purwakarta, Jakarta Barbarians beat Menara CC by 35 runs in a 35 overs game. Both sides have been struggling to get their batting sorted, and after electing to bat first, the Barbarians decided to spend time in the middle. They lasted 32 overs but could only manage 92 runs. Amit Bhat (6/19) did the main damage bowling his off-spinners. Tim Gutsell (46) fought hard and was the last man out. Menara, possibly the happier team at the break, were rocked hard in their chase when Desandri Saputra took 2 wickets in the very first over including that of Harish Tiwari. At 47/3 in 11 overs, Menara seemed to have recovered, but some rash shots & a 3 wicket over from Vivek Nair (4/15) had them down for the count. Muhammad Mehdi (3/13) then knocked them over for a paltry 57.
The top of the table clash between Yadavas Senayan CC & WPP India XI lived up to its promise of a close game, with WPP India XI prevailing by 2 wickets. Viraj Bhammar (75) had to glue the Senayan innings together as wickets kept tumbling at the other end. Haider Ali & Viraj were going well together till Haider had to retire out. Pallav Malhotra (3/19) bowled brilliantly to account for the danger men Gamantika & Chetan. Deepak Sarika (2/31) was the other successful bowler. In reply, WPP India XI batsmen, especially Ajay Kurtkoti (32) & Santosh Kumar (30) anchored partnerships with some assistance from skipper Pallav Malhotra (21) to help their team scamper across the target with 2 wickets in hand. Raj Kapadia (2/29) & Anjar Tadarus (2/31) were the main wicket takers.
Emerio CC extended their unbeaten run with a win over the struggling Fez Rebels CC in their T20 game. Rebels chose to bat first but couldn't get going at all as the Emerio CC bowlers strangled them with tight bowling. The opening bowlers David Surjit & Maneesh Dubey both took 2 wickets apiece for just 17 runs and Sujay Saha was even more frugal giving only 8 runs. Christian Hirst top-scored with 31 runs. In reply Emerio CC was in all sorts of strife at 26/5, but the belligerence of Maneesh Dubey (45no) & support from both Biji Matthew (20no) & five dropped catches, ensured Emerio CC got to the target without any further loss.
Naresh Gupta (26) along with Mohit Hot'form'chandani (36) were the main contributors as GMIS CC clocked up a par-score of 129 in 20 overs. Abhishek Sharma (2/21) & Sandeep Kukkar (2/16) were the best Indorama bowlers. The opening bowlers Imran & Karan Tiwari put a tight squeeze on Indorama scoring for the spinners Jalaj (2/20) to capitalize on. Despite 21 runs apiece by Shailesh, Nitin & Abhisek, Indorama CC couldnt up the scoring rate and fell short by 11 runs.