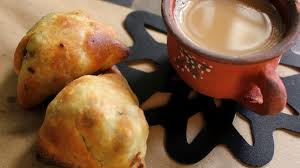 The excitement to be visiting India after a gap of a year was enough to keep me awake, peering down from the tiny oval window of the airplane as it approached the New Delhi airport. Aah, the smell of India a whiff of life in all its forms!
——————————————————————————–
Lots of welcoming hugs later ensconced in the warm room with a cup of hot masala tea and samosas. Samosas that I have never been able to duplicate here in Jakarta. Large crisp pastry cones filled with the perfect spicy potato filling. Decided that a trip to the neighborhood halwai was in order. After all, he would be the perfect keeper of the samosas culinary secrets.
Despite family protests and a cold foggy morning, I set out to seek out the recipe for the perfect samosa and found to my delight a totally cooperative samosa expert in my Halwai. This is what I learnt:
Samosa making is a laborious task, and a good samosa is all the more intricate. To get the right pastry dough – For every 1 kg of white flour, add a pinch of ajwain, salt and 150 gms of hot melted veg ghee. Mix with fingers – careful not to burn your fingers in the ghee. Mix well to resemble the flour like crumbs. Add cold water almost 1/2 a litre and make a stiff dough and not soft – to facilitate easy kneading. Knead it for a while and rest it for an hour under a cloth. Use as required. Samosas should be fried in warm oil.
Samosa dough should always be stiff. People try and get away at this point, by making the dough soft to facilitate easy kneading and rolling.
Samosa pastry should be evenly rolled not too thick and not too thin.
The stuffing and folding is an important aspect, as the frying should not let any oil seep into the product through cracks/openings.
Always fry samosas in slow to medium warm oil to prevent bubbles forming on the pastry surface. Right, it is almost impossible to find samosas without bubbles, cause no one has the patience of frying it for a long time.
Do not use oil in the dough, though a lot of places have been doing this for convenience. Always use hot melted vegetable fat just under the smoking point. The fried samosa pastry is thus termed as "KHASTA", similar to the short crust pastry, though a short crust pastry does not crumble as easily as a samosa pastry.
Chef Bal's Baked Samosa Recipe
Punjabi Samosa Recipe in Bahasa Indonesia
By Poonam Sagar