Chinmaya Family: Insightful Talks by Swami Mitrananda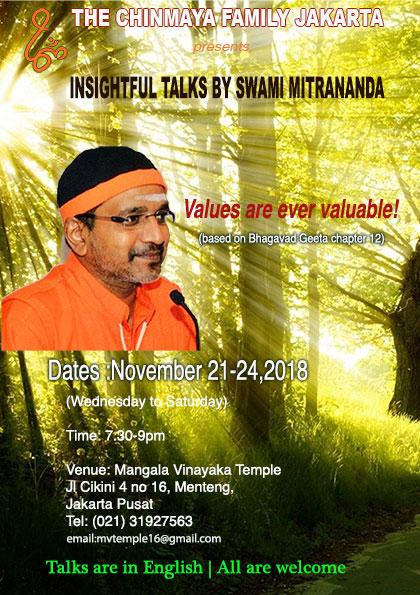 Chinmaya Family Jakarta presents four days Insightful talks in English by Swami Mitrananda from 21-24 Nov, Wednesday to Saturday, 7.30-9.00 pm at the Mangala Vinayak Temple . The topic is "Values are ever valuable" based on the Bhagavad Geeta chapter 12.
Swami Mitrananda is a dynamic disciple of Gurudev H H Swami Chinmayananda. He is an inspiring tutor, daring adventurer, vibrant speaker, creative writer, vigilant administrator & a mentor for many youngsters and adults across the world. Don't miss this opportunity to enlighten yourself .