We can see that Jakarta government is continuously developing their services for tourists. Not only are the attractions are well-kept to make tourists more comfortable when visiting, so is the public transportation – like the City Tour Jakarta buses.
These double-decker buses are provided by Jakarta government for everyone who wants to explore a few of main attractions in the city. It's quite rare to see double-decker buses in Indonesia, isn't it?
These buses are more known as "Mpok Siti" (Eng: Miss Siti). You can wait the bus at certain bus stops which are located in Central Jakarta. These buses will stop at tourist attractions like Kota Tua, Monas (Monumen Nasional), and Museum Nasional.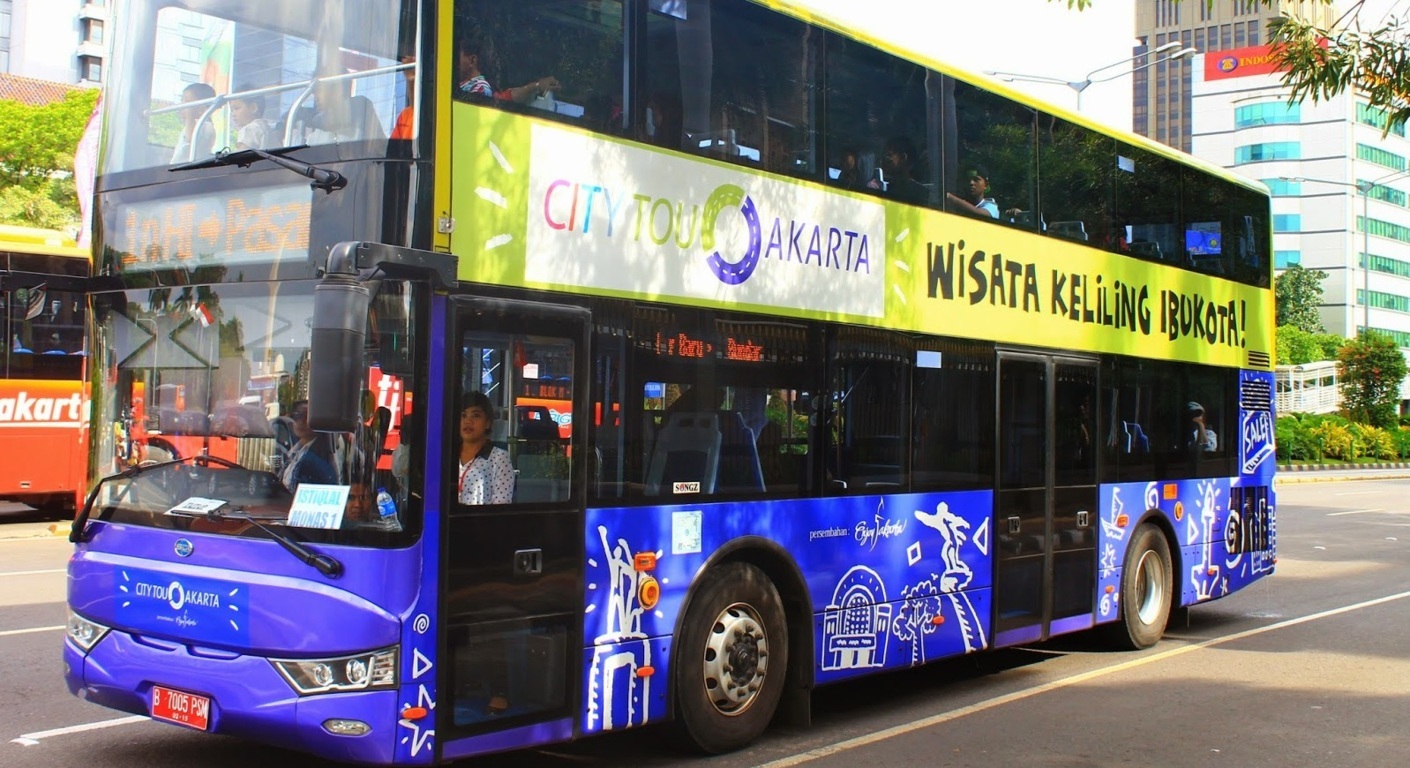 There are currently 28 buses operating from Monday to Sunday. The service is free. On the weekends, the buses operate with special themes like historical tour, culinary tour, and shopping tour.
The History of Jakarta tour buses operate every Sunday from 12 pm to 8 pm. These buses are equipped with GPS, so when they pass through a museum or historical building, a narration about the place will be played through speakers in the bus.
The Culinary and Art buses operate every Saturday from 5 pm to 11 pm, and they will pass through popular culinary spots in Jakarta like Pecenongan and Pasar Baru area. This is one of the most favorite tours provided by Mpok Siti, as the tourists also can see a slice of Jakarta's nightlife.
Meanwhile, the shopping tour buses operate every Monday to Saturday  at 9 am to 5 pm, and every Sunday at 12 pm to 8 pm. The tour will explore Jakarta's main shopping centers like Sarinah, Plaza Indonesia, and skyscrapers around Jalan MH Thamrin, Central Jakarta.
Another recently launched route is Balai Kota – Kalijodo. For information, Kalijodo is one of the Ruang Publik Terpadu Ramah Anak (RPTRA) that are scattered around Jakarta. Now, this area is always crowded with people doing various activities, from just jogging and cycling to skateboarding.
The City Tour Jakarta buses depart to Kalijodo every Monday to Friday from 11 am to 9 pm, every Saturday at 9am to 11pm, and Sunday from 12 pm to 7 pm. The route is Balai Kota – Sarinah – Tosari – Semanggi toll road – Tomang – Kalijodo.
See the complete route below:
60 comfortable seats and Air Conditioners are available in each bus. Unlike Transjakarta Buses, you won't see the passengers standing in the aisle or sitting on the floor. It is recommended to depart from Juanda Shelter, so you will get an empty bus and you can choose your preferred seat.