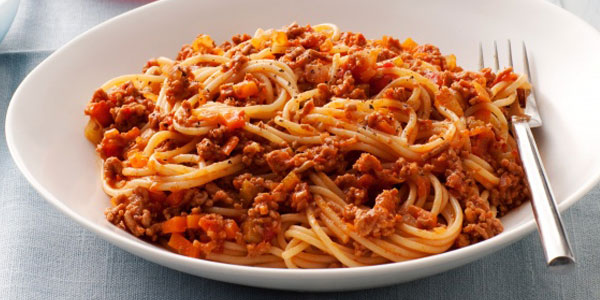 Bolognaise Sauce (serves 6)
Ingredients :
1 cup olive oil
300gm minced veal
300gm minced pork
1 kg onion peeled and sliced
1 kg tomato peeled, seeded and chopped
2 tbsp tomato paste
6 cloves garlic peeled and crushed
2 tbsp sugar
3 bay leaves
2 tbsp herb de provence
2 glasses full bodied red wine (preferably Shiraz)
1 cup chopped continental parsley
1 cup chopped fresh basil leaf
100 gm shaved parmesan
salt and freshly cracked pepper to taste
Directions :
Fry the onion in oil. Set aside.
Fry the meat in the remaining oil until no more water comes from the meat. Set aside.
De-glaze hot pan with red wine and reduce by half.
In a pot, bring to a gentle boil all the remaining ingredients, add cooked meat and cooked onion.
Cook on low fire for 4 hours, without lid, stirring from time to time.
Recipe courtesy of Emmanuel & Stroobant, Saint Pierre Restaurant