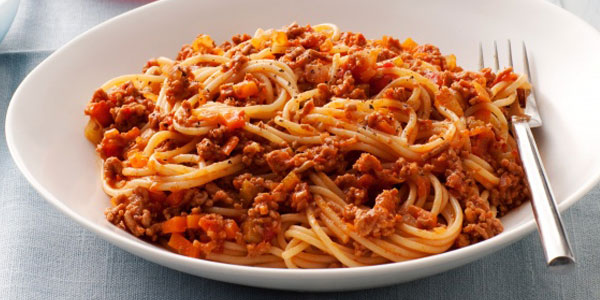 Spaghetti Bolognaise is a classic dish that can satisfy all manner of taste buds. Whether you like savory dishes or sour dishes, spaghetti bolognaise is the perfect pasta dish to try. Since the sauce is the soul of the dish, it must be put as a priority. Try out the bolognaise sauce recipe mentioned below and tell us what you think!
Bolognaise Sauce (serves 6)
Ingredients :
1 cup olive oil
300gm minced veal
300gm minced pork
1 kg onion peeled and sliced
1 kg tomato peeled, seeded and chopped
2 tbsp tomato paste
6 cloves garlic peeled and crushed
2 tbsp sugar
3 bay leaves
2 tbsp herb de provence
2 glasses full bodied red wine (preferably Shiraz)
1 cup chopped continental parsley
1 cup chopped fresh basil leaf
100 gm shaved parmesan
salt and freshly cracked pepper to taste
Directions :
Fry the onion in oil. Set aside.
Fry the meat in the remaining oil until no more water comes from the meat. Set aside.
De-glaze hot pan with red wine and reduce by half.
In a pot, bring to a gentle boil all the remaining ingredients, add cooked meat and cooked onion.
Cook on low fire for 4 hours, without lid, stirring from time to time.
Recipe courtesy of Emmanuel & Stroobant, Saint Pierre Restaurant