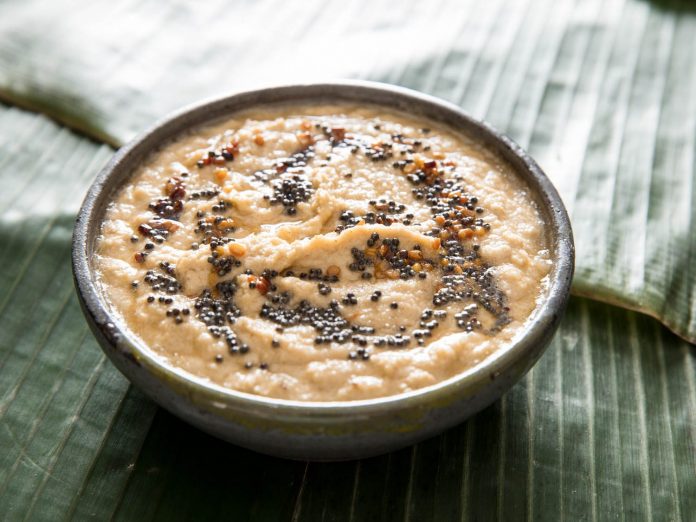 Chutney is an indian condiment made with herbs and spices, that is served as side dishes to numerous meals. This time, Indoindians is presenting a spicy coconut chutney for all of you to make at home!
Ingredients:
Grated coconut-1 1/2 cup
Green chillies fresh or lightly roasted- 2 to 4(according to your spice level)
Jeera- 1 level tsp
Chutney Dal/ Channa Dal roasted- 2 tbsp
Tamarind puree- 1 tsp
Salt- 1 tsp or to taste
Sugar – a pinch
Water – 1 cup
Fresh Coriander/ curry leaves/ mint leaves- about 1/2 cup
Method:
1. First grind the chutney dal and jeera in the blender.
2. Add coconut, salt, green chillies, tamarind and grind till coarsely ground.
3. Add 1/2 cup water and grind again.
4. Finally add coriander leaves and grind till the leaves are coarsely ground.
For Tarka:
1. Heat Oil- 1 Tbsp
2. Mustard seeds- 1 tsp
3. Dried Red chilli-1
4. Urad dal- 1 tsp
5. Kari patta- 10 leaves
6. A pinch of hing
Add to the above chutney and serve!! This recipe will make as much as two dishes of chutney.