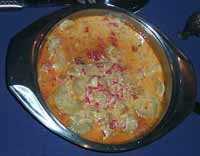 CUCUMBAR WITH COCONUT SAUCE – TIMUN MESANTAN (BALINESE RECIPE)
Ingredients:
2 tbsp oil
3 shallots, peeled and sliced
2 gloves garlic, peeled and sliced
2 large red chilies, seeded and sliced
½ tsp dried shrimp paste
1 cups regular coconut milk
1 cup thick coconut milk
2 medium-sized cucumbers, peeled, seeded and sliced
1 tsp salt
¼ tsp black peppercorns, crushed
Directions:
Fried shallots to garnish.
Heat the oil in heavy saucepan. Add shallots, garlic and chilies and saut for 2 minutes over low heat. Mix in the shrimp paste and saut for another minute. Pour in coconut milk and bring to boil. Reduce heat and simmer until cucumbers are cooked and sauce thickens.
Seasons to taste with salt and pepper. Garnish with fried shallots.