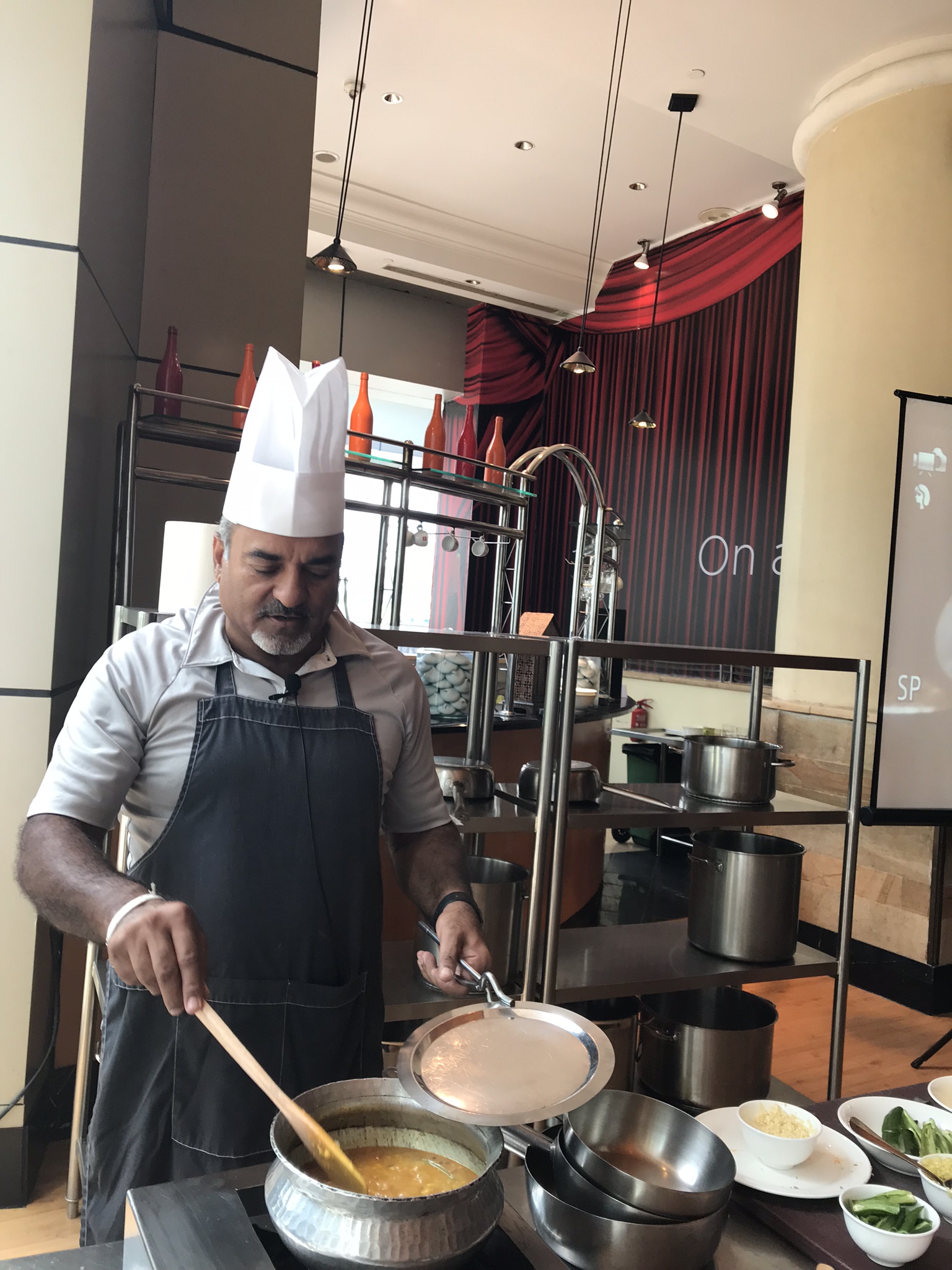 DAAL MUTTON
Daal Mutton and Chana Daal:  is a Rajasthani Frontier Preparation – Popular on Pakistani Side as shared by Pradeep Sainani at the 5th What's Up Chef cookery demo & tasting event: Men Special
Ingredients (Serves 4):
Mutton ½ kg with or without bones options
Chana Daal 150 – 175 gms soaked in water for I hour. Then rinse. (250-275 gms for recipe chana daal below)
Veg cooking Oil  100 ml
Ghee or Butter to taste.
Masalas (dry Spices):
1 Teaspoon each of
Coriander Powder
Red Chilly Powde
Himalayan Salt
½ Tea spoon Tumeric powder.
Whole Kali Mirch 8-10 pcs
Lavang (Clove) 5-6 Pcs
4 Green (Small cardamom
2-3 cinnamon sticks – all about 1 ½ Table spoon. (Not powdered).
1 Tea spoon Garam Masala.
Wet Spices:
2 – 3 Large red Onion Slice large pieces.
Green Long Chilly split in Half 7-8 Pcs.
Cabe Rawit 4-5 fine cut (To Level desired) (usually its eaten very hot & spicy).
2-3 Bay leaves
1 Tomato without pulp sliced
4-5 Garlic piece sliced small
1 Ginger piece sliced small.
Coriander leaves to Garnish.
Method:
Here it's in pressure cooker – best is to cook in Ceramic Pot or in a Deep Thick Indian Traditional DEGCHI Pan.
Full flame – Heat Veg Oil in P. Cooker, add Dry spices B. Without grinding in the oil together with chopped Onion until Onion and roast until Onion turns light brown.
Add Mutton and keep stirring for a while, add Garlic and Ginger, stir for 2 more minutes. Add all dry spices as in A. With Bay Leaves. Continue roasting.
Add 50 ml water and continue to stir and roast for another 2 minutes.
When you see Oil and water separating, add ½ cup water, stir.
Add tomato now. Stir.
5-7 minutes heat p cooker (2 to 3 Whistles to tenderize mutton depending on age of goat)
Open lid, roast further 2-3 minutes.
Reduce Flame to Mid low. Remove some oil (Tari) by turning cooker on one side and keep separately for use later.
Add soaked Chana Daal and stir / roast.
Add Water until all pieces of mutton and daal are immersed in water.
Close lid and allow 2-3 more whistles of p cooker. Leave it for a while to cool down.
Daal is preferred to remain whole, some people mash it to turn Daal to a thin gravy paste.
Add fresh cut Coriander Leaves, Fresh cut ginger, Garam masala (C). Stri again.
Take off the heat.
In a Sauce pan heat 2 tablespoon Veg Oil, add Jeera and stir until pinkish, add chopped onion until brown, add 2 table spoon of removed oil (in 8 above) and add a spoon of ghee or Butter.
Immediately pour in the Daal Mutton Preparation, add Coriander leaves.
Ready to serves. Add lime or lemon to your taste.
Veg CHANA DAAL ( Onion Masala)
Use a thick Medium size Pan, prefably. Not in Pressure Cooker.
Use steps 1,2 without Mutton, 3-4, then 5 and 9 together, then 8 to remove some oil for Tadka Later. Add only ½ – ¾ of a Cup Water more depending on thickness one wants. (Usually eateb thick).
Leaves Pan covered with a Lid on medium Heat for 7-8 Minutes, check Daal if its whole – yet cooked, move to next step:
Steps 13 to 16
Ready to serve.