Indonesia is one of the largest producers of coffee in the world, as it has the ideal geography near the equator, creating good micro-climate for the growth and production of coffee. Indonesia is also the producer of famous "Kopi Luwak",  one of the most expensive coffees.
While living in Indonesia, it's best to taste the authentic local coffee from all over Indonesia. Many cafes and coffee shops in Jakarta serve various kinds of coffee in a cozy and comfortable atmosphere. These places are perfect for not just tasting the authentic coffee from Indonesia but also provide the perfect spot to relax with friends and also catch up on your work. Let's forget international brand coffee shops for a while and visit the best coffee places in Jakarta:
Anomali Coffee
Anomali Coffee is on the forefront of promoting Indonesian single origin coffee beans to coffee drinkers. Anomali Coffee roasts their organic Aceh Gayo, Bali Kintamani, Flores Bajawa, Papua Wamena, Luwak, and other premium beans in-house and brews them with sophisticated espresso machines. They  also serve a wide range of pastries and snacks to accompany your favorite coffee. All the branches are equipped with comfy seating, free WiFi, and nice ambiance (with the warm and delicious coffee aroma). If you want to be a barista or just want to know more about coffee and brewing, you can get advanced espresso training at their Senopati branch.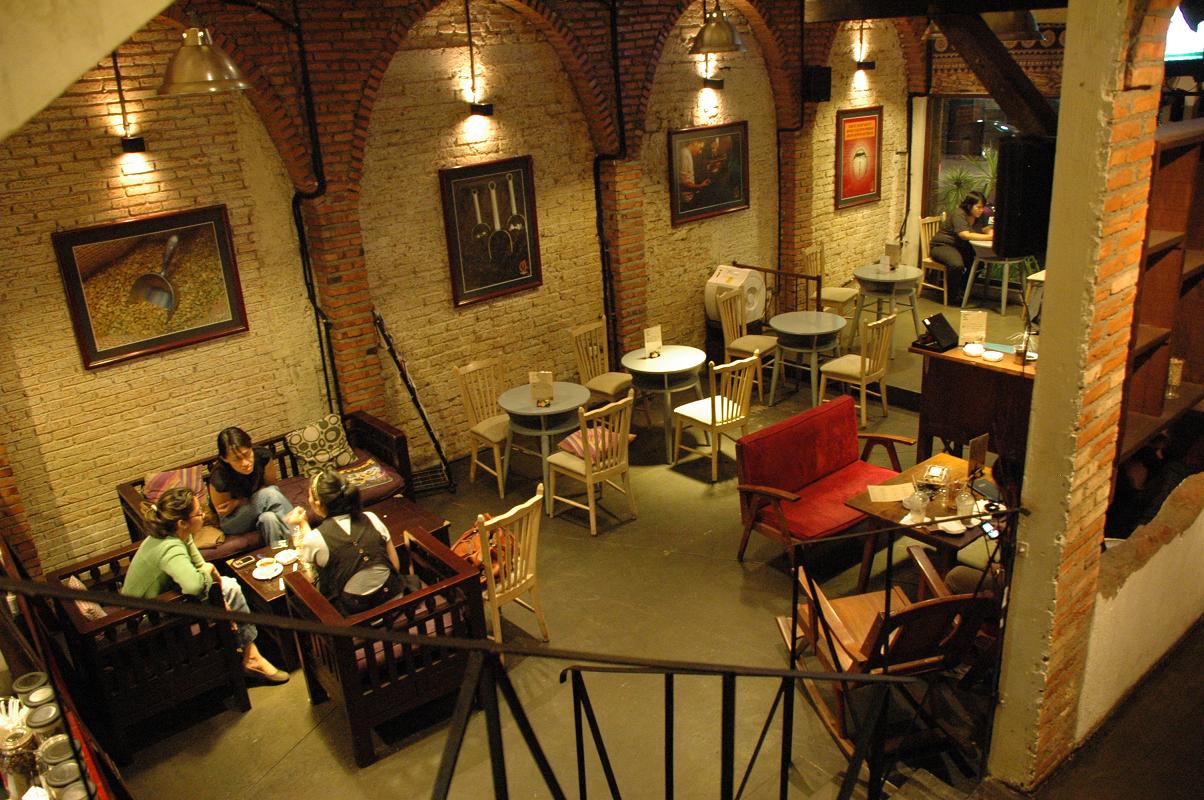 Address:
Senopati (Café & Training Center)
Jalan Senopati No 19 Kebayoran Baru, South Jakarta
Phone +62-2152920102
Kemang
Jalan Kemang Raya No 72 Unit G, South Jakarta
Phone +62-217194742
Setiabudi One
Jalan HR Rasuna Said Kav 62 Setiabudi, South Jakarta
Phone +62-215229228
Menteng
Jalan Teuku Cik Ditiro No 52 Menteng, Central Jakarta
Phone +62-213106370
Website: www.anomalicoffee.com
Tanamera
Tanamera Coffee was established to support Indonesian Arabica coffee as a freshly roasted specialty coffee in this café. It offers a wide range of coffee selections from all over Indonesia—all are freshly brewed by the talented baristas. The café is decorated in red and black giving it a warm yet passionate ambiance. It is one of the most favored coffee shops chosen by Jakartans to hang out.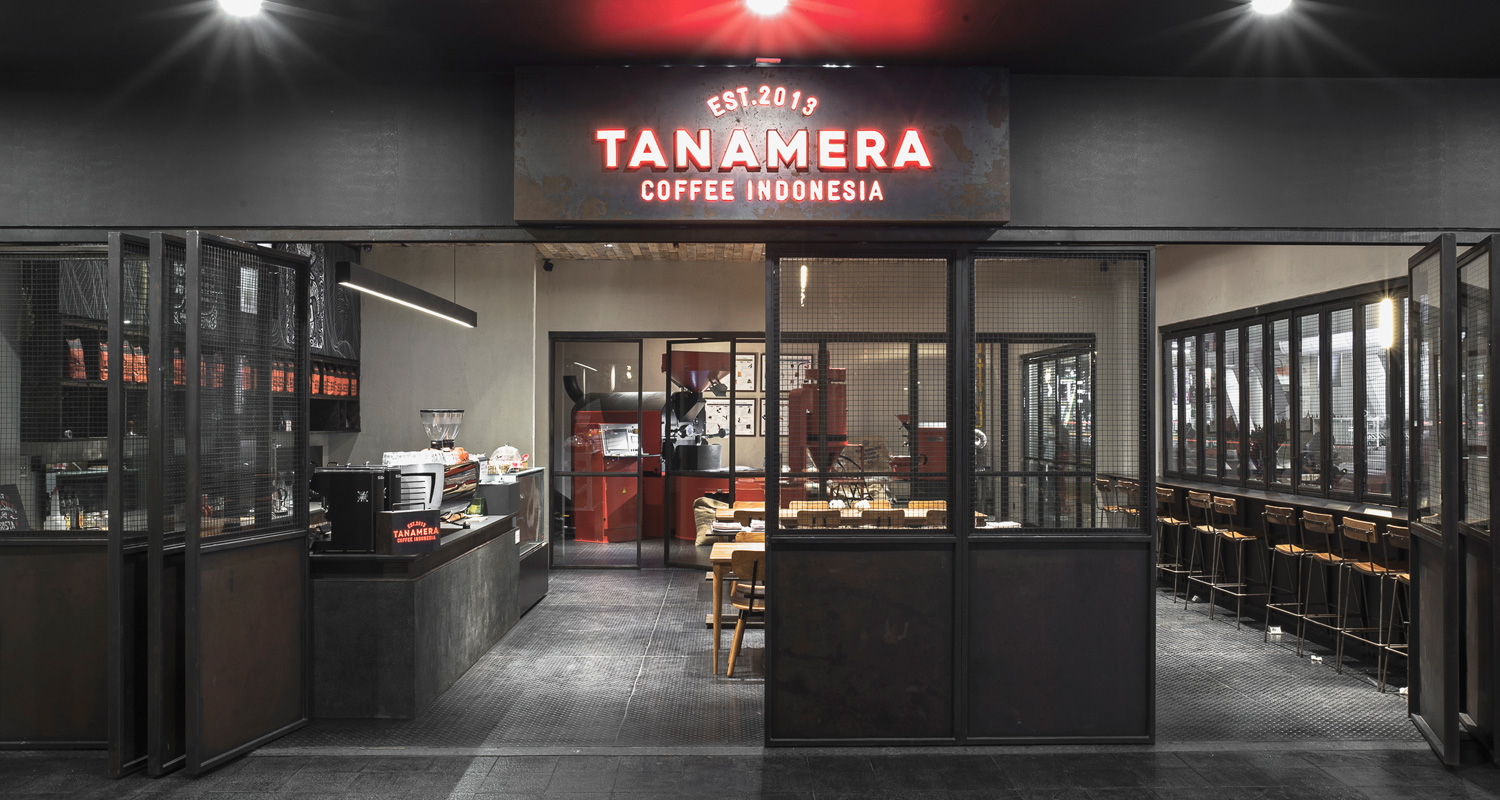 Address:
Tanamera Coffee Thamrin
Thamrin City Office Park, Jalan Kebun Kacang Raya Blok AA7, Thamrin, Jakarta
Phone +62-2129625599/29625678
Tanamera Coffee Kebayoran
Jalan Ahmad Dahlan No 16 Jakarta
Phone +62-2172786111
Tanamera Coffee Serpong
Summarecon Scientia Square Park
Jalan Scientia Boulevard No #GV-09, Serpong, Tangerang
Phone +62-2129171244
Website: www.tanameracoffee.com
Giyanti Coffee Roastery
This coffee shop has a unique vintage interior that entices you to enter and order your favorite coffee. The coffee is made from fresh roasted coffee beans from all over Indonesia, such as Bali Kintamani, Blue Batak, Java Preanger, Juria Flores, Padang Angkola, and many more. One thing that makes coffee enthusiasts love to come here is that the place is smoke-free. Smoke from the cigarettes can degrade the quality of the coffee beans. But in this coffee shop, you can expect finest quality of coffee and all in affordable prices!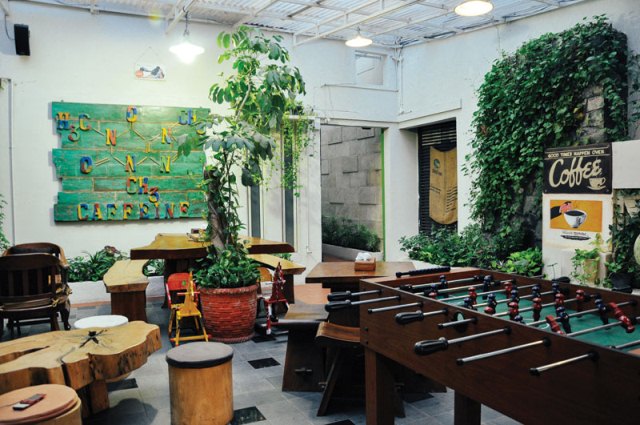 Address:
Jalan Surabaya No 20 Menteng, Central Jakarta
Phone +62-2131923698
Open from Wednesday – Tuesday: 09.30 – 17.30 WIB
Website: www.giyanticoffeeroastery.com
Filosofi Kopi
Filosofi Kopi coffee shop is at Blok M Melawai and has become the talk of town following the success of Filosofi Kopi Movie. When you come to this place, you'll know why the place is different from other coffee shops in town. Filosofi Kopi is built from abandoned building which has been renovated into a cozy place. The furniture gives the place vintage vibes which strangely suits coffee-sessions. Coffee and non-coffee menus are available at very affordable prices.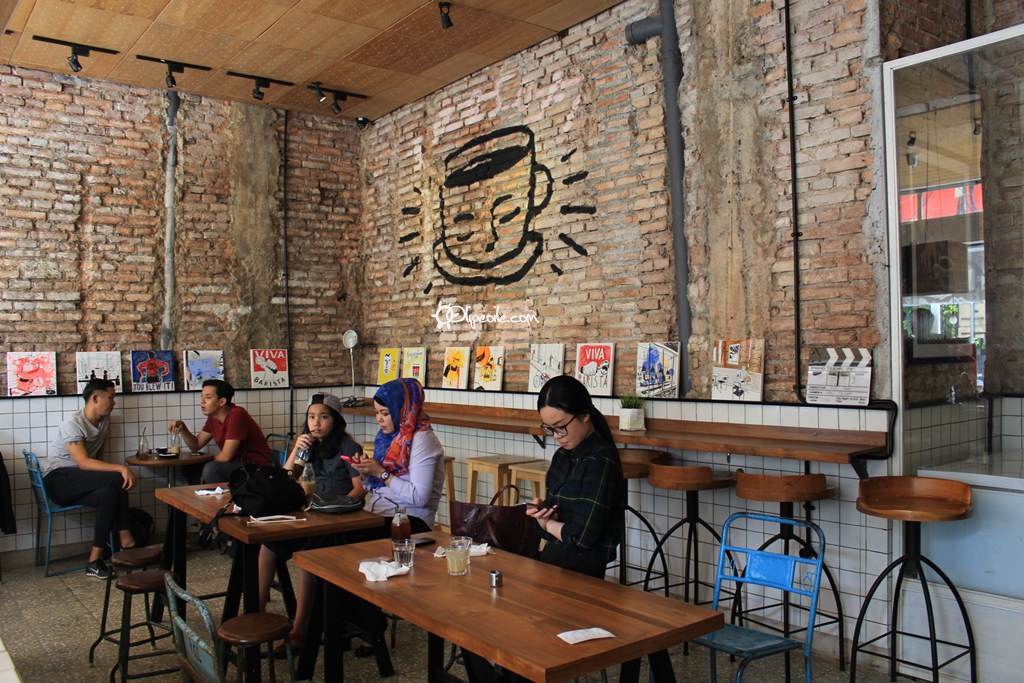 Address:
Jalan Melawai VI Blok M, Kebayoran Baru, South Jakarta
Phone +62-2173910939
Trafique
Trafique Coffee is also one of the favored coffee shops among Jakartans, especially amongst youngsters. The place is quite difficult to miss, with its large size and European architecture—unlike other coffee places which are usually small and petite. The baristas grind and roast their own coffee, so the coffee is guaranteed to be fresh when it arrives to your table. One thing to note is that the coffees here are guaranteed to be healthy, especially for those who have gastric issues.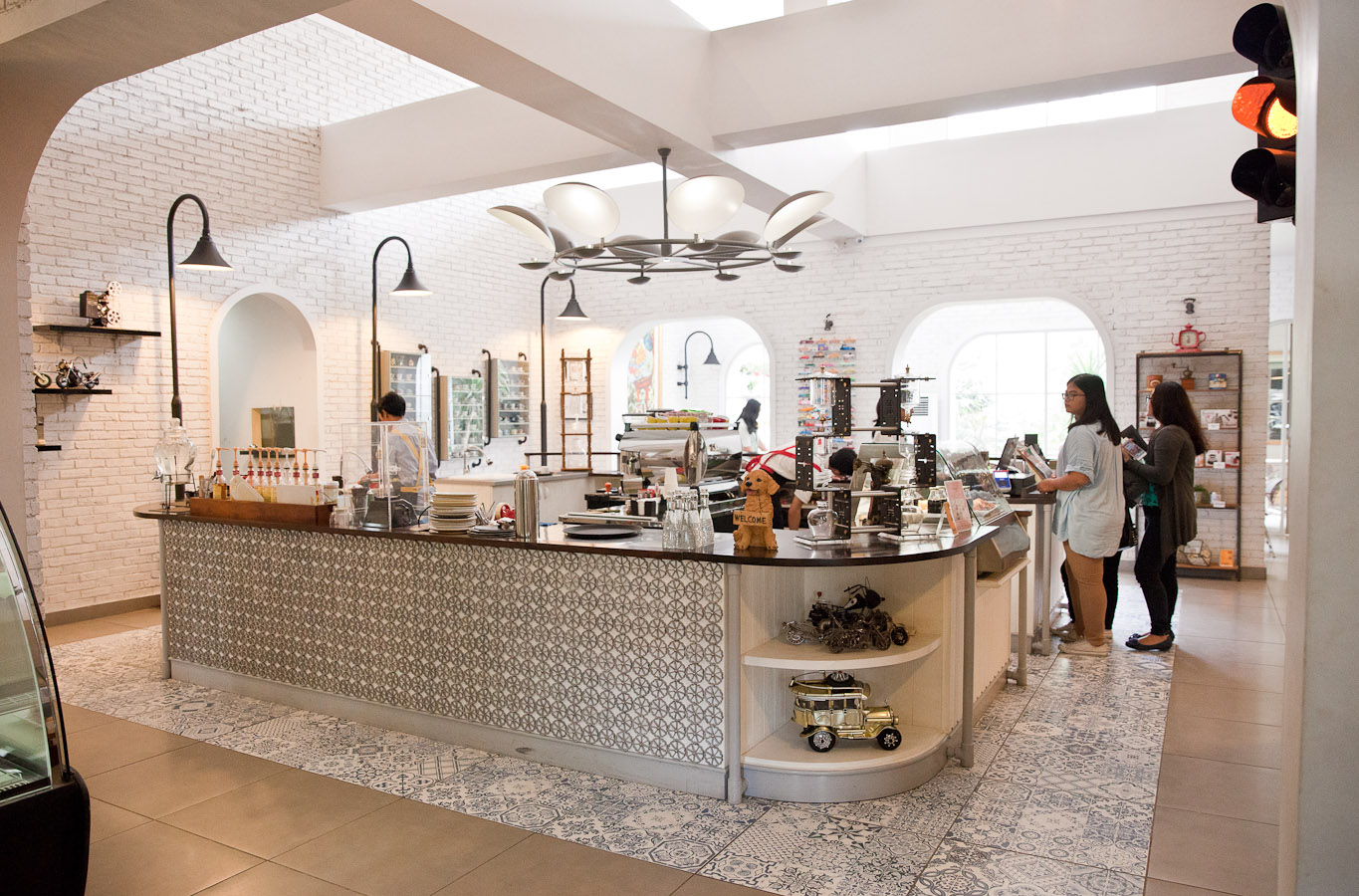 Address:
Jalan Hang Tuah Raya No 9 Senayan, South Jakarta
Phone +62-87889848004
Lucky Cat Coffee & Kitchen
Lucky Cat Coffee & Kitchen is locally known for their light to medium roast coffee. This spot is fit for  those who have tight activities but wants tranquility. Situated in the middle of bustling area, its vintage building architecture will enthrall everybody who passes by.  In here, you are able to fix your mood by looking its casual interior complemented with calming ambience. Lucky Cat will also serve you with their selection of dishes from light snacks to Western cuisine.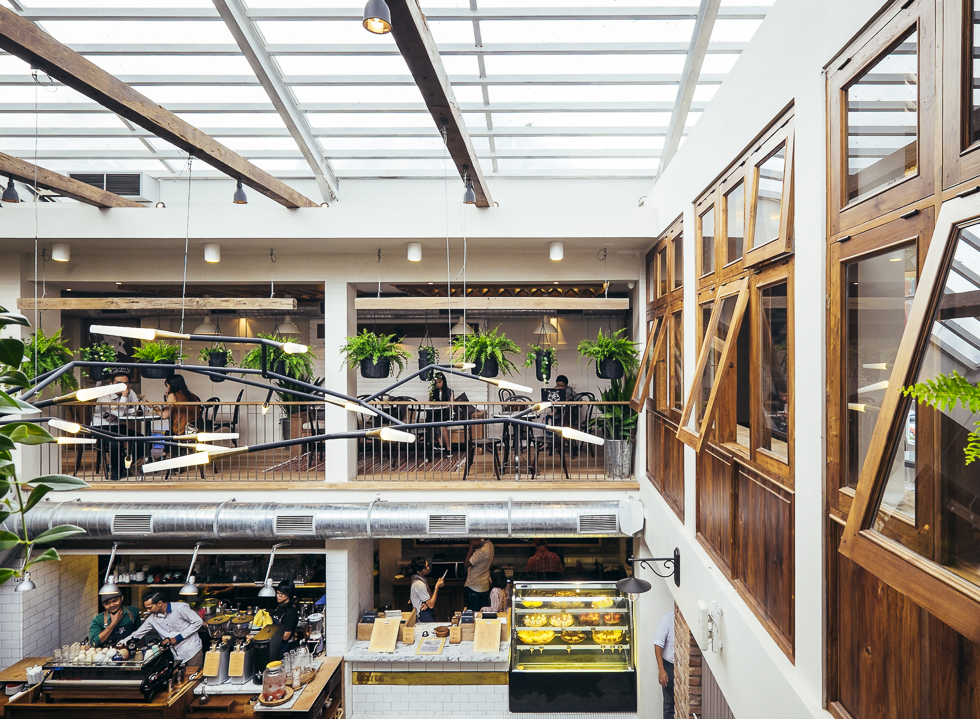 Address: Plaza Festival, Jl. H. R. Rasuna Said No. C 22, Karet Kuningan, South Jakarta
Phone: +62-2121889061 ext: 664
Bakoel Koffie 
Bakoel Koffie gains its fame as the oldest coffee shop that has been around in 1878 since Batavia era. They  have been exporting their product abroad from 1930s as the business is currently run by 4th family generation. As one of the coffee shop pioneer,  the owner successfully discovers ways to concoct his own coffee creation. Pay a visit to sip their arabica-robusta mix while tasting their range of dessert and snacks.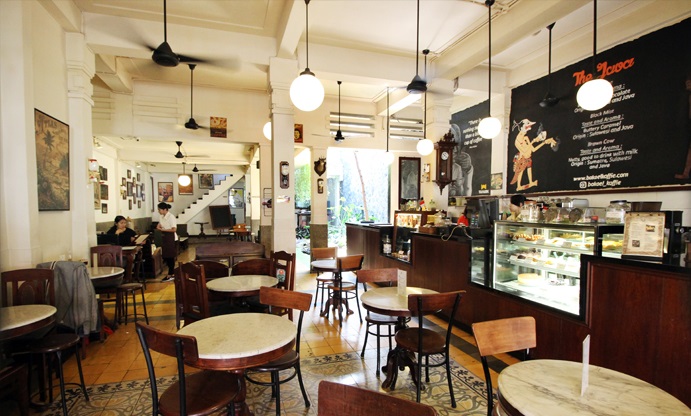 Address:
Bakoel Coffee Cikini
Jl. Cikini Raya No. 25, Menteng, Central Jakarta
Phone: +62-2131936608
Bakoel Coffee Pondok Arena
Jl. Cut Meutia, Blok FG12 No. 37, Pondok Aren, Tangerang
Phone: +62-2174863443
Six Ounces Coffee
Six Ounces Coffee facilitates their visitor with comfy chairs and tables in a shady room. Besides that, they will also draw you to the temptation of trying their various assortment of coffee treats. Some drinks you should try vary from their iced Nutella milk coffee to the rock salt caramel Affogato. It is the best place to have quality time with partner or friends. You can also simply spend time alone to study or read books in this spot.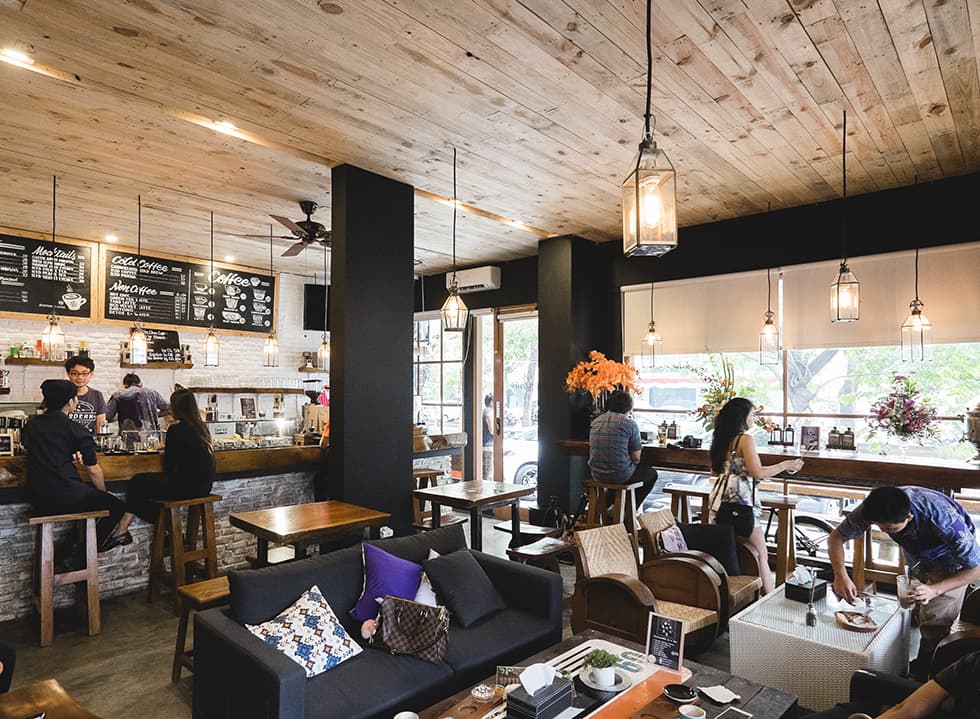 Address: Jl. Kelapa Puan Timur 2 Blok NB2 No. 1, Kelapa Gading, North Jakarta
Phone: +62-81295592233
1/15 Coffee 
1/15 Coffee is a growing coffee shop with luscious servings of pasta, salad, eggs, duck and many more. Enjoy their single origin brew, iced beverages to their Ginger milk coffee. Their minimalist yet modern interior design is no less enchanting compared to other similar spots. Natural and rustic ornaments used within the cafe also allows visitors to feel as if they are outing in the park while enjoying their meal.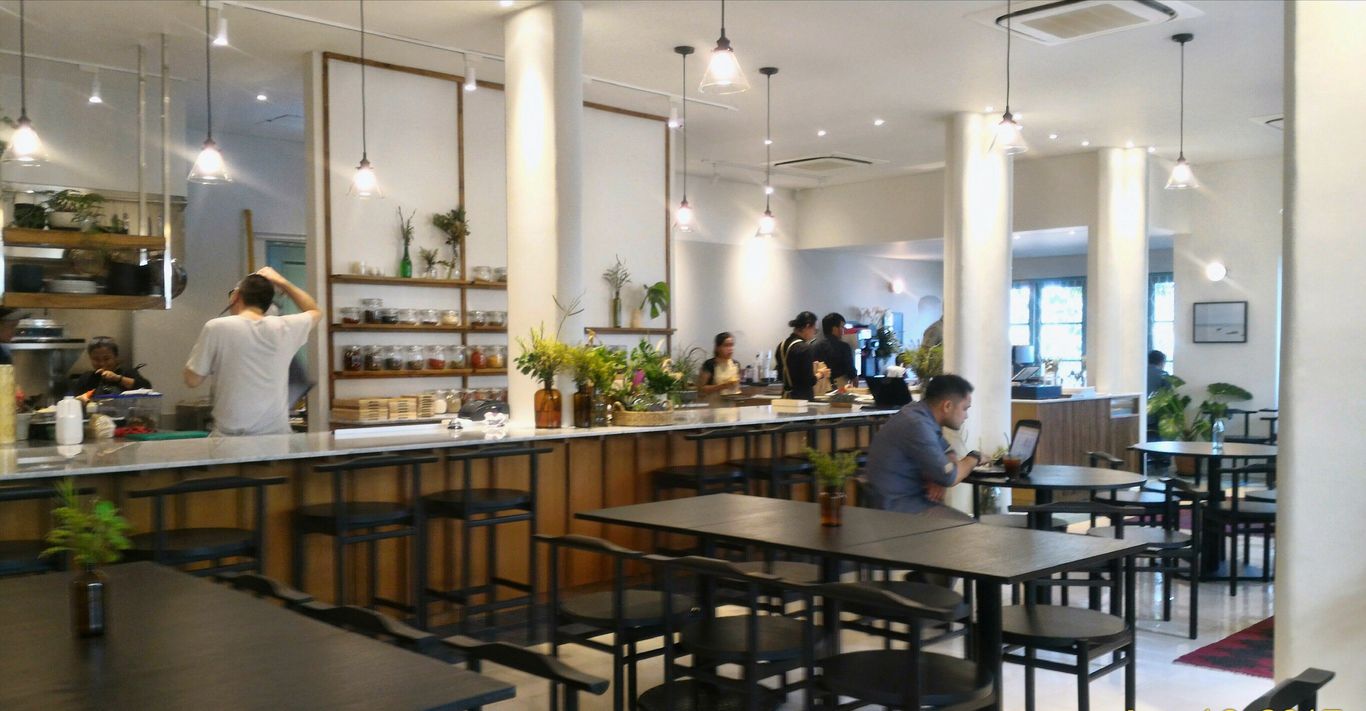 Address:
1/15 Coffee Menteng
Jl. Dr. Kusuma Atmaja No.79, Menteng, Central Jakarta
Phone: +62-81290002128
1/15 Coffee Kemang
Jl. Kemang Raya No. 37, Kemang, South Jakarta
Phone: +62-21 71791733
1/15 Coffee Pondok Indah
Jl. Gandaria I No. 63, Pondok Indah, Jakarta
Phone: +62-217225678
1/15 Coffee Kebon Jeruk
Wisma AKR, Lantai M, Museum MACAN, Jl. Panjang No. 5, Kebon Jeruk, West Jakarta
1/15 Coffee Soekarno-Hatta International Airport
Soekarno Hatta International Airport, Terminal 3 Ultimate, Domestik, Jl. Raya Bandara, Benda, Tangerang
Common Grounds 
Common Grounds will present you with various splendid breakfast and lunch dishes during coffee time. Due to its location in one of the most dynamic business area in Jakarta, the area will remind you heavily with busy and thronged streets in New York. If you happen to visit Common Ground, try their coffee specialities brewed by the hands of qualified, trained, award-winning baristas.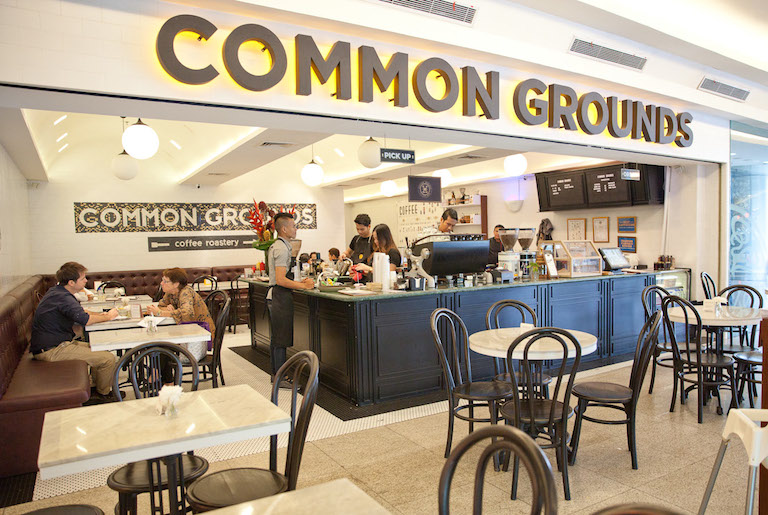 Address:
Common Grounds Sudirman
Citywalk Sudirman Ground Floor, Jl. KH Mas Mansyur Kav. 121, Karet Tengsin, Central Jakarta
Phone: +62-2125558963
Common Grounds Tanjung Duren
Neo SOHO Mall, Ground Floor, Jl. Letjen S. Parman, Tanjung Duren, West Jakarta
Phone: +62-2127893323
Common Grounds Pondok Indah
Pondok Indah Mall 2, 3rd Floor, Jl. Metro Pondok Indah, Pondok Indah, Jakarta
Phone: +62-2175920880
Good coffee + good place + good companion = happiness. Do you agree? asks Fauziah Listyo Ayunani