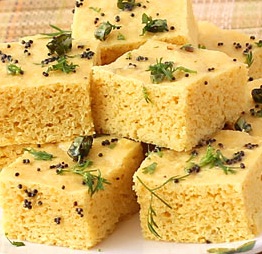 This recipe for easy and healthy chick pea flour steamed dhokhla is shared by our Indoindians friend Mrs. Kalpana Rathi
Ingredients
For the batter:
2 ½ cups Besan
3 green Chilies, chopped
½ tsp Chopped ginger
1 tsp Sugar
1 tsp Salt
½ tsp Citric acid
¼ tsp Soda bicarbonate
1 tsp Oil
For tempering (baghaar):
½ tsp. mustard seeds
2 pinch asafoetida
3-4 slit green chilies
½ tsp lemon juice
½ tsp sugar
½ tsp salt
5 tsp cooking oil
For Garnish:
Chopped coriander and grated coconut
Directions:
For the batter:
Mix besan, salt, sugar, citric acid, oil, asafoetida, ginger and chilies.
Add a little water to make it look like a thick sauce.
Beat for ½ minute. Heat a metal plate or thali on which a little oil has been applied in a steamer. Add soda bicarbonate to the batter and mix it very well.
Pour this mixture on the hot thali.
Steam for 5-7 minutes. Cool it.
For tempering (baghaar):
Heat the oil and fry the mustard seeds and switch off the fire.
Add asafoetida and green chilies.
Add the water, lemon juice, sugar, salt and mix well.
How to serve:
When you want to serve, spread half the mixture over the dhoklas and steam again for few minutes. Cut into pieces and sprinkle coriander leaves and grated coconut on the lop and serve with green chutney.