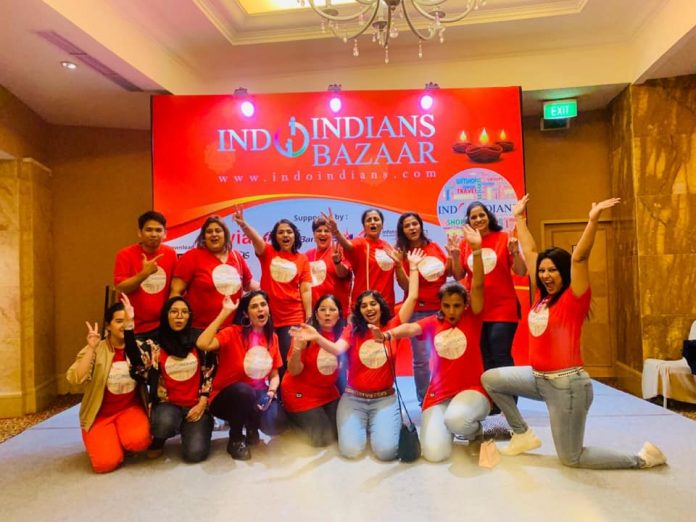 On the 11th October, Indoindians finally held our long awaited bazaar. The turnout was a complete success, with approximately 1200 people attending. The venue buzzed with buyers, sellers, promotions and Bollywood dancers. Events were completely jam-packed, and people can enjoyed themselves. There was a  choice Diwali shopping, winning  a multitude of attractive door prizes and even exhibition cum sale of artwork by talented Indoindians artists.
All this could not have been possible without the amazing Indoindians and Ritz Carlton Teams, who worked tirelessly as one. Members of team are (in no particular order):
Preeti Pahwa, Sonal Sanglikar, Jyoti Sunilkumar, Saraswati Suresh, Komal Pamnani, Anuradha Verma, Sarika Jaithalia, Manisha Baxi, Savi Nagpal, Soma Gupta, Sunarna Mantha, Sujatha Chavan, Pratima, Pooja, Aditi, Dias, Khintan, Kevin and Edy. A BIG thank you to all.
At the bazaar where people can enjoyed themselves at a shopping fiesta with over 115 vendors.
Even better, there were door prizes to be won every hour starting from vouchers, hampers and more.
Finally, feast your eyes on the numerous paintings from the variety of Indoindians artists that presented their paintings!
There are numerous events that could be enjoyed while you are having your shopping experience from enjoying art, browsing to participating in bollywood dance along to winning door prizes. Something for everyone.
More photographs from the event on our FB album here >>